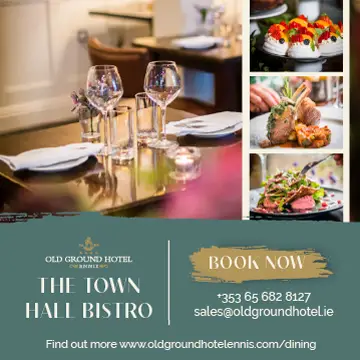 *Stephen O'Halloran celebrates after hitting the back of the net. Photograph: Joe Buckley
A last gasp rally secured a first championship victory for Clarecastle but wouldn't be sufficient to get them out of relegation danger as score difference ironically elevated Wolfe Tones into the quarter-finals on Sunday afternoon.
Clarecastle 2-22
Wolfe Tones 2-21
Venue: O'Garney Park, Sixmilebridge
With Clarecastle, Wolfe Tones and Scariff all occupying the basement position at some stage of the group's anxious final hour, every score was magnified as the Sixmilebridge v Scariff showdown was equally as uncertain right up to the final whistle.
Led triumphantly by captain Bobby Duggan who guided his side over the line with a handsome 15 point haul, Clarecastle merited their minimum victory, having led the way for the majority. However, it was the Magpies' character that shone through most as despite leaking a sucker punch goal in the first and last minute of normal time, they managed to recover on both occasions.
The significance of the result was made even greater by the fact that Wolfe Tones had prevailed by 15 points in the corresponding championship fixture between the sides last summer at the same venue. Those memories came flooding back when Jack Cunningham's opening minute point was immediately bolstered by a solo goal for Aron Shanagher who had raided for 2-9 against the Magpies in 2020.
Six different scorers including impressive newcomers Rory O'Connell and Kevin Hartigan got Clarecastle back on track with an inspirational 14th minute Stephen O'Halloran goal actually inching the Magpies in front for the first time before Aaron Cunningham ensured a 1-5 to 1-5 stalemate by the water break.
With the bit between their teeth, Clarecastle grew in confidence with every passing minute, with Bobby Duggan grabbing five second quarter points on their way to a 1-11 to 1-09 interval advantage.
Indeed, the Clarecastle captain was on fire as he strengthened his side's hand by the turn of the final quarter at 1-18 to 1-14 but there would be plenty of twists and turns to come before this showdown was ultimately decided.
A brace each from Aron Shanagher and chief marksman Cian O'Rourke levelled the tie by the 51st minute at 1-18 apiece, a deadlock that would be replicated on three more occasions before a Dean Devanney shot appeared to be finished over the line by Aaron Cunningham to turn the tie on its head with on the hour mark at 2-21 to 1-21.
Clarecastle could have wallowed in their luckless campaign but instead rallied to grab a crucial lifeline when Stephen O'Halloran dramatically equalised with his second goal before Bobby Duggan fittingly converted the winner from a free.
It was a finish that merited a championship reprieve but Clarecastle's elation quickly soured to utter deflation when word filtered through that Sixmilebridge only edged out Scariff by two points in Cusack Park.
With Clarecastle, Scariff and Wolfe Tones finishing on level points, the Shannon side, despite a second successive defeat, were the ones to progress alongside Sixmilebridge to the business end while the Magpies are destined to the relegation group alongside O'Callaghan's Mills, Clooney-Quin and the losers of Broadford v Crusheen.
For the quarter-finals, the Tones will be hoping Clare senior panellist Darragh Lohan will be back to full fitness to bolster their cause.
Scorers for Clarecastle: Bobby Duggan (0-15, 11f); Stephen O'Halloran (2-1); Rory O'Connell (0-2); Stephen Ward, Darragh Healy, Kevin Hartigan, Killian McDermott (0-1 each)
Scorers for Wolfe Tones: Cian O'Rourke (0-8, 6f); Aaron Cunningham (1-4); Aron Shanagher (1-3); Jack Cunningham (0-2); Ben O'Gorman, Dylan Frawley, Kevin McCafferty, Dean Devanney (0-1 each)
Clarecastle
1: Cian Broderick
2: Marc McAuliffe
4: Ronan Donnelly
3: Patrick Tuohy
5: David Tuohy
6: Darragh Healy
7: Tommy Howard
8: Killian McDermott
9: Rory O Connell
10: Stephen Ward
11: Bobby Duggan
12: Stephen O Halloran
13: Kevin Hartigan
14: Niall Galvin
15: Conor Halpin
Subs
17: Hayden Starr for R. Donnelly (21, inj)
20: Colin Brigdale for Galvin (HT)
19: Patrick Kelly for McDermott (53)
27: Josh Brack for Ward (55)
Wolfe Tones
1: Pa Freeman
7: Conor Carrig
5: Rory Hayes
19: Daithi Lohan
8: Stephen Donnellan
22: Daithi O'Connell
21: Barry Loughnane
6: Ben O'Gorman
11: Jack Cunningham
10: Dylan Frawley
14: Aaron Cunningham
25: Kevin McCafferty
13: Cian O'Rourke
14: Aaron Cunningham
15: Dean Devanney
Sub
3: Jamie Roughan for Frawley
Referee: Jim Hickey (Cratloe).