*Sean Wiley tests the strength of Cian Barron's jersey. Photograph: Gerard O'Neill
St Joseph's Doora/Barefield deservedly returned to the last four of the Intermediate Championship but it was far from a comfortable journey after being pushed all the way by a never-say-die Bodyke in Dr. Daly Park in Tulla on Saturday evening.
St Joseph's Doora/Barefield 3-14
Bodyke 3-11
Venue: Dr Daly Park, Tulla
11 points was the final margin in last year's championship meeting and the same chasm separated the sides once more by the two-thirds mark after a dominant Parish side dictated matters with three timely goals at 3-12 to 1-07.
However, they would only add two more points to their tally for the remainder and instead were hit by a rousing Bodyke resurgence as scrambled goals through Peter Flower and Liam O'Donnell in as many minutes brought their side and indeed the game to life.
With St Joseph's faltering with 11 seconds half wides while also losing Cathal Ruane to a red card, a momentum-fuelled Bodyke began to believe but try as they might, could only get the deficit back to three.
Fundmentally, Bodyke's brave backlash arrived too late to ultimately turn the narrative on its head but with two-thirds of their side still eligible for Under 21, they will certainly take more positives than negatives from their championship exit.
Doora/Barefield also received a timely lesson in not closing out the game so while their pace and physical conditioning was impressive for long periods, they will require much more consistency if they are to reclaim their senior status.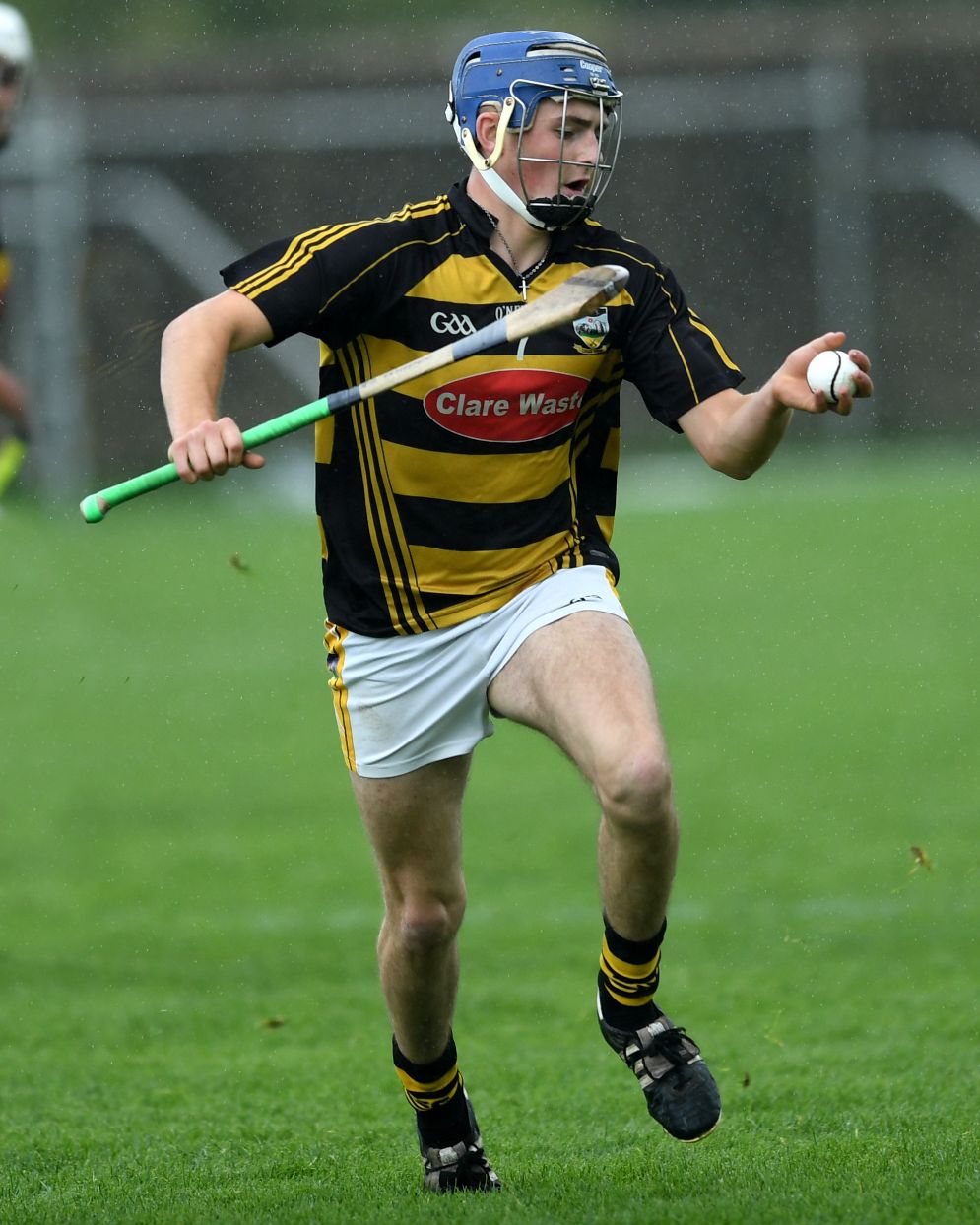 Nothing but a handsome Parish victory appeared on the cards early on as Davy Conroy and Cian Barron raided for clinical first quarter goals. The opening score of the game signalled their intent as Tom Hannan offloaded to the overlapping Conroy to emphatically billow the net after only two minutes while just before the water break, Cian Barron collected a Kevin Dilleen delivery to cut in from the right wing and beat goalkeeper Seamus Quigley at 2-3 to 0-3.
Despite facing into the conditions, St Joseph's only extended their advantage after the quarter recess as a three point blitz through Alan O'Neill, Cathal Ruane and Conroy was almost bolstered by a third goal. This time it was Cathal Ruane who bore down on goal, only for goalkeeper Quigley to deflect the powerful effort away for a '65. And that save was magnified in injury-time when Paddy Fitzgerald rifled a 20 metre free to the net to lessen the half-time damage to seven at 2-9 to 1-5.
A trademark Alan O'Neill catch and dispatch to the net inside two minutes of the restart looked to settle matters as a buoyant Parish eased 11 clear nearing the final water break.
Paddy Fitzgerald saw another 20 metre free stopped while down the other end, Cian Barron was expertly hooked as he was about to pull the trigger. However, the goal rush would resume in the 42nd minute after a slaloming incisive run by Ian Murray allowed Peter Flower to strike to the net.
Inspired by that score and Cian Minogue's increasing influence, chief marksman Fitzgerald added a free before Bodyke's lifeline was boosted by a second goal, this time through Liam O'Donnell's persistence in a packed goamouth at 3-12 to 3-08.
With Doora/Barefield's radar beginning to wane, their woes were compounded by a straight red card for Ruane following an off-the-ball incident with puck-out magnet Paddy McNamara that further ignited Bodyke's confidence entering the final quarter.
A stuttering Doora/Barefield, despite six more wides, did enough to weather the storm and keep pace with whatever Bodyke could throw at them though as Fitzgerald's undying efforts were matched by Conor Tierney and Davy Conroy.
So while St Joseph's Doora/Barefield made life much more difficult for themselves than entirely necessary, crucially they are back in the semi-finals with plenty of room for improvement.
Scorers for St Joseph's Doora/Barefield: Davy Conroy (1-4, 1f); Alan O'Neill (1-2, 1f); Conor Tierney (0-4); Cian Barron (1-0); Cathal Ruane, Tom Hannan (0-2 each)
Scorers for Bodyke: Paddy Fitzgerald (1-8, 1-5f); Peter Flower, Liam O'Donnell (1-0 each); Cian Minogue (0-2); Ian Murray (0-1)
St Joseph's Doora/Barefield
1: Paul Madden
2: Peter Collins
3: Kevin Dilleen
4: Brian Clancy
7: Adam Mungovan
28: Aaron Landy
5: Jack Hannan
8: Jarlath Colleran
9: Darragh O'Shea
10: Cian Barron
21: Cathal Ruane
22: Davy Conroy
11: Tom Hannan
14: Alan O'Neill
13: Conor Tierney
Subs
12: Caimin O'Connor for Barron (57)
Bodyke
1: Seamus Quigley
2: Éanna Doyle
3: Willie Fitzgerald
19: Caimin Treacy
7: Sean Wiley
6: Cian Minogue
4: Kevin Drost
8: Cathal Doyle
11: Ian Murray
10: Jack Minogue
13: Paddy McNamara
12: Seanie Doyle
15: Liam O'Donnell
14: Paddy Fitzgerald
16: Peter Flower
Subs
25: Oisin Slattery for Flower (58)
5: Oisin Molloy for S. Doyle (60)
Referee: Fearghal Gray (Feakle)