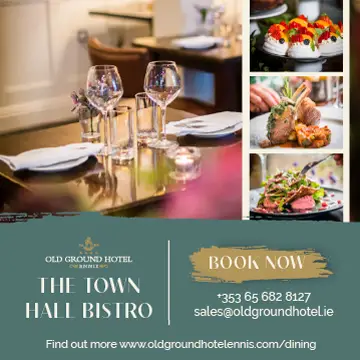 *Cian Barron. Photograph: Ruth Griffin
St Josephs Doora/Barefield have qualified for the Clare IHC final for the second time in three years.
St Josephs Doora/Barefield 5-14
Ruan 2-10
Venue: O'Garney Park, Sixmilebridge
Dominant from start to finish, Doora/Barefield were fully deserving of their victory and a place in the county final is just rewards.
They were clinical and ruthless in their approach, hitting two goals in the space of fifty two seconds in the opening half and almost bettering this in the second half with another double of green flags which were fifty five seconds apart.
Jack Hannan set the tempo from the beginning with an excellent score for the Michael Guilfoyle managed side, a combination between Alan O'Neill and Aaron Landy resulted in Donal O'Halloran increasing their advantage to two points on three minutes.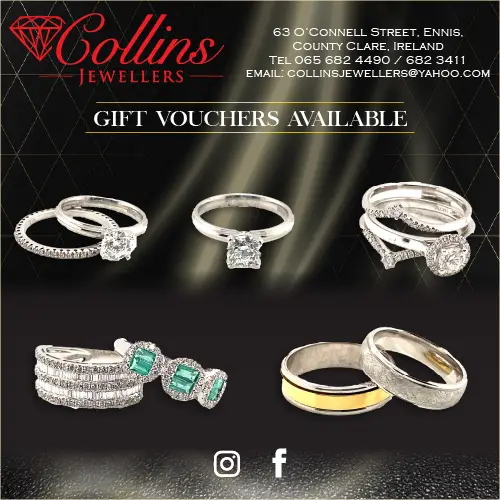 Aidan Lynch opened Ruan's account on five minutes from a free and scored from one play moments later to level matters following good work from Colm Rice. Lynch would be their only scorer in the opening quarter but it was enough to see them on level terms at 0-04 apiece.
Not one but two killer blows were dished out by The Parish on the restart with Cian Barron and Cathal Ruane both raising green flags in subsequent attacks to change the course of the game. Ruan responded through Ryan Power and Robin Mounsey but with twenty three minutes played, Tom Hannan made an impressive turnover before sticking the sliotar past Cian O'Donoghue for their third goal.
Robin Mounsey replied with an excellent goal at the other end and his second point only for Cathal Ruane to close out the half with 0-02 leaving a gap of six points at the half-time whistle.
A low scoring third quarter followed and if Ruan were to claw back the deficit it was in this period that they needed to strike. Doora/Barefield fired over three points and limited their opponents to two white flags. Arguably the most striking aspect of this spell was the return to action of David Conroy, the dynamo midfielder who had missed all of St Josephs' campaign to date following a collarbone injury.
In their first attack of the fourth quarter, Conor Tierney went for goal but was denied by O'Donoghue, the resulting 65 was slotted over by Ruane. While Jim Hickey's umpires at the Kilmurry end hadn't to stretch for the green flags on that occasion, they were reaching for the flag on the double when two long range efforts both hit the back of the Ruan net, one that substitute Seanie Keane can take credit for getting a flick to and the other a free from Alan O'Neill which went all the way home.
Trailing by fourteen points, Ruan responded with Mounsey again producing an individual moment of brilliant to leave Paul Madden with little chance as he collected his second goal. Three of the final four scores of the contest fell to Doora/Barefield to see them record a thirteen point win.
Over the course of the game, the winners shipped in more than sixty tackles in what was a ferocious showing from their end. Not alone do they have the physicality but they have lively hurlers capable of punishing errors which was critical to their semi-final win. Tom Hannan, Adam Mungovan, Donal O'Halloran and Joey Keane were best for the Michael Guilfoyle managed side.
With a young team at their disposal, Ruan's players will need to learn from this defeat in order to build on their positive showings this year. Robin Mounsey who scored 2-03 possibly did enough to earn a call from Clare manager Brian Lohan while Killian Ryan and Darragh McInerney did well for Niall O'Connor's side.
Scorers St Josephs Doora/Barefield: C Ruane (1-08 5f 1'65), T Hannan (1-02), C Barron (1-00), S Keane (1-00), A O'Neill (1-00), D O'Halloran (0-02), J Hannan (0-01).
Scorers Ruan: R Mounsey (2-03), A Lynch (0-04 2f 1'65), R Power (0-01), J Power (0-01), M Corry (0-01).
St Josephs Doora/Barefield:
1: Paul Madden
2: Kevin Meaney
5: Alan O'Neill
4: Joey Keane
3: Adam Mungovan
7: Fionn Kelleher
17: Aaron Landy
8: Donal O'Halloran
21: Jack Hannan
10: Brian Guilfoyle
11: Tom Hannan
12: Eoin Hanrahan
15: Cian Barron
14: Cathal Ruane
13: Conor Tierney
Subs:
22: Jarlath Colleran for Meaney (25) (inj)
9: David Conroy for Landy (40)
18: Seanie Keane for Hanrahan (45)
29: Eoghan Talty for O'Halloran (51) (inj)
Ruan:
1: Cian O'Donoghue
4: Killian Ryan
3: Michael Lyons
7: Conall Ó hÁiniféin
5: Colm Rice
6: Ashley Brohan
2: Jason Power
8: Darragh McInerney
9: Robin Mounsey
10: Ryan Power
11: Shane Punch
13: Patrick O'Halloran
14: Darragh Roughan
12: Aidan Lynch
15: Jack McDonagh
Subs:
20: Mark Corry for Roughan (25)
17: Shane Ryan for O'Halloran (58).
Referee: Jim Hickey (Cratloe)