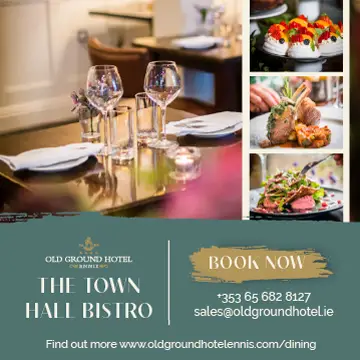 *Doonbeg goalkeeper, Eamon Tubridy. Photograph: Gerard O'Neill
APPROACHES FOLLOWED IN THE Cusack Cup remain as the procedure in place for Doonbeg as they prepare for their opening outing in the Clare SFC.
Doonbeg reached the semi-finals of the Cusack Cup where they lost out to Kildysart on the smallest of margins when a Diarmuid O'Donnell late point put the Estuary men through to the league decider on a score of 2-10 1-12.
Overall, their Cusack Cup run had more positives than negatives in the eyes of Doonbeg manager, John Keane. He has succeeded Mark Rafferty in the role and is joined by 2010 championship winning boss Kieran O'Mahoney plus former Clare defenders Conor Whelan and Padraig Gallagher, a trio with plenty of experience and no shortage of county medals given the five championships claimed by the Magpies in the 1990s.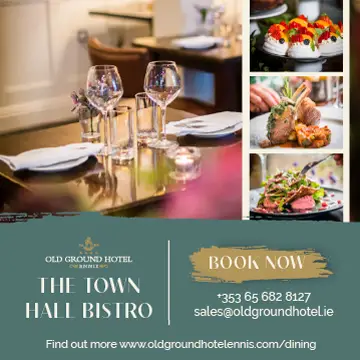 This pedigree has been quite helpful for Keane to call upon. "The lads have a vast amount of experience there's no doubt about it, they are bringing that into the setup, the game has changed a good bit since they stopped playing, it's got a lot quicker but having said that they still do bring a vast amount of experience".
When they took over the role, they kept it simple. "We focused on the league, we took it one game at a time, our aim was to go as far as we could and retain our Division 1 status. We took it one game at a time, we were beaten in the semi-final by Kildysart, once that game was over the league was done and dusted, and our focus has been on Kilmurry Ibrickane since that game. We're in an extremely tough group, there's a big challenge in front of us, our aim is one game at a time like the league, we've a lot of work to do".
With all eyes on The Bricks, it must be some relief to be facing them without the talented Keelan Sexton. "Regardless, Kilmurry Ibrickane have a vast amount of experience even without Keelan, we're under no illusions with the size of the task we are facing, Keelan is a loss but they still have plenty of experience and depth in their panel," John responded.
He continued, "The group is extremely tough, it's championship football, it is a step up from the league and we have to be ready for that, that is the challenge for us to meet, if we don't we won't be progressing".
Shirking away from tough tests is not in the nature of the Doonbeg folk like captain Paraic Aherne, David Tubridy, Kevin Pender and Eamon Tubridy. According to Keane, they react best "to a good structure, the demands on the club player now are extremely high, they make huge sacrifices and effectively put their lives on hold to play football, it is important to have a good structure in place and work well with the management that is there".
Given that their experienced servants are in the twilight of their careers, it heightens the pressure on Doonbeg to make the most of them while they are around. "It's always the aim to make the business end, that's always the aim, it would be fantastic for those players to be in the knockout stages but you can't look that far ahead, we didn't in the league and we won't in the championship. It would be great for players who have given fantastic service for us to go on a good run this year".
Before they begin any run, the focus rests firmly with Kilmurry Ibrickane. Question marks surround the fitness of Tadhg Lillis while Ronan Good is also believed to be unavailable, former Clare U20 defender Sean Conway will miss the first two group games but will be back for the Magpie meeting of Doonbeg versus Ennistymon.
They've experience on the field which is matched by their knowledge off it, the task at hand for Doonbeg is to make it count when it matters.
Management: John Keane (manager), Kieran O'Mahoney (coach), Conor Whelan (selector), Padraig Gallagher (selector), Shane McNamara (S&C and physio), Aisling O'Mahoney (stats), Ava Keane (stats), John Killeen (kit man), Thomas Dillon (water), Liam Hehir (water)
Captain: Paraic Aherne
Vice Captain: Ian O'Mahoney
Key Player: David Tubridy
One to Watch: Cathal Killeen
Fresh blood: Darragh Burns,
Departures Gate: Ronan Good
Titles won: 18
Most recent: 2010
Last season's run: Exited in the quarter-final play-off against Kilmihil, overcame Clondegad but lost to Lissycasey and Éire Óg prior to this.
Schedule:
Rnd 1 vs Kilmurry Ibrickane
Rnd 2 vs Clondegad
Rnd 3 vs Ennistymon