*Philip Talty is tackled by Brian Egan. Photograph: Raymond O'Mahony
A dramatic finish in extra time saw Doonbeg score two goals in added time to knock Éire Óg out of the Clare senior football championship.
Doonbeg 4-08
Éire Óg 1-12
Venue: Hennessy Memorial Park, Miltown Malbay
Remarkably Doonbeg recorded their first win of this year's championship and yet sealed their place in the semi-finals for the first time since 2013. They had not been in the lead at all until Enda Doyle goaled with eighty one minutes on the clock.
Despite going twenty minutes in the first half and eighteen in the second without getting a score, Doonbeg came good in additional time of which there was a lot, hitting a tally of 3-03 in time added on.
Although Éire Óg dominated the opening half with points from Eimhin Courtney x3, Philip Talty, David Reidy, a Doonbeg goal from Eoghan Tubridy and a David Tubridy white flag kept them within touching distance at half time.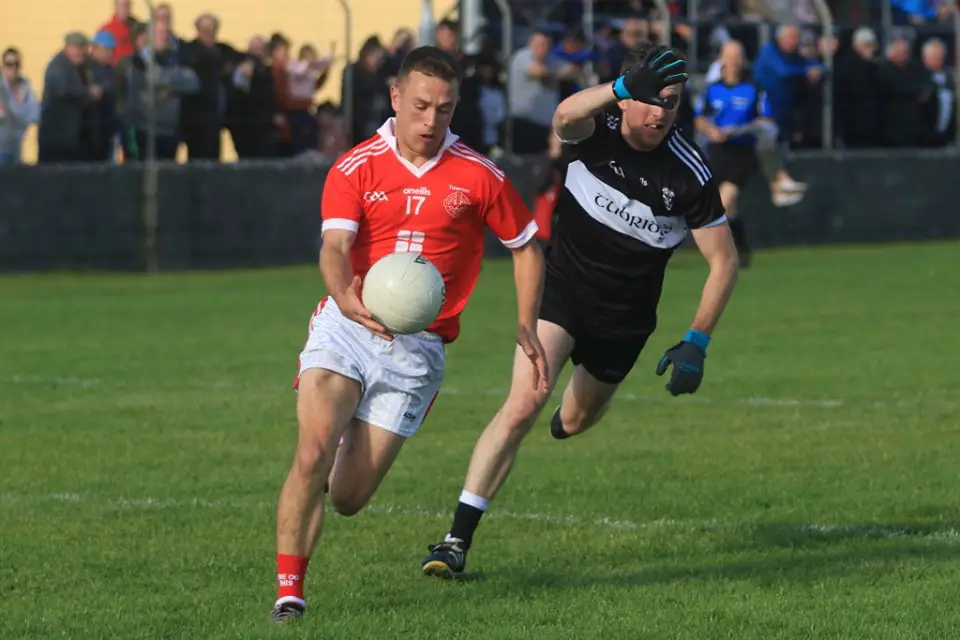 On the resumption, the Ennis club once again remained in control limiting their opponents to just two more scores in thirty minutes. However as additional time commenced, Doonbeg upped their game, an error in the Éire Óg backline was punished by Eoghan Tubridy who raided for his second goal of the day and levelled the game.
Immediately, the Townies worked the ball up the field and were awarded a penalty when Gavin Cooney was fouled. The task of taking the penalty was handed to Paddy O'Malley and with his first touch of the day, he stuck it past Eamon Tubridy. At this stage, the spectators in Miltown assumed there would be further passages of play as a point from the penalty would have sufficed if Niall Quinn was about to blow the final whistle on the kickout.
A further six minutes of action followed O'Malley's sixty second minute goal. In this period, Doonbeg kicked three points, two frees via David Tubridy and a fine Colm Dillon effort to ensure the result would be decided by extra time.
Gavin Cooney and O'Malley added points for Paul Madden's side in the first half of extra time with a David Tubridy free sandwiched between them. Neither side registered a score in the ten minutes of the second half and just when it looked like a result was clear, Doonbeg's Enda Doyle pounced on a breaking ball and kicked it past Nathan Murray to put the Magpies in front for the first time.
Paul Dillon ended up in possession off the kickout and sent a floating ball into the danger area where the towering presence of Colm Dillon managed to get a touch to it nudging it past Murray for their second goal in thirty five seconds and clutching the win out of Éire Óg's hands.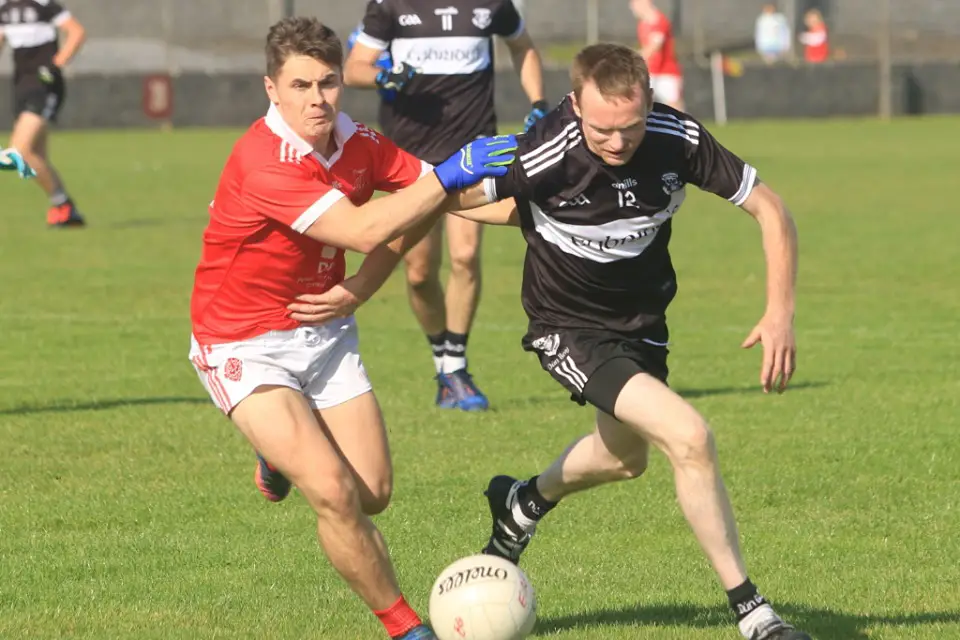 Any winning team needs luck on their side, some can even manage to make their own good fortune but not Éire Óg in this outing. County centre back Aaron Fitzgerald was a massive loss to their team, they were without Colin Smyth, Danny Griffin and Éinne O'Connor for the tie and during the game lost Shane Daniels, Conall Ó hÁiniféin and Eimhin Courtney to injury.
While some supporters of theirs were annoyed with the amount of additional time played, there is no excuse for players switching off at the most important period in the game which they did and this is what cost them a semi-final spot plus not putting their opponents to bed. Four different players took scoreable frees during the game for the Townies which is too high a number. From play and frees, they had twelve wides in comparison to Doonbeg's seven. David Reidy, Dara Walsh and Cathal Darcy did best for the Ennis men who have exited at the quarter-finals for the third year in a row despite possessing one of the most talented panels. Had they come out of Miltown with the win, it would have given them the extra character required to taste success at senior.
In a year when the Long Village has welcomed both the US President and Vice President, this memorable win may go down as the highlight of the year in Doonbeg. They showed determination in their third round draw with Cooraclare but took it to another level in this outing, they had a steel which their opponents couldn't match and the experience of players to know how to steal a game when it was in the melting pot.
Getting four goals every day will increase Doonbeg's chances of success but failing to score for long periods of time will prove costly as the race for Jack Daly heats up. Colm Dillon has troubled opposing defences in the past two games, only four players scored for the eighteen time champions and a bigger spread of individuals hitting the target is needed if they are to build on this win. David Tubridy, Colm Dillon, Eoghan Tubridy, Eoin Conway and Paraic Aherne stood out for Daniel Ryan's charges.
Scorers Doonbeg: D Tubridy (0-07 6f), E Tubridy (2-00), C Dillon (1-01), E Doyle (1-00).
Scorers Éire Óg: G Cooney (0-04 4f), P O'Malley (1-01 1'Pen), E Courtney (0-03 2f), P Talty (0-02), D Reidy (0-02)
Doonbeg: Eamon Tubridy; Cian O'Mahoney, Joe Blake, Kevin Pender, Paraic Aherne, Eoin Conway, Sean Conway; Kevin McInerney, David Tubridy; Brian Egan, Michael Tubridy, Eoghan Tubridy; Enda Doyle, Colm Dillon, Paul Dillon.
Subs: Nathan Capron for P Dillon (46), Shane Ryan for Egan (50), Paul Dillon for Capron (80), Brian Egan for Ryan (80).
Éire Óg: Nathan Murray; Niall McMahon, Conor Brennan, Cathal Darcy; Aidan McGrath, Liam Corry, Conall Ó hÁiniféin; Dara Walsh, David McNamara; David Reidy, Ikem Ugweru, Gavin Cooney; Philip Talty, Shane Daniels, Eimhin Courtney.
Subs: Shane O'Donnell for Daniels (9) (Inj), Mark McInerney for Ugweru (38), Tadhg Connellan for Tubridy (52), Paddy O'Malley for Courtney (61), Conor O'Halloran for McGrath (66) (Black), Ikem Ugweru for McNamara (65), Eimhin Courtney for Ó hÁiniféin (77) (Inj), Barry Lynch for Courtney (82) (Inj).
Referee: Niall Quinn (St Josephs Miltown)