THE West Clare Drama Festival may be over, but the folks in Doonbeg just cannot get enough.
Final rehearsals are underway for a fantastic performance of drama and song, starting on Easter Monday.
The All Ireland winning Doonbeg Drama Group, led by producer Mary Egan, will take to the stage with Shakespeare's a Dick by Mark Aloysius Kenneally.
"It's a one act play, and it's absolutely hilarious," Mary said.
When the young red-neck Wally curses the name of Shakespeare, he feels the wrath of the Bard.
He wakes up after a heavy night of boozing and finds he can only speak in Shakespearian verse.
His best friend Ramie searches for a cure from their high school English teacher Ingrid, while his girlfriend Doris swoons for the new thespian.
The second half of the evening will see more members of the Doonbeg Drama group serenade the audience with songs from John B Keane's Many Young Men of Twenty.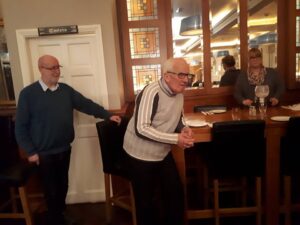 Martha Shanahan, Martina Shanahan and Noel Birmingham have also leant their musical expertise to the show.
Produced by Margaret Pyne Dillon, some new faces will join well known locals to bring the poignant songs to life.
"Many Young Men of Twenty has been a play that has been very well received in Doonbeg and everybody loves the songs. It's the one play that's as relevant today as it was when John B wrote it," Margaret said.
As well as holding the performance in the traditional theatre setting, the show will also be performed in two local pubs.
"We want to take theatre to everybody and make it more accessible, so that's why we decided we would do it in the pubs," Mary added.
The night of drama and song will be held in Doonbeg Hall on Easter Monday, April 2 at 8.30pm, Tubridy's pub in Doonbeg on Thursday, April 5 and Igoes pub in Doonbeg on Friday, April 6.
Tickets will cost €12 in the hall and €10 in the pubs and will be available at the door.