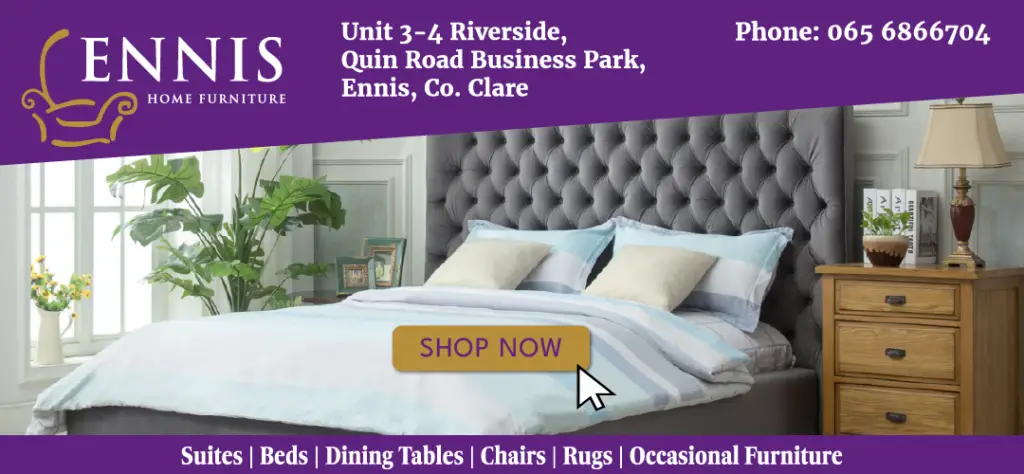 *Doonbeg's Colm Dillon. Photograph: Martin Connolly
Eighteen time Clare SFC champions, Doonbeg booked their place in the quarter-finals of the competition as a draw with Cooraclare sent them through on scoring difference.
Doonbeg 1-14
Cooraclare 0-17
Venue: Kilmihil
Before a ball was kicked, the atmosphere surrounding this game was unique from what has been witnessed in the 2019 championship. The car park was full at Kilmihil with vehicles abandoned along Church St as two neighbours prepared to go toe to toe either advancing to the last eight or being at risk of relegation.
Playing with the aid of a breeze, Cooraclare started well and built up a six point advantage inside the opening quarter. The tactic of driving high ball into full forward John Looney reaped two points while defender James Burke ventured forward to kick a fine score during their spell of dominance.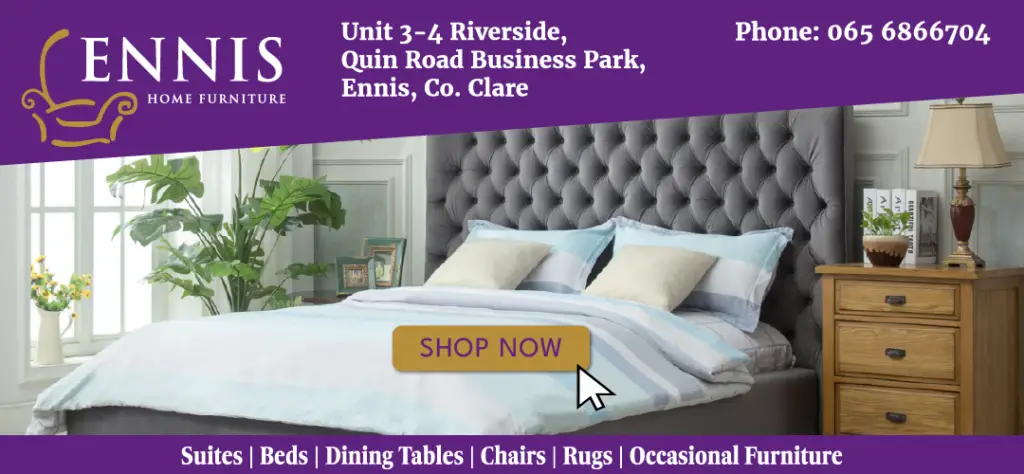 A jittery Doonbeg had registered just a point during this period via Sean Conway. They coughed up three scoreable placed balls and had difficulty retaining their own kickouts but crucially kept the faith and began to find their rhythm.
They won the second quarter 0-05 0-03 to trail by four points at the sounding of the half-time whistle. Eamon Tubridy pulled off a vital save to deny Caoimhin Donnellan a goal with twenty two minutes gone. Heading into the dressing room, the Magpies were delighted to still be in the contest while ultimately it was the inability of the Sky Blues to be further ahead that would come back to bite them.
Daniel Ryan's Doonbeg started the second half with a bang firing 1-02 in the first four minutes. Conway and David Tubridy raised the white flags with Colm Dillon winning possession from a free and managing to shake off the tackle of Conor Marrinan before belting the ball past Killian Roche for the only goal of the hour, taking the lead for the first time in the process.
Points from Jack Morrissey and the O'Donoghues Padraig and Ciaran put the Milesians back in front at the midway stage. They found an extra pep in their step following the dismissal of Ronan Good, moments after his introduction from the bench. Once more Tubridy was kept on red alert between the posts to deny a quick thinking Morrissey a goal.
Shane Ryan, Sean Conway, Paul Dillon and Colm Dillon kept Doonbeg's account ticking over while frees at the other end from Morrissey and Roche ensured they didn't push ahead. Knowing a draw would suffice, the Magpies held on for dear life and did just enough to hold off their neighbours.
For the first time this decade Cooraclare will not compete in the Clare SFC quarter-finals. They have failed to win a competitive game this year between league and championship, so their inability to progress to the last eight should come as no major surprise. When they were in control they took their foot off the gas and allowed Doonbeg stay in the game, a six point lead was let slip through their fingers and conceding 1-02 inside the first four minutes of the second half was a disaster.
Pumping ball on top of John Looney was working in the opening half but Cooraclare did not do enough. They possess some very talented footballers and while league runs can often be dismissed, racking up too many defeats in the one year will damage the best of teams. Padraig O'Donoghue, Killian Roche and Jack Morrissey did well at times for David Russell's team.
After missing out on the quarter-finals last year Doonbeg will be thrilled to be back in the race for Jack Daly. Based on their displays every other team left in the hunt will be hoping to draw them the next day out. Discipline was a problem for the Magpies, not just because they had one man sent off and another given a black card but rather that they conceded eight points from frees, if they are going to replicate this figure one could not blame clubs for wanting to get Doonbeg.
At times in the first half when it would have been easy to panic, Doonbeg kept their cool but make no mistake they have a lot of work to do. In a week in which the US Vice President arrived to the Long Village, it is in fact the footballers of Doonbeg that put the biggest smiles on their people's faces. Sean Conway was excellent for the winners with Paraic Aherne, Enda Doyle, Eamon and David Tubridy also making positive contributions.
Scorers Doonbeg: C Dillon (1-01), D Tubridy (0-04 4f), S Conway (0-03), B Egan (0-01), M Tubridy (0-01), K McInerney (0-01), P Aherne (0-01), S Ryan (0-01), P Dillon (0-01).
Scorers Cooraclare: J Morrissey (0-05 4f), K Roche (0-05 4f 1'45), J Looney (0-02), C O'Donoghue (0-02), J Burke (0-01), P Lillis (0-01), P O'Donoghue (0-01)
Doonbeg: Eamon Tubridy; Eoin Conway, Kevin Pender, Nathan Capon; Páraic Aherne, Cian O'Mahoney, Sean Conway; Kevin McInerney, Michael Tubridy; Brian Egan, Paul Dillon, David Tubridy; Enda Doyle, Colm Dillon, Eoghan Tubridy.
Subs: Joe Blake for Conway (20) (Black), Ronan Good for McInerney (42), Shane Ryan for M Tubridy (47), Brian Behan for C Dillon (62) (Inj)
Cooraclare: Killian Roche; Niall Kelly, Conor Marrinan, Fergal Donnellan; Pearse Lillis, James Burke, Thomas Donnellan; Sean O'Donoghue, Colin McNamara; Ciaran O'Donoghue, Jack Morrissey, Padraig O'Donoghue; Caoimhin Donnellan, John Looney, Killian Burke.
Subs: Tadhg Lillis for C Donnellan (58).
Referee: Barry Keating (Lissycasey)