IF YOU'RE stopping off on the Lahinch Road for a coffee or some fuel for the road, don't forget to congratulate all the staff at Donnellan's Centra in Loughville.
That's because the Ennis family-run business has just landed the top honours at what's lauded as the Oscars of Business Excellence, The National Q Mark Awards.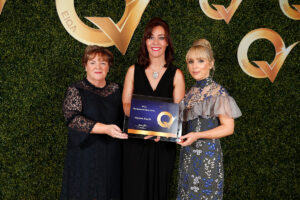 At a ceremony at the Clayton Hotel, Dublin 4, Donnellan's were recognised as being at the very top of the Q for highest standards of Quality and Excellence for hygiene and food safety.
"We are unbelievably proud as we really feel that our dedicated and more personal approach has worked for us and having such good people working together towards something bigger than ourselves has been vital in our success" said Edwina Donnellan.
Donnellan's Centra is a family run business which is retailing for 29 years. Well done to everyone involved.