*Doireann Ní Ghríofa. Photograph: Brid O'Sullivan
Home is where the heart is and it is the Kilnamona roots in Doireann Ní Ghríofa that invade her creative space when it comes to writing.
Her upcoming return to Clare for the Ennis Book Club Festival (EBCF) coincides at a time when her reputation is on the rise in Europe. Lies: Poetry & Music sees the poet's work read aloud accompanied by world renowned musicians Barry Guy and Maya Homburger at St Columba's Church.
Doireann, a bi-lingual writer of prose and poetry described EBCF as "the jewel in the crown of the literary events that happen in Ennis". Having previously collaborated with the RTÉ Vanbrugh Quartet and Leanne O'Sullivan on a similar performance, she is hopeful that their finished product "will be really pleasing and moving to the audience".
With four children under the age of ten, Doireann has "a busy home life" which forces her to "try and find islands of time where I can just work in very concentrated almost like feverish way when they are occupied elsewhere". She continued, "some days I can't manage to find any little islands of time throughout the day, at night time before I go to bed I'll sit down and just to keep in touch with the projects I have on the go at any particular time I'll spend some time working at that point".
No such problem exists for the former Gaelcholáiste an Chláir student when it comes to sourcing inspiration. "I'm so pressed for time all the time that what I found I always have an eye out for gathering little sparks so when I do get the time to sit down and really think about them and make something of them that I have all my sparks ready to go and I can ignite them into a little fire more quickly. I keep an eye out for the inspiration as I'm going about my days the whole time and then I just have to find the time to make it into something more substantial".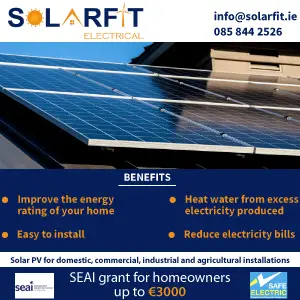 Short films of her poems appear on YouTube in what has been called 'undercover poetry'. Ní Ghríofa explained of the alternative approach, "We're so used to hearing poems or reading them, there is something a bit different about seeing a poem unfold in front of you with all the atmospherics that we're used to absorbing from something on a screen and the fact it comes to you with its own soundscape makes it a different experience for an audience coming to a poem to what they are expecting from the encounter with a poem".
Regularly she returns home with family still living in Kilnamona and Doolin, "I feel really lucky to have such deep roots still in Clare and those roots bring me back the whole time," she said of the frequent trips to the Banner County. It comes as no surprise that it is here where many of her "little sparks" ignite as it was the place where her love of literature first blossomed. "The whole time growing up in Kilnamona I always had my nose in a book and I loved that, it's very special when you see how a child will encounter a book and they're totally in a different world when they go into a book and that was very much my experience. The whole time I was growing up in Kilnamona I was reading but I didn't start writing until I was in my twenties, that came later. I did find when I started writing, I suppose everyone writes from a deep sense of who they are, I have such a strong sense of belonging to where I am from that a lot of what I've written and the wells I draw on are at home in Kilnamona. Even though I started writing when I moved away due to my husband's work, it's still very much home that I'm writing from".
2016 saw Doireann win the Rooney Prize for Irish Literature, several other accolades have followed and preceded that such as a Seamus Heaney Fellowship to Queens Univeristy and a Lannan Literary Fellowship. Despite this success, she would never admit to being one of the leading writers in the country, let alone beyond Ireland. "I don't think I've ever felt like I'm very good at this. Even though it might seem on paper like someone is having a lot of success as a writer or has been given certain awards, you're still faced everyday with the blank page and the struggle with having to fill it up with words. I'm so happy that more readers are coming to my work and that there is that measure of success there. At the end of the day I'm still faced with the daily struggle of finding the time to put more words on the page and keep polishing them trying to create new experiences for readers. There is a sense of constant development and search for growth within that work and there is never a sense of 'now that's done'".
Poetry in Irish gives wonderful instances of onomatopoeia but a new wave of filíocht as Gaeilge is emerging and the Cork resident credits the Gaelscoil system for this. "There are so many young people coming to the language, the fact that we lost Irish as a first language a language ón cliabhán as we would say in Irish from the cradle, that's gone with a few generations means that people like me who learned Irish through the Gaelscoil system are coming to it with fresh eyes and it's not our ordinary daily language that we had when we were kids, it does seem exotic and there is great potential in it for onomatopoeia and things like that. In school we learn rain is báisteach, we can come to words and hear another for rain which would have been used by our ancestors in Clare like claggarnach, when you say the word claggarnach out loud you can practically hear the hail and rain tumbling down on the roof over you. I do find that inspirational in the poems, the sense of the fabric in the Irish words that are just barely under our experience as people who grow up in Clare of our generation, it's not that long ago that our people were walking down the same roads and using very different words to articulate the same things. I feel that there is a real importance in those words and that sense of deep roots that we're very lucky to have in this place".
Looking towards the future, Doireann was confident the Irish language would remain popular and vibrant. "Irish was gone from my family and I was enrolled in the Gaelscoil in Ennis and given such an extraordinary education and such an easy love for Irish, there was no sense of having to learn it in an active way, we picked it up in a natural way like kids will, children are sponges. My own children are all enrolled in Gaelscoil as well, that will tell you how much I believe in that system and how much I see it as a hope for the future, I feel there will always be a hope for the Irish language as long as there is such a brilliant Gaelscoil system thriving in Clare and bringing on the next generation of Irish language speakers. We're so lucky to have it and there is something really precious about seeing a small child of five or six running around talking Irish in Clare when it was gone, it was gone for so long and it is back with small kids running around chatting away, we take it for granted but there is something really magical about that and it's all down to such great teachers".
In a previous interview, the qualified teacher revealed that she would be like to remembered for bringing 'light and joy' through her work, for her it is still a case of finding joy when she searches for a book. "I like to experience that sense of looking at the world through someone else's eyes and that magic that I had as a child when I would go to a book, I find a certain joy in that. Sometimes our poems and the books we seek out deal with difficult subjects and can be hard to read, the sense of going to a book there is an ordinary human joy in that and some deep pleasure we can draw from that. I feel like there is a place in literature for bringing joy to people and the joy is in that sense of imaging the life of another and being allowed a little portal into someone else's life for as short amount of time it takes to read a poem or as long an amount of time it takes to read a novel, there is a joy in that and experiencing someone else's life".