*Martin Tobin. Photograph: Páraic McMahon
People with disabilities living in Co Clare are "crying out for a social life" and an outlet in which they can meet up regularly.
Last September, Martin Tobin was one of the Clare Leader Forum's delegates that addressed the local authority and in recent days, the Newmarket-on-Fergus native has outlined a particular issue that is of importance to individuals with various disabilities when speaking to The Clare Echo.
A past pupil of St Anne's, Martin has completed two courses at LIT, one on advocacy, leadership and independent living in 2018, earlier this year he studied campaigning for human rights and equality at the third level institute.
"There is an awful lot that needs to be done. For example these parties, people with disabilities are crying out for a social life, it's not really there for them in the main. It's an issue that needs serious addressing".
Martin admitted that he would love to be able to go out more, "normally it's when family are going out I tag along with them". He was unsure as to what could be done immediately to rectify the lack of suitable venues for such potential gatherings but felt a meeting the individuals running bars and restaurants and Clare Leader Forum may help.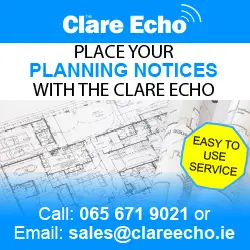 Since 1999, Martin has worked part-time at the biggest supermarket in the village of Newmarket-on-Fergus which is now called Eurospar, a post he received through EmployAbility. Of his role, Tobin said, "I keep the place clean and keep a check on stuff". He encouraged personnel living in the county with disabilities and needs that holding down a job can be very positive.