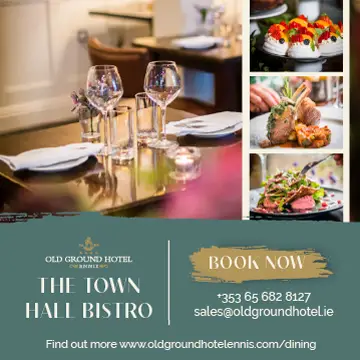 A commemorative plaque was unveiled on Saturday to honour the decorated career of former grand national winning jockey Jason Titley.
The plaque, which lists the Shannon native's career achievements including Grand National glory in Aintree in 1995, was presented in front of friends and family opposite the Monks Well Inn, which was bought by Jason's mother when he returned from the UK twenty years ago.
Surrounded by a "fantastic community" of horse trainers and breeders in Quin the successful pre-training yard owner in Latoon, where he educates young thoroughbreds, said that he is "humbled by it all" and enjoyed the "great turnout and support shown" on the evening.
Paul Carberry, one of Ireland's great jockeys unveiled the plaque on the day, which was put together and organised by Quin native Pat O'Brien.
Reflecting on his achievements now two decades into his retirement in 2001, which stemmed from fatigue and a constant battle to keep his weight at 10 stone, the 1997 Irish Grand National winner quipped to The Clare Echo that "the plaque left out one of my proudest achievements, a Junior B football medal with Clooney-Quin".