*Roche, Clarecastle. Photograph: Martin Connolly
A Clare TD has said the phased demolition of the Roche site in Clarecastle represents a missed opportunity.
Pharmaceutical operations ceased at Roche at the end of March last year, it was built by the Syntex Corporation in 1974 and acquired by Roche Group in 1994. A search to find a buyer for the site proved unsuccessful when its closure was announced in November 2015.
At the beginning of this month, a formal final grant of planning permission for work to commence on the phased demolition of all existing buildings, structures and infrastructure, on, in, over and under the site of its existing Roche pharmaceutical plant at Clarehill in Clarecastle was granted.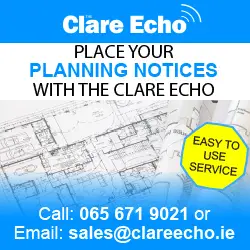 Decommissioning works are scheduled to commence in the middle of this year but are "a missed chance," Cathal Crowe TD (FF) maintained. "I believe the fact that the laboratory at Roche's Clarecastle site is to be demolished truly is a lost opportunity for Clarecastle, for Clare and the wider Midwest region".
Deputy Crowe added, "Everybody accepts the fact that Roche is pulling out and we have all come to terms with it, albeit a tough pill to swallow. I had hopes, though, that retaining the lab would have been considered at a time when the world has never been as reliant on science and the pharma sector".
"I believe it could have been in some way repurposed, sold on or even leased out to a different pharmaceutical firm for use there. This news is the final nail in the coffin in any such hopes, though," the Meelick native stated.