Markets may drop further, Clare Echo financial and hurling columnist Darach Honan has cautioned but he has urged investors to hold tough for now.
Like so many areas of our society, financial markets were thrown into turmoil over the last couple of months due to the coronavirus pandemic. The longest bull market in history took place over the last 11 years with stocks and shares enjoying huge growth on a yearly basis. However, this historic run was ended when we saw the fastest ever bear market drop this march.
Typically, a bear market is defined as a drop of 20% in the value of the stock market. Previously the fastest ever bear market drop in value took place in 1929 when it took 42 days for equity markets to lose over 20% in value. The current crash was twice as fast and saw equity indices lose 20% of their value in just 21 days.
So how does this affect my investments & savings?
Investments and savings in the short term are likely to have lost significant value. Many will have seen 20-30% wiped off their pensions and investments over the last month. While this is a significant loss, it is short term. Successful investors are the ones who take a long-term approach. Economic activity is cyclical and the patient, calm investor is rewarded in the long term. Investing is a series of ups and downs and those who stay invested long enough will benefit.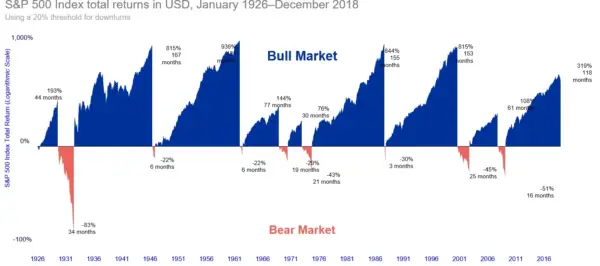 What do I do now?
For those already invested, the best thing to do now is to hold tough. If you are worried about your pension, don't be. A pension is a long-term investment vehicle that is designed to produce returns over 40 years. There will be bumps along the way but if your financial advisor has placed you in a well-run equity fund there will be growth when it comes to maturity.
If your savings are invested in funds which have seen losses, you should take the same approach. If you exit the market now you will be accepting losses with no chance to rebound.

Is this an Opportunity to Invest?
In short yes, the golden rule of investing is "Buy low, sell high". Markets are lower today than they have been for 10 years and those who have money available to invest should take advantage over the coming months. This graph shows the percentage increases after each bear market in history. The aftermath of a bear market is the best time to enter the market.
Have we reached the lowest point in the market?
It is impossible to know this right now. There is a good chance that markets may drop further, this may depend on how well governments in major markets like the USA and UK deal with the crisis. Unfortunately, neither Boris nor Don inspire confidence in their competence to deal with this global crisis so this may get worse yet.
However, as it's an election year in the USA, Trump will throw everything he can and trying to rescue the economy in order to secure his re-election. Trump recently signed into law a $2 trillion dollar rescue package and this resulted in an immediate bounce in share prices and hopefully will signal the start of the recovery.
Unfortunately, we are heading into a recession, how long it will last will be down to how well government policy addresses this reality over the next year.
If you have any financial concerns that you wish to address, I can be contacted on 087-1277155 or darach@ipsfa.ie.