*Cormac Murray kicked 0-14 as St Josephs Miltown collected a win. Photograph: Gerard O'Neill
St Josephs Miltown, Ennistymon and Kildysart got off to winning starts as the Cusack Cup commenced on Monday.
Miltown in control against understrength Kilmurry-Ibrickane
St Josephs Miltown 2-21
Kilmurry Ibrickane 0-04
Venue: Pairc Naomh Mhuire, Quilty
A very understrength Clare senior football champions outfit, Kilmurry-Ibrickane, suffered a heavy defeat from their arch rivals and near neighbours St Josephs Miltown in round 1 of the Cusack Cup at Quilty this Monday afternoon.
On the evidence of this game, Dublin's Mick Bohan will be busy over the coming weeks getting the side ready to defend their championship crown. He has joined Aiden Moloney's set-up in an advisor capacity.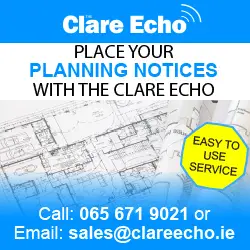 This is a task he will have to take on without Dermot Coughlan junior who suffered another cruciate knee injury during the week. The talented forward has been dogged by injury in recent times and this latest set back is certainly a huge blow to Kilmurry-Ibrickane
Dublin's ladies football manager and former Clare senior football coach was present at Monday's game when Kilmurry's starting line up included just a handful of their championship winning team in Darren and Shane Hickey, Martin McMahon, David and Daire Sexton.
That said credit must go to Miltown who dominated from the outset on a day when Cormac Murray emerged as the top scorer with 0-14 to his credit. Murray surprisingly withdrew from the Clare senior panel in midweek despite the fact that he had seen action in a number of Clare's league games this season.
Miltown led 0-9 to 0-2 at half time and they continued to dominate after the break when Micheál Malone and Gordon Kelly were their goalscorers.
Kilmurry-Ibrickane veteran Enda Coughlan saw action when he replaced injured goalkeeper David Sexton.
St Josephs Miltown: Sean O'Brien; Euan Reidy, Seanie Malone, Aidan McGuane; Micheál Murray, Gordon Kelly, Gearoid Curtin; Oisin Looney, Drragh McDonagh; Liam Hehir, Cormac Murray, Kieran Malone; Joe Carmody, Sean Malone, Brian Curtin
Subs: Damian Devereaux for M. Murray; Conal Meade for Carmody, Micheal Malone for Hehir
Kilmurry-Ibrickane: David Sexton; Michael Comber, Darren Hickey, Ciaran O'Neill; Daire Sexton, Evan Talty, Colin Brigdale; Diarmuid King, Niall Shannon; Andrew Shannon, Shane Hickey, Joseph Campbell; Martin McMahon, Stephen Moloney, Damian Lynch;
Subs: Kevin Tubridy, John O'Donoghue, Enda Coughlan.
Healy's goal decisive
Ennistymon 1-11
Éire Óg 0-11
Venue: Ennis
A goal from experienced centre back Lawrence Healy, early in the second half proved the decisive score as Ennistymon got their campaign off to a winning start with victory over Éire Óg at the latter's venue.
A well contested first half ended with the North Clare side leading by the odd point in seven. Éire Óg levelled just after the resumption but Ennistymon responded with Healy's goal which completed an impressive move involving Killian Malone, scorer of 0-7 of his side's total.
Former Corofin (Galway) player Cathal Reilly made his debut for the winners. Philip Talty top scored for Éire Óg with 0-4
Ennistymon: Noel Sexton; Cathal Reilly, Adam Ralph, Sean Rouine; Liam Devitt, Lawrence Healy, Willie Murphy; Mattie Kinch, Pat O'Rourke; Michael Leigh, Killian Malone, Cathal McConigley; Niall Canavan, Joe Dowling, David McNamara.
Subs: Danny Rouine for Canavan; Tiernan Hogan for O'Rourke; Diarmuid Fahy for Cathal McConigley; Sean McConigley for Dowling; Oisin Vaughan for Devitt;
Éire Óg: Nathan Murray; Cathal Darcy, Niall McMahon, Mark Collins; Gearoid Collins, Sean Corry, Ultan Shiels; Éinne O'Connor, Aidan McGrath; Niall O'Donoghue, Conor O'Halloran, Paul Martyn; Paddy O'Malley, Alan O'Neill, Philip Talty.
Subs: John Joyce for O'Neill
Spoils shared in Ballynacally
Clondegad 0-15
St. Beeckans 1-12
Venue: Páirc Mhichil Ui Eithir, Ballynacally
A draw was a fair result at Ballynacally where the home side and St. Breckans shared the spoils in a game which was evenly fought throughout.
The visitors held a one point lead at the half way point and the game continued to be evenly fought in the second period. Maccon Byrne scored the game's only goal in a tie in which both sides were guilty of missed chances.
Clondegad: Declan O'Loughlin; Brian Casey, Conor Gavin, Brian Murphy; Francie Nealon, Morgan Garry, Niall Lynch; Brandon O'Connell, Mark Crowe; Eoin Glynn, Eoin Gavin, Colin McNeilis; Podge McNeilis, Barry Toner, Daniel Kelly;
Subs: Ian Carigg for Glynn (inj); Eoin Donnellan, Michael Meaney, Evan Wall for E. Gavin, McNeilis and McMahon; Brian Long for Nealon.
St. Breckans: Tristan O'Callaghan; Evan Barrett, Conor Burke, Cian Burke; Aaron O'Brien, Maccon Byrne, Ciaran Flanagan; Liam Tierney, Padraig Kelly; Conor Shannon, Eoin Guerin, Seamus McNamara; Colm O'Brien Cathal Guerin, Aidan Davidson
Subs: Denis O'Callagzhan for C. O'Brien (inj.) Micheal Flanagan for Barrett (half time) Robert O'Connell for C. Shannon; Killian Blood for O'Callaghan
Kildysart lay foundation in opening half
Kildysart 0-14
Doonbeg 0-8
Venue: Shanahan McNamara Memorial Park
When these sides clashed in the opening round of last year's league, KIldysart who has just been promoted to the top division were victorious and they repeated that success with a bigger winning margin on this occasion.
The visitors to Shanahan McNamara Park in Doonbeg played with the aid of the breeze in the opening half and they had a six point advantage at half time when the score was 0-9 to 0-3.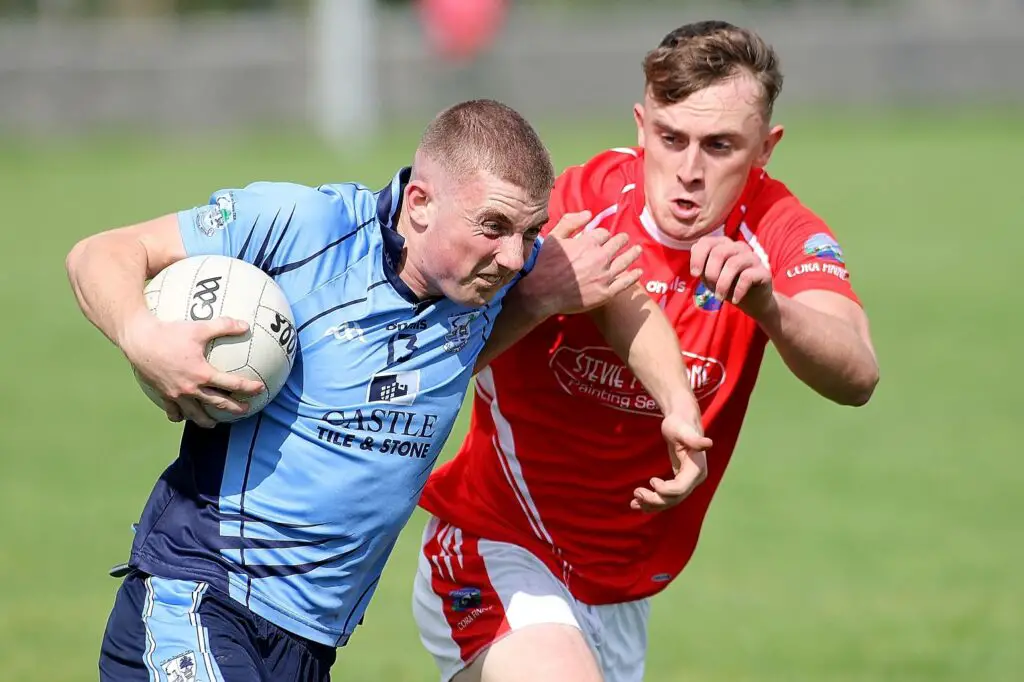 On the changeover they continued to hold the upperhand and maintained their advantage. To Doonbeg's credit they fought back strongly in the final quarter but they were unable to get the scores they needed on a day when centre forward Sean Conway suffered a shoulder injury which is likely to keep him out of the game for a while.
Kildysart: Robert Eyers; Ian Flanagan, Kieran Leahy, Stephen Sheehan; Conor Moloney, Ruairi McMahon, Michael Eustace; Kieran O'Brien, Keith O'Connor; John Guinnane, Seamus Casey, Mikey Donnellan; Diarmuid O'Donnell, Luke McGrath, Keith Murphy;
Subs: Ryan Casey for Moloney; Brian Eyers for Eustace; Damian Hill for K. Murphy; Neil O'Connor for Guinnane
Doonbeg: Eamon Tubridy; Joe Blake, Kevin Pender, Cian Clancy; Killian Blake, Paul Dillon, Ronan Good; Conor Blake, James Killeen; Padraic Aherne, Sean Conway, Michael Tubridy; Luke Conway, Kevin McInerney, Brian Egan;
Subs: Padraig Nugent for S. Conway(inj); Eoin Tubridy for Nugent; Shane Ryan for Good; Jason Linnane for Egan; Brian Behan for C. Blake.
Finnucane points the way for Lissycasey
Lissycasey 0-15
Kilrush Shamrocks 0-10
Venue: Captain Tubridy Memorial Park, Kilrush
A haul of 0-9 from centre forward Conor Finnucane helped Lissycasey to a merited five point win over Kilrush at the latter's venue in this Division 2 (Garry Cup) tie.
The visitors started well and raced into a four point lead but, inspired by some excellent scores from centre back Gearoid O'Brien the home side fought back and when the half time whistle sounded the teams were level at 0-7 each.
Points were exchanged on the resumption before the winners edged two clear, 0-11 to 0-9, by the three quarter stage. Lissycasey dominated the final quarter and were deserving of their five point advantage when the final whistle sounded on a day when debutants Michael Madigan, Kevin Chivers and Luke Griffin impressed.
Lissycasey: Daire Meaney; Kevin Chivers, Martin O'Connor, Michael Madigan; Luke Griffin, Niall McCarthy, Brian Cahill; Matt O'Shea, Francis Hayes; Eamonn Finnucane, Conor Finnucane, Cathal Considine; Sean Hayes, Niall Kelly, Seamus Collins;
Subs: Pau Nagle for Considine; Jack Cahill for Kelly; Niall Meere for Hayes
Kilrush Shamrocks: Tommy Moloney; Anthony Lillis, Sean Purtill, Damian Casey; Dean Neary. Gearoid O'Brien, Matthew Moloney; Matthew Shannon, Calum Bond; Cathal Carigg, Niall Brennan, Ray Glynn; Jamie Griffin, Norbert Kiwicki, Ross Phelan
Subs: Bobby Clancy for Lillis; E. Kelly for Glynn; C. Roche for Kiwicki; D.Clancy for Carigg.
Strong finish from St. Josephs
St. Josephs Doora/Barefield1-12
Shannon Gaels 1-8
Venue: Labasheeda
A strong finish helped St. Josephs to this victory over Shannon Gaels at Labasheeda. After playing with the aid of the breeze the home side led by two points at half time. St. Josephs equalised early in the second half before the home outfit struck for a goal from Fergal Kenny.
St. Josephs responded and levelled again before taking control in the closing ten minutes helped by a goal from Eoghan Thynne
St. Josephs Doora/Barefield: Paddy Bugler; Peter Collins, Conor O'Brien, Aodan O'Se; Kevin Harrington, Alan Killeen, Cathal Ruane; Eoin Hanrahan, Jack Hannon; Conal Kelleher, Brian Guilfoyle, Kieran Thynne; Cathal Duggan, Eoghan Thynne; Conor Brannock,
Subs: Kevin Meaney; Dara Whelan; Dara O'Callaghan;
Shannon Gaels: Tom O'Gorman; Michael McMahon, Tomás Cleary, Stephen Keogh; Micheal Lorrigan, Fergal Kenny, Aaron Malone-Smith; Darren Crehan, Jack Reidy; Dirmuid Lorrigan, Niall Ellis, Dylan Kenny; Tadhg Kelly, Barry Crehan, Cormac Moloney;
Subs: Caimin McMahon, Eoin Keane, Pierce Ellis, Gearoid Kenny
In the other games in this division O'Currys had two goals to spare over Kilmihil (2-11 to 0-11) while Corofin were 0-12 to 0-7 winners over Cooraclare.
In Division 3 there were wins for Wolfe Tones, Cratloe, Ennistymon and Kilfenora over Killimer, Coolmeen, St. Senans, Kilkee and Naomh Eoin. The new division 7 saw wins for Cooraclare, Ennistymon and Clondegad over Lissycasey, St. Breckans and St. Senans, Kilkee respectively.