An evening of music, song and conversation was organised for dozens of East Clare residents over the June Bank Holiday weekend to mark what for many was their first social event in over fifteen months.
Derg Isle Adventure Centre were the brains behind the 'Crooners and Cocooners' event that offered an open invitation to some of East Clare's older residents to enjoy an evening of entertainment outdoors now that they have been fully vaccinated.
Hosted at the Derg Isle facilities, the majority of the attendees were at the amenity for the first time. Brian Lohan's Clare senior hurlers and the Scariff senior hurling panel were among the recent panels to partake in some team bonding at the popular East Clare spot.
Music was provided by Seamus Bugler, Faye Moloney and Maeve McColl.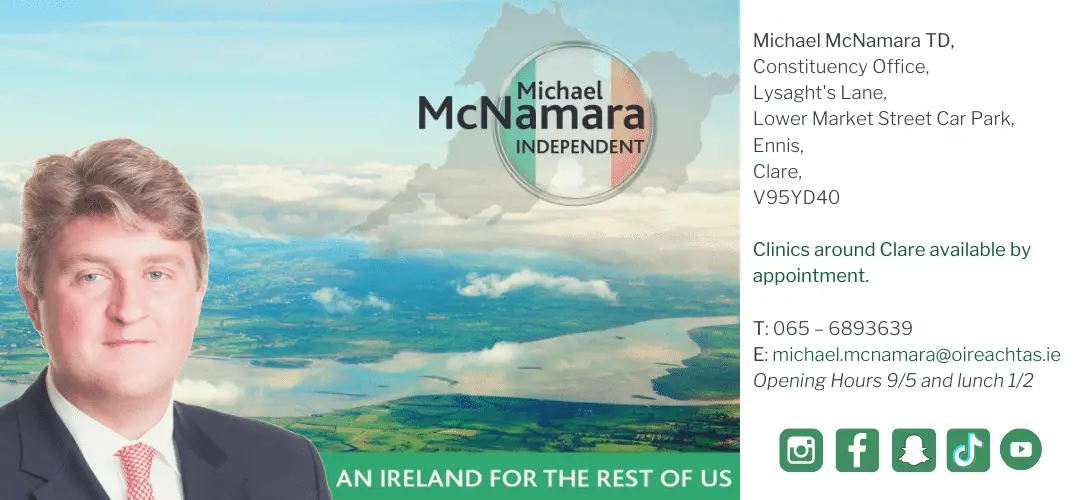 Scariff's Loretta Brody was among those to attend the event. "It is lovely to get out, we were inspired by the beautiful music and dancing. It was lovely to even get the invitation to come, even if we never came, we're blessed with the evening," she reflected.
"I loved it, I did, I loved every bit of it, it is nice to meet everyone again and get out of the house," Ann Culloo said of the occasion.
Nora Hassett of Bodyke pinpointed her favourite aspect as seeing and meeting "so many people that I didn't meet or see in ages". Phil Fenwick quipped, "It was a great idea. It's great to be out, it's like being released from prison or something like that, it was a great idea".
General Manager of Derg Isle, Alphie Rodgers hailed the event as a success. "We're delighted, it was a brilliant evening to see the talent from the youngest to the oldest, it was a lovely evening".
Alphie noted the importance of the occasion. "They've had a difficult couple of months no more than any of us but particularly we've been lucky enough to get out and go to an odd match but for many of them mass has been cancelled, set dancing has been cancelled, the cards and bingo has been cancelled, the social scene has been wiped out really over the last couple of months".
Several interviews from Derg Isle are to be broadcast on Scariff Bay Community Radio with Marie McNamara and Trish Nugent on hand to catch up with some of the attendees for the Saturday Chronicle Show.
PRO of Scariff Bay, Eoin O'Hagan outlined that the occasion was "a beautiful evening". He added, "It was the first social occasion that many of the attendees had been at in over 15 months. A simple affair it was a pleasure to see all the happy smiling faces as they listened to music or sang a party piece.
O'Hagan heaped praise on Derg Isle for the initiative "to bring our elderly neighbours out for a well deserved evenings entertainment".