Clare has recorded a jump in the 14 day incidence rate of COVID-19 over the Christmas period with 81 new cases emerging in the county.
Prior to Christmas, Clare had the second lowest 14 day incidence rate per 100k of the population of the virus. In Sunday's (December 27th) update from the Department of Health, the county now holds the eight lowest incidence rate in the Republic of Ireland with the figure at 115.3.
Seventeen new cases of COVID-19 are known in Co Clare as per figures up to December 25th. Over a three day period, 81 cases were recorded in the county.
Across the country, 744 new cases have been diagnosed, a reduction on figures released on Christmas Day and St Stephen's Day. Of the cases 246 in Dublin, 131 in Cork, 51 in Limerick, 40 in Wexford, 33 in Donegal and the remaining 243 cases are spread across 19 other counties.
An additional four deaths have been alerted to health officials. Since the emergence of COVID-19, there have been 2,204 COVID-19 related deaths in the country.
Latest hospital data from 8am on Sunday detailed a total of 50 COVID-19 hospital admissions in the space of 24 hours. Currently, 324 persons are in Irish hospitals receiving treatment for the virus with 26 of these in ICUs.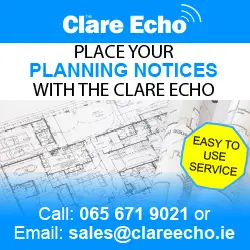 "We have seen a significant increase in the number of hospitalisations in the last two weeks from less than 190 to 324 today. This indicates a deteriorating disease trajectory nationally and is a significant reminder of the severity of this disease," Dr Tony Holohan stated.
The Chief Medical Officer confirmed that the growth rate of the epidemic has "accelerated in recent days".
He added, "Due to the lower volume of tests being carried out over Christmas Day and yesterday, we believe there are higher levels of disease circulating in the community than today's reported case numbers reflect. We expect, therefore, to see a large increase in cases reported over the coming days. If we do not act now to stop the spread of COVID-19, we will not be able to protect those in our society that are most at risk of serious illness or death".