A €2.5m financial boost for Clare County Council is to be issued compensating for a drop in rates from Moneypoint.
On Tuesday, the Minister for Housing, Local Government and Heritage, Darragh O'Brien (FF) and Minister of State with responsibility for Local Government and Planning, Peter Burke (FG) announced Government funding to the value of €2.5m was to be provided for Clare County Council for 2021.
As a result of changes to the operations at Moneypoint power station, the plant's rates bill has been reduced. The commercial rates from Moneypoint accounted for 25 percent of the county's rate base up until recently and is seen as a vital source of income to the county with a €3m shortfall estimated. The Department said the funding acknowledges the impact on the local authority in the short term and will help to sustain services in West Clare.
Speaking to The Clare Echo on Wednesday, a spokesperson for Clare County Council outlined that formal communication had yet to be received by the Department regarding the allocation.
Chief Executive of Clare County Council, Pat Dowling alerted the county's Oireachtas members of the funding shortfall.
In a statement to The Clare Echo, Deputy Joe Carey (FG) noted that the allocation was "badly needed and will ensure the vital services delivered by Clare County Council can continue". He added, "Every week I see first-hand the great work done by Clare County Council in areas such as rural and community development, housing and roads. This has particularly been the case since Covid-19 hit and we have seen the council lead the Community Call initiative providing vital services to citizens".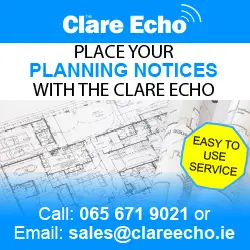 Senator Timmy Dooley (FF) paid tribute to his Government colleagues for awarding the funding. "There are stark financial implications from the loss of rates totalling almost €3m of Clare County Council base rate income, so I am very pleased to see this position rectified".