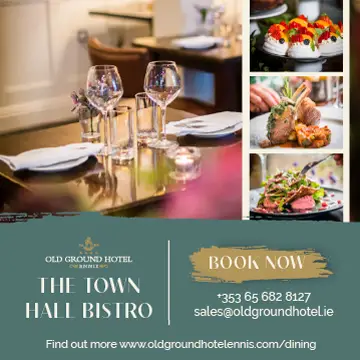 *Love Shannon members, Darragh O'Connor, Elton Good, Brendan Wall & Derek Clune at the site of what could have been The Venue. Photograph: Joe Buckley
CLARE County Council refused an offer of €10m to fund a community, civic, cultural and interpretative centre for Shannon, local business personnel have claimed.
An offer was made by a Shannon based businessman to Clare County Council to fund The Venue at some stage in 2020, a project which failed to receive Government funding for four separate applications despite previous promises from local TDs that it would get €5m in the Budget of October 2017.
Calculations detailed that €10.9m was required for the development of The Venue with an additional €0.9m for operational costs. Annual running costs were predicted to be between €600,000 and €800,000.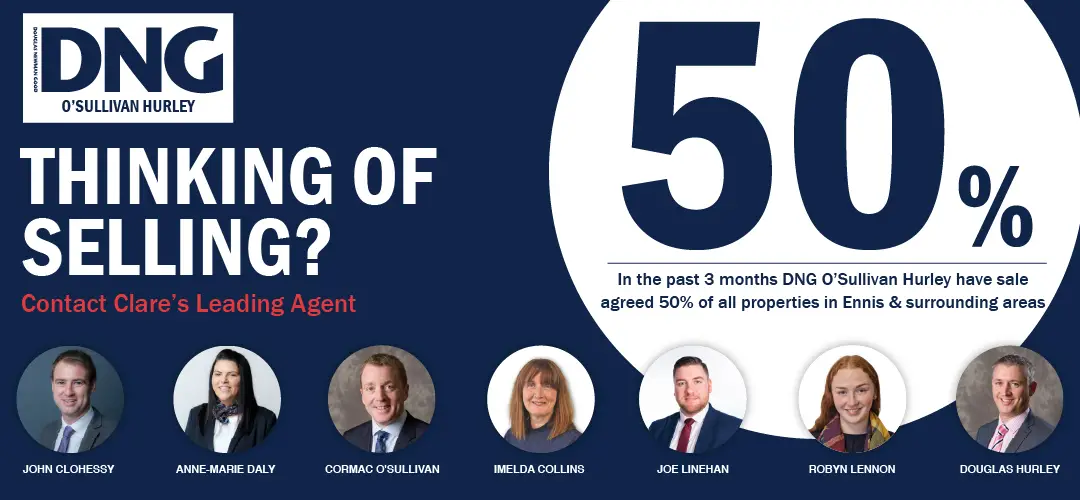 From the period 2012 to 2015, a local group working on making the 2,600 sq metre site a reality raised between €900,000 to €1m. A total of €850,000 in funding had been received, €15,000 of which came from Clare County Council, €48,000 from the REDZ programme and €40,000 in Shannon Festival fundraising. Expenditure incurred to date included €290,000 (acquiring site, engaged design, planning), €14,547 (accounting services), €7,653 (marketing) and €4,735 (insurance).
Speaking at a meeting of Love Shannon Community Council in recent days, local businessman Darragh O'Connor outlined, "one thing has stuck in my mind over past few weeks. The Venue was something we all wanted, a businessman in this town offered to pay not as a loan but as a gift, offered to pay €10m to build The Venue as a gift to the people of Shannon but we were denied it". He added, "This was a gift but we still don't have it. The Council refused the Venue and the money, how do we put up with that and pay the highest rates in the county".
Retired journalist, Ron Kirwan flagged that nowhere in the county was considered for regeneration only the bowways and laneways of Parnell St in Ennis. He said the development of a master plan for Shannon was only put in place to act as a comparison with the county town. "The venue I was told by one councillors that there was something suspicious about, it is shocking they would think about it like that but that's the mentality".
"What's shocking is Clare County Council went out and asked for a €10m loan for Ennis 2040 yet they were offered €10m a couple of months after The Venue and they said no," founding member of Love Shannon, Niamh O'Callaghan responded. The area of land where the Venue was to be located is now valued at €350,000, she noted. "Ennis got a loan of €10m, we were being given a gift of €10m and nobody is going mad that we didn't get it". Kirwan in response flagged a company has been set up for Ennis 2040 and said the loan would be repaid.
Speaking to The Clare Echo, Darragh expressed his view that the people of Shannon need to stand up and shout over the Council's actions. "It is one thing for people to be giving out about Facebook but not wanting to help Love Shannon, if I was to give one reason to help Love Shannon there's ten million, we're being fobbed off everywhere, here is the ten million reasons to get involved with Love Shannon".
A spokesperson for the local authority told The Clare Echo, "In the interest of the public record, clarity and transparency, Clare County Council can confirm we have neither been offered or refused funding to develop a site in Shannon Town Centre". The spokesperson added, "Clare County Council worked in partnership with the Venue Ltd., a consortium of local business people in Shannon, on a funding application in 2018 to develop a site in Shannon Town Centre. Unfortunately, the application was not successful and 'The Venue' project did not progress. The master planning process for Shannon Town Centre is nearing completion and it is our intention to develop key projects. If any offer of third-party funding is made to Clare County Council to support our efforts in Shannon Town Centre we will engage wholeheartedly".