"1,000 families are being denied a basic right" in Clare because of the lack of provision of "adequate finance" under the Local Improvement Scheme (L.I.S.) in the county according to Cllr PJ Kelly.
In a motion put forward for the June meeting of Clare County Council, Kelly asked "That the Government be requested to provide adequate finance to address the needs of the 260 applicants for road improvements under the L.I.S."
He was told in a response from Senior Engineer John Leahy that 13 LIS projects have been approved for funding in 2018 at a cost of €482,000. "An additional application was also made to the Department of Rural and Community Development seeking funding for a further 22 LIS projects at an estimated cost of €891,137. It isn't clear at this stage when an announcement may emerge regarding additional LIS funding for 2018".
A Council response in May indicated "that it was an onerous task to carry out an analysis of the estimated cost of works required for the remaining LIS applications received. This, however will be carried out in due course and further applications submitted to the Department of Rural and Community Development seeking additional funding".
Kelly thanked Leahy for his response and expressed his view as to why the decline of rural areas has arisen. "I've been around here for quiet some moons, areas rise and fall, they've fallen because of a lack of amenities". He continued, "It has happened because we've been silenced for too long".
Cllr Kelly warned that there is "hyper sensitivity in the planning department of the impact of single housing planning" which he described as "uncontrolled". The Lissycasey man stated that the intentions of Council CEO Pat Dowling were positive but he is being held back. "When the CEO announced his hopes for rural Clare I was delighted but he didn't realise what he had in store, he had lead cufflinks around his ankles".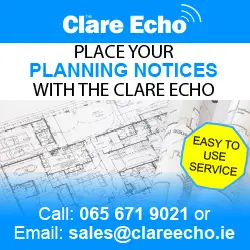 His motion was seconded by Cllr Richard Nagle who acknowledged Michael Ring for the reintroduction of the L.I.S. scheme. Cllr Christy Curtin outlined that 201 of the applications are from West Clare, "if they're real about rural Ireland this is where the money should go," he said of the current Government.
An annoyed Cllr Pat Burke criticised the councillor behind the motion. "I don't go on too long at meetings," he began, "I don't like the exaggeration from some councillors at these meetings, councillor Kelly in particular". The Fine Gael councillor sought an explanation from Cllr Kelly as to "how 260 houses equates to 1,000 people".
"I wasn't exaggerating" replied Kelly. "When I mentioned the figure of 1,000 I checked ten houses in the scheme", the Fianna Fáil councillor said there was an average of five in each house, "I was being modest I cut it back to four" he concluded, pointing out that his figures were based on local statistics.
Clare's allocation of €482,000 in 2018 is an increase on the €384,774 given in 2017.