*Enda Coughlan. Photograph: Gerard O'Neill
Clare selector Enda Coughlan has plenty of experience of playing against Tipperary teams.
A member of the Banner county panel for over a decade the Kilmurry-Ibrickane man pointed out this week that Clare's victory over the Premier outfit last year was their first over Tipperary for some time..
"We have played Tipperary many times and they have come out on top more often. Our victory over them last year was our first in a while. It's never easy against Tipperary but more often than not there has only been a point or two between the teams", the Shannon based Garda said this week.
"Tipperary are a tough team to play and we expect nothing else but a tough game on Sunday. That has always been the case with us", said Coughlan who helped his club to their sixteenth Clare senior championship title a few weeks ago.
While he is clearly focussed on Sunday's fixture, he accepts that "ourselves, Tipperary, Limerick and Waterford know that who ever comes through our games over the next two weeks will go through to the Munster final. All will see this as a great chance and will all be trying hard to win". He doesn't believe that the fact that Tipperary are a division below Clare in the Allianz League will have any bearing on Sunday's fixture.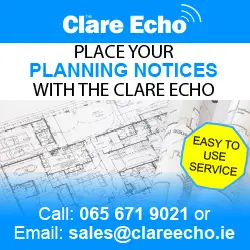 Coughlan, drafted into Colm Collins' management team a couple of seasons back after he announced his retirement as an inter county player, isn't worried about the fact that Sunday's championship clash with Tipperary will be Clare's third competitive game in fifteen days.
"The players are happy enough to be playing games. They had a good rest during the summer months. We have had two good games in the league in the lead up to this fixture. With the year we have had no one minds playing games week on week. There is a tight window there and we all understand that. If we lose on Sunday it will be all over", he said.
While happy that Clare have retained division 2 league status again for next season he noted that "with five minutes remaining in our game with Armagh last week we were heading to division 1. We were disappointed to lose that game"
Enda is delighted that Gary Brennan, Jamie Malone and Podge Collins have rejoined the panel. "They are a massive addition to the panel and it's great to have them in the squad. They are very upbeat, very positive people and the young lads are learning from them", he concluded.