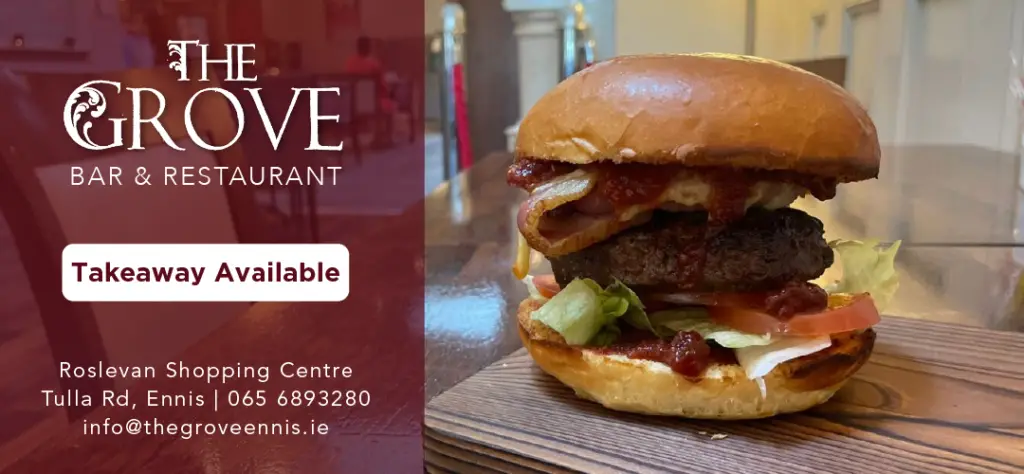 *Corofin's Cillian McGroary. Photograph: Burren Eye Photography
Corofin's dream of winning the under 21 A hurling and football titles remains very much alive after their footballers handed out a heavy defeat to Wolfe Tones in the quarter final at Corofin on Saturday.
Seven points ahead at half time, the home side ran riot in the second half as they secured an easy passage to the semi-final.
Title holders Cill Cúil Gaels, an amalgamation of Kilmihil, Shannon Gaels, Coolmeen and Kildysart, are safely through to the semi-finals after a comfortable win over Kilrush/Killimer on Sunday
St Joseph's Doora/Barefield also secured a semi-final place when they recorded a comfortable quarter final win over St Joseph's Miltown at Gurteen on Saturday.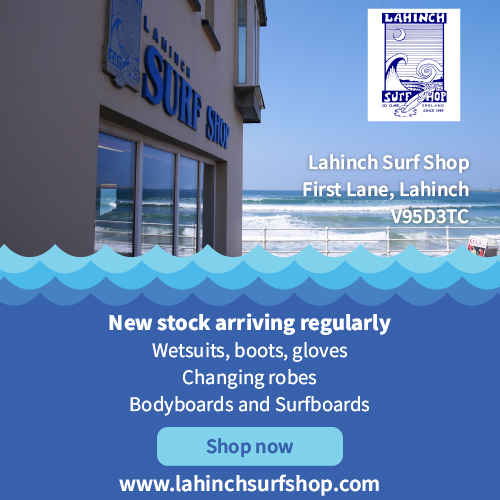 Another of the fancied teams for this title, Ennistymon, are also through to the last four but they had to work hard to account for Western Gaels, made up of players from Doonbeg, O'Currys, Nomh Eoin and St. Senan's, Kilkee, at Lahinch on Saturday.
Corofin run riot in second half
Corofin 7-11
Wolfe Tones 0-6
Venue: Pairc Finne, Corofin
Ahead 1-6 to 0-2 at half time, Corofin were fancied to win this one but few would have predicted a twenty six point margin at the end with just thirty minutes to play.
The home side dominated the second half in a tie in which Wolfe Tones lined out without a number of first choice players due to injury.
Diarmuid Cahill and Robin Mounsey contributed 5-7 of their side's total between them with Cahill hitting 2-5 while Mounsey finished with 1-3. Killian O'Connor and Sean McNamara were the other goalscorers for the winners who face Inagh/Kilnamona in the A hurling semi-final this week.
Corofin: Keelan Mounsey; Jack McDonagh, Eoin Fitzgerald, Gearoid Hanrahan; Cillian McGroary, Thomas Roche, Cian O'Loughlin; Kevin Keane, Shane Punch; Cian Doolin, Diarmuid Cahill, Sean McNamara; Josh Ryan, Killian O'Connor, Robin Mounsey.
Wolfe Tones: Fionn McInerney; Aaron Kelly, Daithi Lohan, Jacob Hassan; Mark O'Sullivan, Eoghan Casey, Brian Murphy; Dara Treacy, Jamie Halpin; Gavin Carigg, Jack Ryan, Daniel Riordan; Liam O'Dwyer, Craig Riordan, Dara O'Neill;
Subs; Charlie Morrisson for G. Carigg (inj); Cormac Keating for Treacy; Liam Divilly for Hassan; Robert Cahill for D. Riordan; Treacy for J. Ryan;
Referee: Niall Quinn (St Joseph's Miltown)
Doora/Barefield dominate from the start
St Joseph's Doora/Barefield 4-14
St Joseph's Miltown 0-8
Venue: Gurteen
St. Joseph's made it a great day for the Doora-Barefield club when they qualified for the under 21 A football championship semi-final shortly after their under 16 hurlers were crowned county champions with victory over Inagh-Kilnamona in a tie which required extra time.
The footballers laid the foundation for this victory in the opening half at the end of which they led 2-9 to 0-1.
They continued to dominate in the second half as they sealed a comfortable victory at the expense of their opponents from Miltown.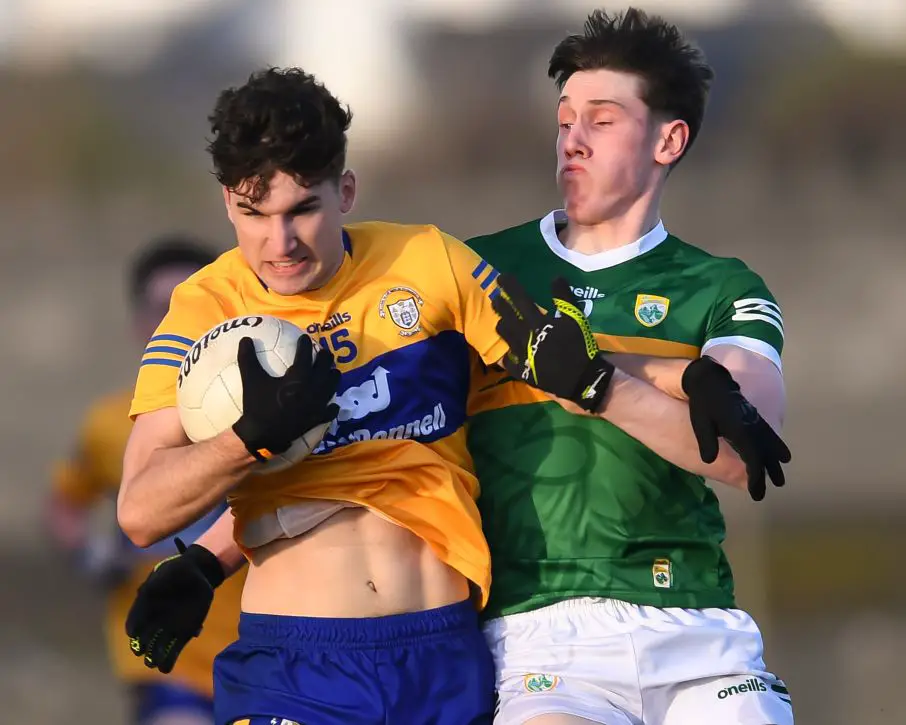 Tom Curran struck for two goals while Tom McDonald and Nicki Hardiman were the other goalscorers for the winners in a tie they dominated throughout.
St Joseph's Doora/Barefield: Patrick Bugler; Sam Costello, Dara O'Callaghan, Dara Whelan; Cian McDonagh, Fionn Kelleher, Conal Dorgan; James Curran, Tom McDonald; Francie Meaney, Dara Nagle, Cian Moloney; Tom Curran, Joe Rafferty, Nicki Hardiman.
Subs: Eoin Talty for Nagle; Eoin Monaghan for Talty (inj); Matthew Power for Meaney; Darragh McMahon for Kelleher; Ronan Foley for Whelan;
St Joseph's Miltown: Andrew Skerritt; Adam Burke, Cormac Devitt, Cormac Byrne; Sean Neylon, Eamonn Devereaux, Conal Meade; Cian Mahoney, Paul Keane; Oisin Meade, Liam Hehir, Paul Frawley; Killian Keavey, Sean McMahon, Euan Lineen.
Subs: Eanna O'Connor for O. Meade; Sean Hayes for Keavey;
Referee: Pat Keane (Lissycasey)
Ennistymon recover after poor start
Ennistymon 1-11
Western Gaels 2-4
Venue: Lahinch
Favourites Ennistymon needed a strong second half showing before sealing their place in the semi-finals with this victory over Western Gaels, a combination of Naomh Eoin, St. Senans, O'Currys and Doonbeg.
Ennistymon, playing without Cillian Rouine due to injury, will be disappointed with the concession of two first half goals, the first of which came from Cathal Killeen whose free went all the way to the net.
Darragh Burns scored the visitor's second goal when he reacted quickest when the ball dropped into the goalmouth.
These goals helped the visitors to lead at the break on a score of 2-2 to 1-3.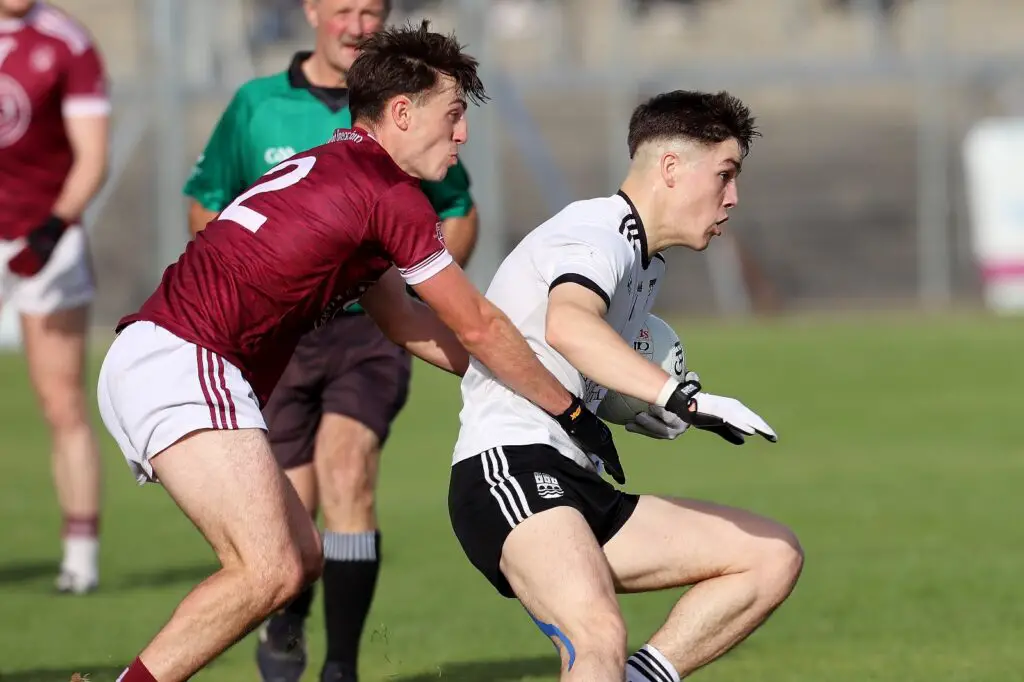 Ennistymon stormed into the game at the start of the second half and their goal from Diarmuid Fahy after good work by Brendy Rouine brought the sides level.
Points from Brendy Rouine, Diarmuid Fahy, Keelan Guyler and Sean Rynne saw them get on top and ultimately seal victory.
Ennistymon; Conor Gallagher; James Cullinan, John Murphy, Dara Rouine; Ciaran McMahon, Dara Conneally, Josh Guyler; Eoin Rouine, Brendy Rouine; Josh Vaughan, Ryan Barry, Diarmuid Fahy; Keelan Guyler, Sean Rynne, Darren McNamara.
Western Gaels; Sean Roche (Naomh Eoin); Dara O'Shea (St. Senans, Kilkee), Conor O'Mahoney (Doonbeg), Jonathan Clancy (O'Currys); Adam Haugh (Naomh Eoin), Eoin Killeen (Doonbeg), Paddy Clancy (O'Currys); Dara Keane (O'Currys), Jack McNamara (St.Senans, Kilkee); Cathal Killeen (Doonbeg), Shane Browne (O'Currys), Jamie O'Shea (Doonbeg); Rory Walsh (Doonbeg), Dara Burns (Doonbeg), Dylan Conway (Doonbeg);
Sub; Colin Ryan (Doonbeg) for O'Shea.
Referee: Joe Kelly (Cooraclare)
Champions march on to last four
Cill Cúil Gaels 5-11
Kilrush/Killimer 1-7
Venue: St Michael's Park, Kilmihil
Champions Cill Cúil Gaels comfortably advanced to the semi-final when they proved too strong for Kilrush/Killimer at Kilmihil on Sunday.
First half goals from Dylan Kenny and Conor Moloney helped them to a five point interval lead when the score was 2-6 to 1-4.
Despite being without the injured Gearoid O'Grady and Matthew Reidy, they continued to dominate in the second half when they had further goals from Moloney, Thomas Kelly and Colm Finnucane as they ran out sixteen point winners.
Liam Culligan scored the Kilrush/Killimer goal and that put them into a one point lead, 1-4 to 1-3. Cill Cuil Gaels responded immediately and they struck for their second goal which gave them back the lead which they held to the finish.
Cill Cúil Gaels; Conor Cusack (Kildysart); Dylan O'Halloran (Coolmeen), Jack Reidy (Shannon Gaels), Rian Meaney (Coolmeen); Gavin Downes (Kilmihil), Tadhg Kelly (Shannon Gaels), Dylan Kenny (Shannon Gaels); Fergal Guinnane (Kildysart), Emmett McMahon (Kildysart); Jack Cotter (Kildysart) Thomas Kelly (Shannon Gaels), Conor Hassett (Kildysart); Dylan Power (Coolmeen) Conor Moloney (Kildysart), Mark Normoyle (Kilmihil).
Subs: Ronan Murphy (Coolmeen) for Normoyle; Damian Downes (Shannon Gaels) for Guinnane (inj); Aaronlee McMahon for O'Halloran (inj); Colm Finnucane (Kildysart) for Power; Darren Crehan (Kildysart) for Cotter
Kilrush/Killimer: Cian Corry; Sean Purtill, Evan Power, Daniel Moloney; Peter McKeown, Sean Canny, Liam Culligan; Euan Kelly, Dylan O'Brien; Michael Kelleher, Jack Kelleher, Tadhg Lysaght; Keith Crowley, Conor Fennell, Odhran Cunnigham
Subs: Joe Meehan for Fennell; Harry Looney for McKeown; David Jones for Corry
Referee: Barry Keating (Lissycasey)
Under 21 B championship
Three of the four semi-final places in the U21 B championship have been filled with the remaining spot down for decision on this Thursday when Clondegad play Corofin's second team at Gurteen.
In a low scoring game at the Banner grounds on Saturday the home side emerged with a one point win, 0-5 to 0-4, over a St. Breckans side that many had tipped for outright honours.
A fancied Lissycasey team were made battle all the way for victory over Clarecastle at the latter's venue on Sunday. The final score in this one was 2-13 to 2-6.
Kilmurry/Ibrickane were comfortable winners over their neighbours Doonbeg, winning on a final score of 4-11 to 0-9. Injuries forced Doonbeg to line out in this one without a number of first choice players.
The remaining quarter final spot will be filled by either Clondegad or Corofin who play on this Thursday night. Corofin, fielding a second team at under 21 level this year, qualified for the quarter final with a 1-8 to 1-6 win over Cratloe on Sunday.