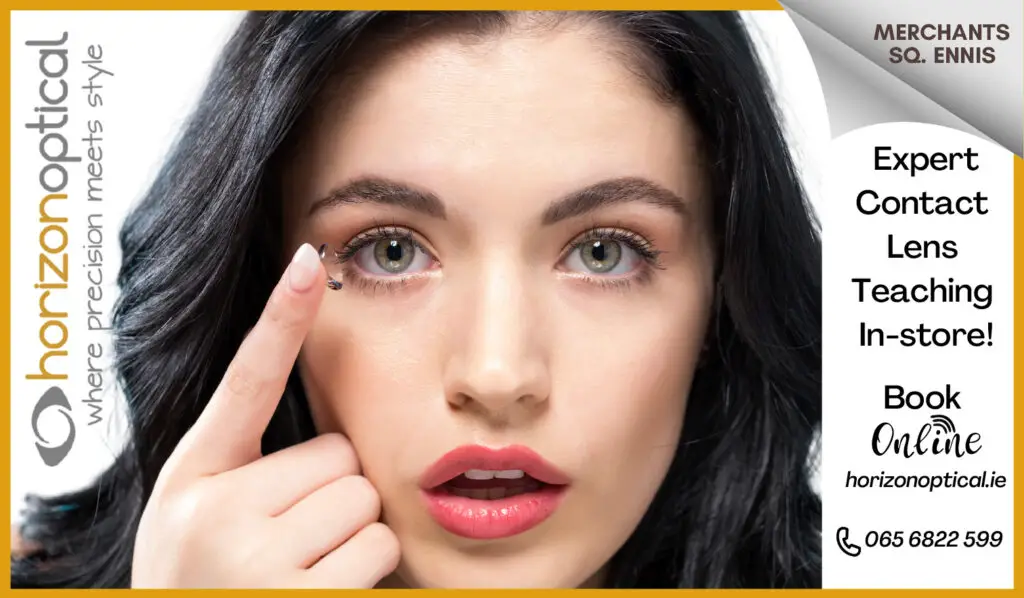 *Corofin's Killian O'Connor. Photograph: Mark Hayes
Corofin's victory over Tubber will go down as the big shock as the quarter finals of the intermediate hurling championship were decided at the weekend.
Division 2 league winners Tubber had gone through the season to date without defeat and were being touted as likely winners of this title but they met a well organised and lively Corofin outfit at Clarecastle and the latter emerged as deserving winners on the day.
Elsewhere Tulla, another of the favourites for this title were made battle all the way for victory over Parteen at Broadford. The loss of Jack Kirwan during the second half due to injury was a blow to the South Clare side who had led at the break and had topped a competitive group prior to the knockout stages.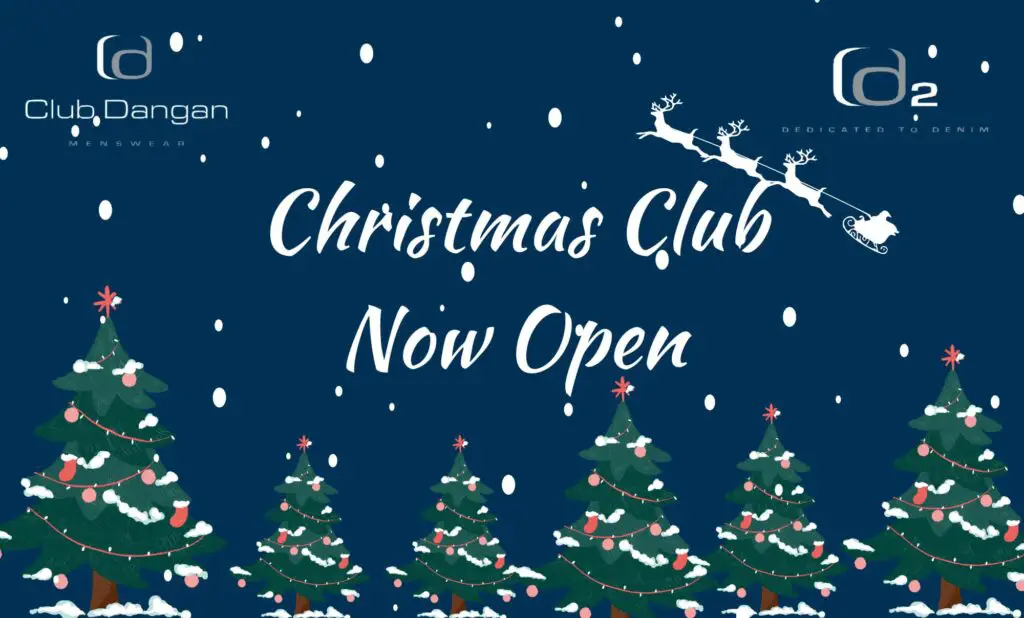 St Joseph's Doora/Barefield justified favouritism when comfortably accounting for Ogonnelloe at Sixmilebridge on Saturday evening. The Doora/Barefield men had their semi-final place secured at half time at which time they held a lead of sixteen points.
The remaining quarter final spot will be filled by Sixmilebridge who overcame their neighbours Newmarket at Shannon on Sunday afternoon. This win was part of a great weekend for the Sixmilebridge club as they qualified for semi-finals at senior intermediate and junior B levels while securing a place in the final of the junior C premier championship.
Killanena will again compete at intermediate level in 2023 after they recorded a two point win over Inagh/Kilnamona in a relegation play off at Bodyke on Saturday. Inagh/Kilnamona have one more chance to save their intermediate status when they play Clonlara in two weeks time.
Lively Corofin too hot for Tubber
Corofin 1-20
Tubber 2-9
Venue: Clarecastle
From the early minutes of this tie, a hotly fancied Tubber side struggled. Corofin raced into an early four point lead but this was down to the minimum by half time when the score was 0-9 to 1-5, the Tubber goal having co me from Domhnaill McMahon.
Straight from the resumption of play Corofin struck for a goal from Kevin Heagney who finished after a great run by Jamie Malone.
Corofin fans were still celebrating when, straight from the puckout Tubber launched an attack which ended with a goal from Jonah Culligan.
However, they failed to build on this and a confident Corofin continued to put some good moves together which ended with some excellent points.
One particularly good Corofin move ended with a Shane O'Brien point which seemed to rattle Tubber.
Lining out at full forward Gearoid Cahill scored 0-6 from play which played a key part in the winner's victory. Mikey Kelly landed some good scores from placed balls.
Corofin: Darren Malone; Marc O'Loughlin, Cillian McGroary, Shay Malone;
Damian O'Loughlin, Fionn Clancy, Damian Ryan; Jamie Malone, Diarmuid Cahill; Mikey Kelly, Gearoid Kelly, Kevin Heagney; Shane O'Brien, Gearoid Cahill, Kevin Keane;
Subs: Killian O'Connor for Heagney; Conor Leen for Keane;
Tubber: Ronan Taaffe; Joey Droney, James Howard, Patrick O'Connor; Cathal Droney, Pappy Taaffe, Mark Earley; Jonah Culligan, Blain Earley; Lorcan O'Grady, Aidan McNamara, Senan Dunford; Clive Earley, Domhnall McMahon, Ronan Monahan;
Subs: Fergal O'Grady for McNamara; James Taffe for C. Droney;
Referee: Niall Malone (Éire Óg)
Tulla made battle all the way
Tulla 1-19
Parteen 1-16
Venue: Glenomra Park, Broadford
A fancied Tulla outfit had to fight all the way for this victory over Parteen in their quarter final tie played at Broadford on Sunday.
Helped by a goal from Joe O'Connor, Parteen held a four point advantage at half time when the score was 1-8 to 0-7.
They continued to hold the lead in the third quarter but Tulla refused to give up and they finished strongly. A goal from Andrew Conheady brought them, right back into contention and with Sean Withycombe in sparkling form from frees, they put in a strong finish to book their place in the last four.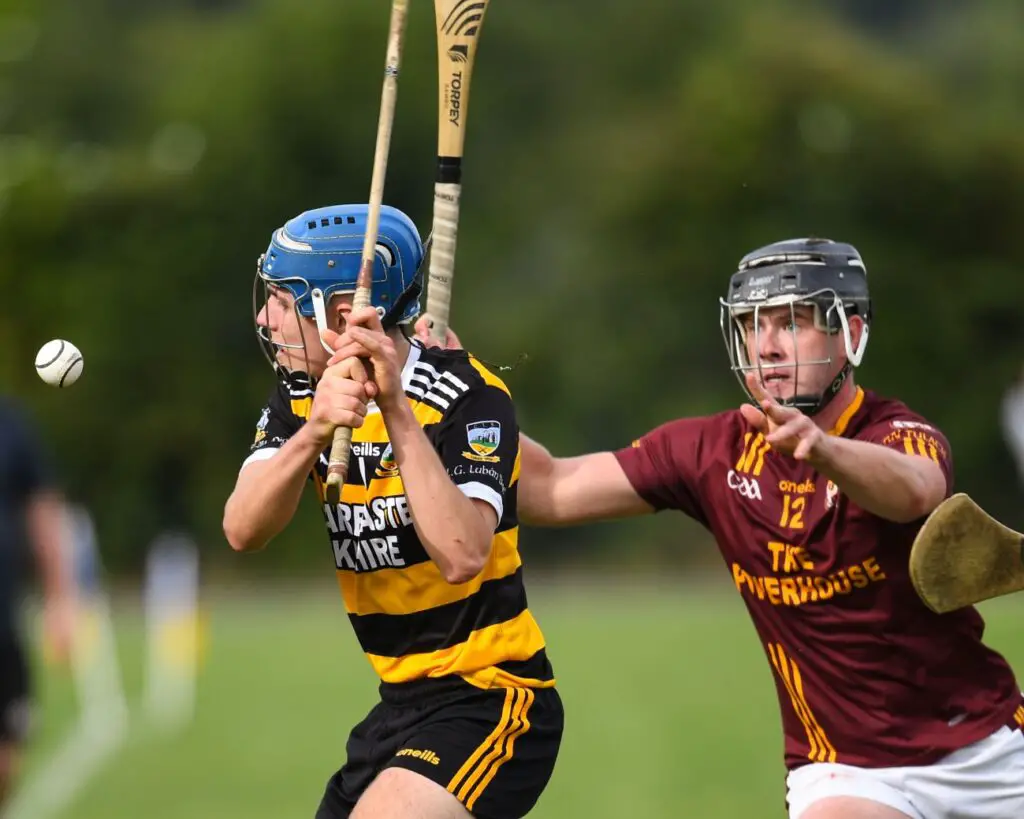 Conheady also scored three points in a tie in which Paul Lynch and Feargal Kearney did well in defence for the winners while elsewhere the Withycombe brothers and inter county man David McInerney got through some valuable work.
The loss to injury of Jack Kirwan during the second half didn't help Parteen's cause.
Tulla; Dan Vaughan; Liam McInerney, Paul Lynch, Kevan Conlon; Feargal Kearney, Tony Leyden, Sean Torpey; David Meehan, Dan Withycombe; Jimmy O'Gorman, Darragh Corry, David McInerney; Sean Withycombe, Niall Bolton, Andrew Conheady.
Subs: Willie Halpin for O'Gorman; Padraic Mulconry for Meehan; Shane Hunt for Torpey; Colm McInerney for D. Withycombe; Conor Murphy for Corry;
Parteen; Alan Murnane; Damian Moloney, Phil Lavin, Evan Higgins; Kevin McGleenan, Nathan Fox, Tom Collins; Darragh McDermott, Daniel Cooney; Gearoid Reddy, Evan Fitzgerald, Martin Moroney; Joe O'Connor, Jack Kirwan, Oisin Hickey
Subs: David Small for Hickey; Eoin Phelan for Kirwan; David O'Sullivan for Higgins;
Referee; John Bugler (Whitegate)
Blistering start helps St. Josephs to an easy win
St Joseph's Doora/Barefield 2-21
Ogonnelloe 1-7
Venue: O'Garney Park, Sixmilebridge
A blistering start paved the way for St Josephs' comfortable victory over Ogonnelloe at Sixmilebridge on Saturday evening.
Helped by goals from Eoghan Thynne and Tom Hannan, the Doora/Barefield men were well on their way to the semi-final by half time when they led 2-15 to 0-5.
Try as they did Ogonnelloe struggled throughout to get to grips with the pace and teamwork of the St. Josephs side.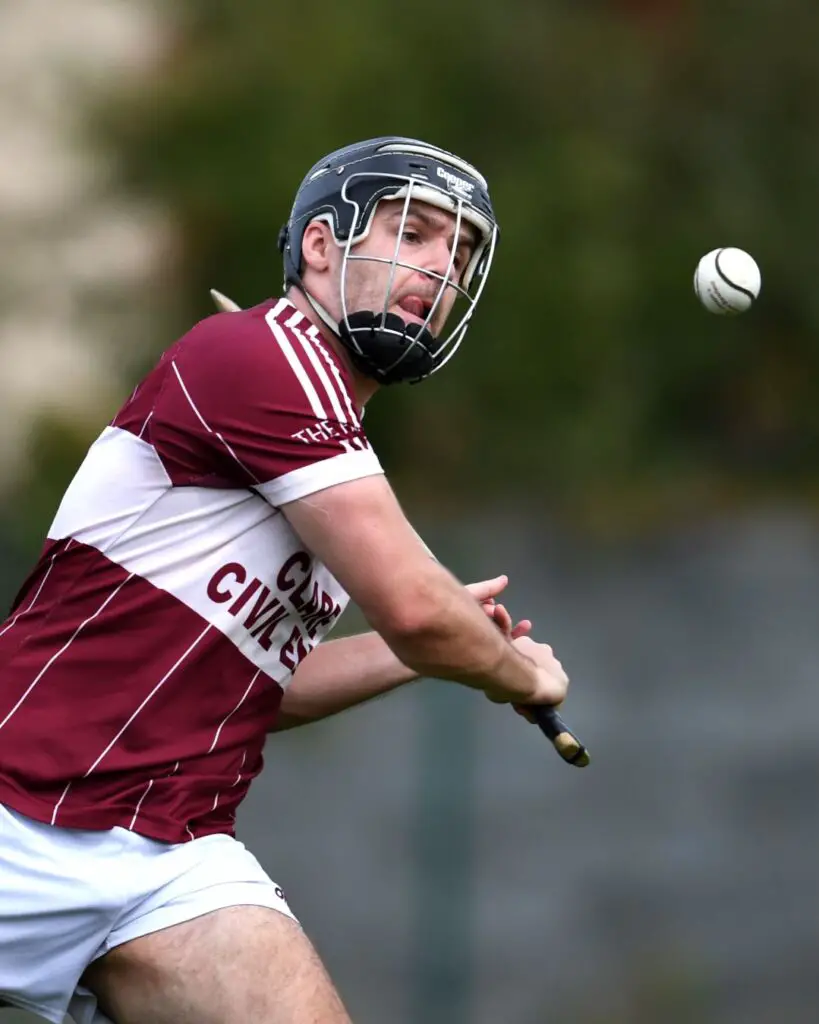 In an effort to improve their scoring rate Ogonnelloe moved centre back Colm Quinn to centre forward in the second half and while he got through for their goal, the winners continued to hold the upperhand.
They will be a little disappointed that they only managed 0-6 in the second half but being so far ahead at the half way point allowed them to give game time to a number of players while credit must go to Ogonnelloe who didn't throw in the towel when they were so far behind.
St Joseph's Doora/Barefield: Paul Madden; Fionn Kelleher, Jarlath Colleran, Brian Clancy; Alan O'Neill, Darragh McMahon, Adam Mungovn; Brian Guilfoyle, Donal O'Halloran; Jack Hannan, David Conroy, Tom Hannan; Eoghan Thynne, Eoin Hanrahan, Cathal Ruane;
Subs; Bruce Piggott for O' Halloran; Mossy Hehir for J. Hannan; Matthew Power for Conroy; Dara Nagle for Thynne; Cian Lahiffe for Guilfoyle;
Ogonnelloe; Rob Dreelan; Thomas Condon, Sean Kikkers, John O'Brien; Adam Sheedy, Colm Quinn, Barry Kiely; Dan Cunnane, Gearoid Sheedy; Donnacda McNulty, Adam Cunnane, Rory Skelly; Cian Fitzgerald Bradley, Henry Vaughan, Colin Hart;
Subs; Aaron Fitzgerald Bradley for Kiely; Eoghan Heffernan for McNulty; Mark Walsh for A.. Cunnane;
Referee: Kevin Corry (Sixmilebridge)
Another semi-final date for Sixmilebridge
Sixmilebridge 1-20
Newmarket 1-11
Venue: Wolfe Tones GAA Grounds, Shannon
Sixmilebridge accounted for their neighbours Newmarket at Shannon on Sunday helped by a contribution of 1-6 from wing forward Sean Lynch.
The early stages of the game were evenly contested with points exchanged on a number of occasions.
With Sean Lynch and Luke O'Halloran picking off some good points and with Kevin Lynch dominating at centre back, the winners edged a few points clear and they managed to hold this throughout the second half.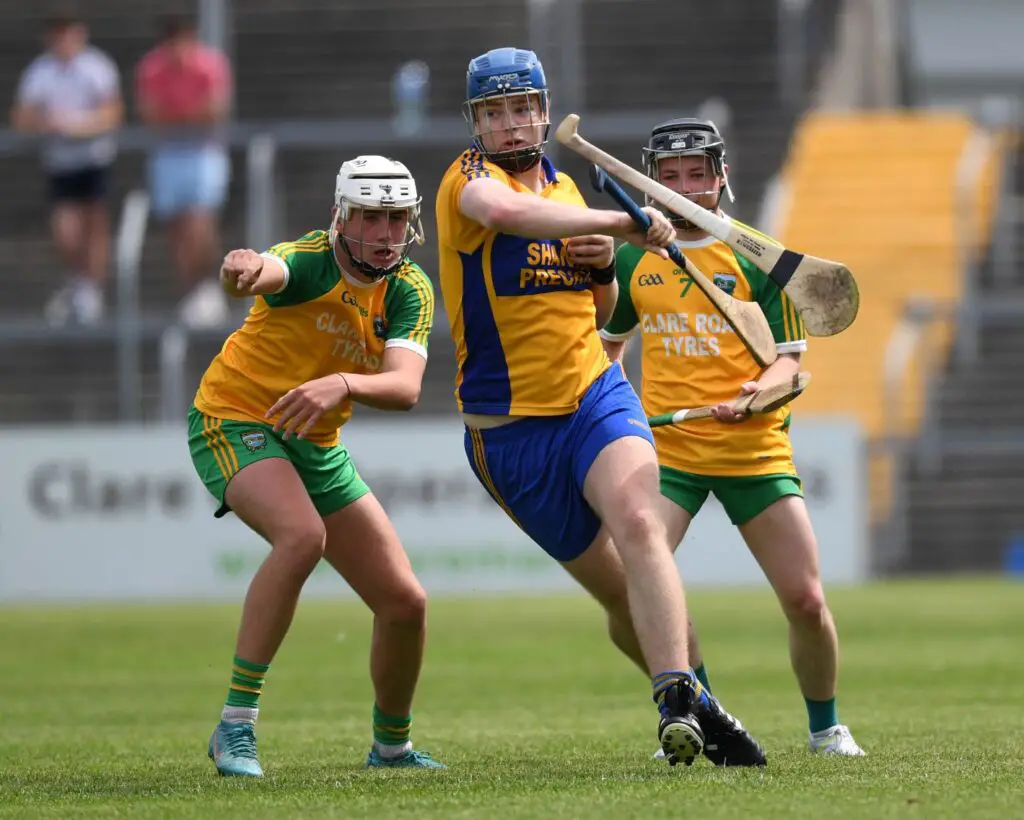 Trailing by two points at half-time, Newmarket-on-Fergus' second half return of 1-02 was detrimental to their cause while they struggled to win breaking ball around the middle third.
Conor McCarthy raided for their green flag while Seadhna Liddy had a penalty saved by Cian Hogan in the closing stages.
Sixmilebridge; Cian Hogan; Adam Breen, Aidan Quilligan, Jordan Downes; Cillian Custy, Kevin Lynch, Cathaoir Agnew; Colm Flynn, Ronan Tuohy; Colin Kelly, Luke O'Halloran, Sean Lynch; Jack Corry, Ciaran Hassett, Sean McNamara;
Subs; Tiernan Agnew for Corry; Dylan Downes for Hassett; Luke Keogh for O'Halloran; Kevin Fennessy for Tuohy;
Newmarket-on-Fergus: Adam Enright; Jamie Power, James Warren, Conor McCarthy; David Frost, Shane Lynch, James Freeman; Sol Frost, James Power; Alan McInerney, Ronan Good, James Liddy; Seadna Liddy, Darren Duggan, Cathal Hayes;
Subs: Shane O'Brien for Frost; Cathal Finucane for A. McInerney; Feidhlim Barry for S. Frost; Jason O'Neill for Power.
Referee; Aaron Hogg (Clonlara)
Killanena retain intermediate status
Killanena 1-18
Inagh/Kilnamona 1-16
Venue: The Evicted Field, Bodyke
Killanena will again play at intermediate level next season after they put in a determined performance which saw the record a narrow win over Inagh/Kilnamona.
A return of 0-12 from Keith Smyth played a key part in Killanena's victory on a day when Gearoiid Keane was their goalscorer in the opening half.
Inagh/Kilnamona fough back strongly in the second period when they had a goal from Keith Barry but a determimned Killanena outfit held firm to record a merited win.
Inagh/Kilnamona will now take on Clonlara with the losers of this tie dropping down to junior A level for next season.
Killanena; Todd Kelsey; Jamie Canny, Jason Keehan, Darren McMahon; Aidan McMahon, Donal Moloney, Seamus Keane; Michael Smyth, Ian McNamara;
Shane Broderick, Diarmuid McMahon, Stevie O'Brien; Gearoid Keane, Keith Smyth, Ryan Keane;
Sub; Darren Meehan for D. McMahon;
Inagh-Kilnamona; Niall Glynn; Podge Devitt, Milo Keane, Colm Pilkington; Eoghan Foudy, Ricky Wynne, Austin Kerin; Mark Barry, Stephen Foudy; Jason Griffin, Paul O'Looney, Keith Barry; Darragh Power, Jamesie McConigley, Tomas Kelly;
Subs; Colm Kearney for McConigley; Dean Lynch for Kelly;
Referee: Johnnie Healy (Smith O'Briens)