*Ciaran Coote (second from left) won the Paddy Con Trophy with Barry Lynch. 
ENNIS DUO, Ciaran Coote and Barry Lynch came up trumps in the Paddy Con trophy at Ennis Golf Club while Adam Roberts emerged victorious when President James P Horgan's Prize was played for.
President James P Horgan prize was played for at Ennis last week when Adam Roberts (39) emerged as the winner with 46 points. He had three to spare over Patrick Garry (31) with Mark Geraghty (10) in third spot with 42 points followed by Kevin O'Brien (28) with 42, Martin O'Neill (7) with 41, Tom Pilkington (21) with 41 and Frankie Meaney (14) with 40 points. Darragh Murphy (4) won the gross with 34 points.
In category A, Liam Hughes (8) was the winner with 38 points from Jack Clohessy (5) with 37 points. Donagh Stack (17) won category B with 39 points from Brian P. Kelly (18) who had a similar score while category C was won by John Lillis (20) with 39 points from Peter Kavanagh (29) with 38 points.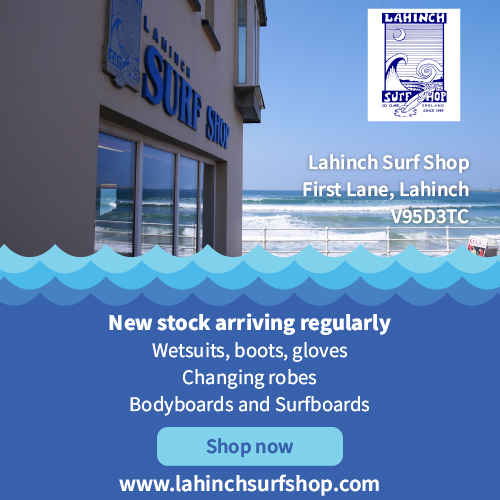 Tommy Timpson (16) won the guest's prize with 38 points while Noel Pyne (5) was the winner of the past president's prize with 34 points. A total of 236 played in the competition.
In the Friday singles the winner was Donal O'Halloan (23) with 43 points from Stephen Dolan (17) with 41 points and Adam O'Brien (12) with 41 points. Sean Myatt (2) won the gross with 30 points.
The Tuesday fourball was won by Pat Murphy and Ronnie Guinnane with 33 points. In second place, also with 33 points, were Michael Ball and Ollie Kenneally followed by Tony Kehoe and Michael Irwin, also with 33 points with Steve and Enda Burns in fourth spot with 32 points,
The Paddy Con trophy, sponsored by John Neylon, was played for at Ennis last week when Barry Lynch and Ciaran Coote (20) emerged as winners with 44 points. They had one to spare over Tom and Kieeran Fox (13) with third spot filled by Noel and Damian Pilkington (18) who also had 43 points
The Friday singles was won by Mary T. McMahon (26) with 40 points from Conor Malone (9) with 39 with third spot filled by Niall Cotter (21), also with 39 points, Dave Kenneally (4) won the gross with 31 points. Winners of the Tuesday fourball were Neil Cremin and Frank Cullinan with 35 points from Steve Burns and Gerry Connellan who had a similar score.
East Clare Golf Club:
The ladies scotch foursomes at East Clare was won by Ursula Hogan and Breda McCarthy with 45 points. They had four to spare over Maureen Clune and Bridget Minogue and they have qualified to represent East Clare in the Glenn's trophy competition which will be held in Birr.
The men's open was won by Mark Clune (22) with 43 points from Alan Leamy (10) with 39 points with third spot filled by Seamus Mason (15) also with 39 points.
In the men's golfer of the year medal competition, the winner was Tony Stuart with 64 from John Corcoran with 67, and Ronan Molloy with 69 while Ben Rittweger won the gross.
In the Wednesday ladies competition the winners were Connie Mc Kenna, Geraldine McNamara and Trish Kerr.
The senior men's competition was won by Danny Minogue, Michael Moloney and Kevin Grimes from John Fielding, Michael Heffernan and Paul Husband with third spot filled by Tony McNulty, Ailbhe McDonald and Steve Symes.
The weekly men's open continues on Thursdays while the mixed scramble takes place on Fridays from 5.30p.m to 6.30p.m.
Dromoland Golf Club:
Winner of the men's 18 hole stableford competition at Dromoland was Tony Kelly with 45 points from Paul O'Halloran with 43 with third spot filled by Eoghan Smith, also with 43 points, Nicholas Duggan won the gross with 43 points while the winner of the category for 22 handicappers and over was Shane Browne with 35 points.
In the men's 9 hole competition the winner was Alan O'Flanagan with 22 points from John Canny with 20 and Shane Mowat with 20.
Katrina O'Neill won the ladies 18 hole stableford competition with 38 points while the 9 hole competition winner was Gabrielle Gilna with 25 points from Dorothy Brennan with 20 points, Frances Bergin with 19 points and Cora O'Toole, also with 19 points
Kilrush Golf Club:
Pat J. Shannon (13) was the winner of the Bowman's Lane Restaurant men's singles competition at Kilrush with 42 points.
In category 1, Neil Browne (6) won with 39 points from Tom Fox (9) with a similar score.
Category 2 was won by Tony Lock (18) with 40 points from Tony McMahon (17) with 37 point while category 3 was won by Paul McGibney (21) with 42 points from Anthony Gilmartin (19) with 40 points.
Jim Young Senior (9) won the gross with 30 points while the nines were won by Pat Donnellan (19) with 19 points and Sean Moran (23) with 23 points.
The West Clare trophies ladies fourball competition was won by Maureen Kinnerk and Mary Nolan with 43 points and they had one to spare over Anne Gallagher and Edel Crowley. In third spot with 41 points were Mary Young and Mary Lyons followed by Miriam Saunders and Fiona Kinsella with 40 points
Woodstock Golf Club:
Woodstock recorded a great win last week over Ballyneety in the West Munster semi-final of the mixed foursomes.
They will play Glengariff from Cork in the West Munster final at Doneraile on this Saturday.
The team is managed by Ollie and Mary McNamara and the pairings in last week's semi-final win were Paul Coote and Annemarie Russell; Ollie McNamara and Niamh O'Regan; Declan Coote and Cheye Kelly; Ken Horgan and Mary McNamara; Paddy Meehan and Margaret Ann Killeen.
Meanwhile Woodstock bowed out of the Pierce Purcell competition when they suffered a 4/1 loss to Dooks in Killorglin (Maine Valley Golf club) last week.
Gort Golf Club:
Dermot O'Gorman (24) was the winner of the men's competition at Gort with 44 points.
In category 1, Martin Callinan (13) won with 41 points. Category 2 was won by Eoin O'Dea (17) with 44 points while Tom Helebert (22) won category 3 with 43 points. David Quirke (3) won the gross with 35 points.
In the Friday open singles Gary Killen (29) won with 42 points while the gross was won by Enda Cradock (5) with 32 points
In the ladies competition, a 9 hole waltz, the winners were Sara Broderick, Marcella Killeen and Marion Mulvey Fahey with 45 points with second place filled by Teresa Gill, Teresa Mahon and Christina Daly with 44 points.
Shannon Golf Club:
Kevin Fennessy (12) won last week's men's singles at Shannon with 45 points from Jamie Kirby (21) with 43 and Damian McGettigan (24) with 42. Chris Willets (2) won the gross with 37 points
In the men's green tee singles, a JB Carr fundraiser, Tony O'Callaghan (20) won with 43 points from Robbie Corry (9) with 42 and Brian Lonergan (6) with 41. Lewy Halpin Jnr (2) won the gross with 35 points.
The winners of the scramble were Michael Whelan (16) Mark Burke (12) Mike Marnell (12) and Alan Small (12) on a score of 53.8. In second place we're Karl Scott (15) Keith Buckley (4) Joe Finlay (8) and Chris Willetts (2) on a score of 56.1. The men's 9 hole winner was Rory Hayes (5) with 20 points