A connection with nature experienced by the people of Clare is improving well-being according to the County's Heritage Officer with new biodiversity sites to be developed in Ennis and Shannon.
Addressing a meeting of Clare County Council's Physical Development SPC, Congella McGuire detailed that the local authority signing up for the All-Ireland pollinator plan in 2020 has proven to be "a very positive initiative" due to the seriousness by which community groups and Tidy Towns committees have dealt with the scheme.
She welcomed the release offered through nature and gardening for the public during COVID-19. "Because of the pandemic, it is well known that people are connecting with nature, there is a focus on well-being".
Ten public areas have been assessed for biodiversity enhancement under the Clare Biodiversity management system. A detailed assessment with reports including a species list, recommendations, and guidance has been concluded while training around the sites continues.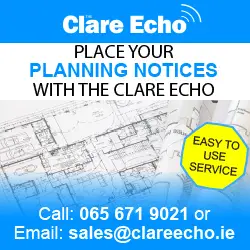 As part of "ongoing action for biodiversity", Congella outlined that the local authority was hopeful of developing new sites in Ennis and Shannon. Three webinars have been held with the Shannon Community Group where "a lot of ideas and energy for further work and green spaces" were suggested.
"Huge interest" for free apple trees under the Council's Apple Tree Project in February was praised by McGuire. Thousands of gardening for biodiversity publications have also been issued to the public, she confirmed. Congella highlighted that funding was becoming scarce to work on invasive species.
More nest sites must be made available to swifts to assist the population's recovery, she said in response to the findings from a survey last year which found that only 56 swift breeding pairs remain "which was alarming".
Cathaoirleach of the SPC, Cllr John Crowe (FG) praised the Heritage Officer for the "trojan work" undertaken. Cllr Pat O'Gorman (FF) told the meeting that being "an avid walker" has heightened his appreciation for biodiversity, "I go to Cratloe Woods which is within my 5km before anyone says anything, biodiversity is for all especially in the lockdown".