*Photograph by Eamon Ward
A self-described "newbie" when elected to the Council four years ago, Cllr Clare Colleran Molloy is counting on her increased profile and track record to ensure she retains her seat.
She has been selected to run in the Ennis Municipal District alongside Cllr Pat Daly for May's local elections. At the recent Fianna Fáil convention for this area, both Bernard Hanrahan and Mark Nestor put their names forward, however party headquarters wanted just two selected on the night. At least one more individual should be added to their ticket according to Colleran Molloy.
"What we've had happen is a change of boundaries in the Ennis Municipal District that has adversely impacted on two Fianna Fáil councillors, that being myself and Cllr Tom McNamara. It hasn't adversely impacted the three Fine Gael councillors because their geographic area hasn't changed at all really, it has but the impact on their vote hasn't been that detrimental whereas it has been for Cllr Tom McNamara and myself. The changed boundaries are affecting Fianna Fáil councillors more than Fine Gael councillors or the Independents, you also have a reduced amount of councillors so I would be supporting the call to run an increased number. Whether that is three which is what Fine Gael are doing or four I don't know I really can't say but what I would like to think is that the people that do study voting patterns or behaviours will know best".
Of the elected representatives in the Ennis MD, Clare received the fewest first preference votes four years ago. She is adamant that her profile is much stronger now than it was then. "I would say to you that back in 2014 I was a newbie, unknown personality entirely and when you think about it that was my first foray into politics and to be fair the ballot sheet in Ennis in 2014 was the longest running ballot sheet in the history of the state one of my fellow councillors recently said with 28 names on it. I sat at number nine from the first count to the twentieth when I jumped into the eighth position. It was a very good result for somebody who was unknown then, five years since I would like to think my profile has been enhanced based on the work I have been doing in the Council at county level, based on the fact that I ran in the 2016 General Election and based on my most recent role as the Mayor of Ennis, all I can do is hope the people do see that I do love doing the work that I've been elected to do, that I'm doing good and I do hope to continue the work. This is why during my year as Mayor in light of the fact that I've entered politics by way of volunteerism and fundraising efforts nationwide, it was natural for me to use my role to raise funds and awareness for Ennis Municipal based charities".
When initially asked by Fianna Fáil to contest the 2016 General Election, the Quin native declined and said it was the most difficult decision of her life. Now that her native parish and that of Clooney have been removed from the EMD, The Clare Echo asked how tough she found it to branch away from her strong pool of support. "It wasn't a decision I needed to make it was made for me, I live in Ennis in the parish of Ballybeg, I vote in Ennis, my post office is Clarecastle and I shop in Clarecastle. I would have preferred if they had left it alone because the Quin and Clooney area would have my childhood friends and family that would still be there and I would be fairly confident they would still support me. I would still feel that the decision for me to run in the Ennis Municipal District is the right decision, it's the best chance I have of retaining my seat. If you look at the situation in Killaloe, there's five seats and there was six so it's reduced by one and those five councillors are incumbent so I would have had a very difficult battle to retain my seat if I had ran in Killaloe. I'm very happy to be running in Ennis, I've been living in Ennis since I returned from the States back in 2002 so it sits right with me".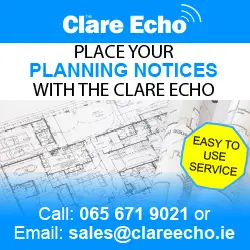 As it stands, Clare, Ann Norton and Mary Howard all based in Ennis are the only female representatives on Clare County Council. After May, she is hopeful there will be even more women gathered around the Chamber. "It's a good of thing to have a breath of experience, perspective and diversity come to any organisation be it the public local authority or a private entity. There is a certain understanding and appreciation by all that a greater perspective be they race, gender or what have you being brought to decision making means there will be better outcomes in the decisions that are taken. With respect to whether I would welcome greater female representation in the 28 councillors in Clare there is no question about that.
"In 2016 when I ran in the General Election I was in fact the highest ranking number one getting councillor but that doesn't necessarily translate into the Council. It is true that you have three female sitting councillors all in the Ennis Municipal District and that maybe reflects the urban mindset of the EMD which needs to now hopefully take hold in the rest of the county. It is unfortunately the case that I'm the only Fianna Fáil female candidate thus far for the local elections. We had a very surprise move with Cllr Michael Hillery deciding not to go again, it would be a great thing if there was a female out in North Clare putting her hat in the ring for Fianna Fáil".
Currently Clare is the Mayor of Ennis, it's a time consuming role but one she doesn't feel will negatively impact her campaigning over the coming months.  Though she very much enjoys being a councillor, Colleran Molloy has found it difficult not being able to solve all problems that are presented to her. "I've loved it. What I like very much about it, I've been a practicing lawyer both here in Ireland as a barrister and solicitor and in the United States as an attorney I even taught the law, I've done a lot in my prior life, I've loved this work in the public arena as a public representative because of the variety of the work that you've dealt with from day to day, the opportunity to help people where you can and to let people know when you can that you can't.
"There are times and especially in these hard times with regard to homelessness and lack of social housing it's one of the most difficult issues being faced by councillors right now because many continue to believe that the councillor can magically sort a housing problem but the problem is that is not the case, there simply isn't enough supply. I had a case last week with a mother of two children, she's been living in emergency accommodation in bed and breakfast now since April in Ennis, Christmas is approaching and she doesn't have any family in Ennis, I called the housing department and they explained her situation is ranked along with many others who are on the list, that is the most difficult part right now most definitely. Eventually these houses will be built but it's taking a lot of time, a lot of hardship and a lot of adverse impacts on the children in particular.
According to the Fianna Fáil councillor, the Irish electorate "both at local and national level are much more educated in votes being cast for people, they want a sense of truth in the person and a lack of arrogance, they're equal but yet they're elected to that office representing others, I think there's an awful lot of change happening in the electorate, they're wiser and more educated than in the past". On whether she is confident enough they will reelect her, Clare replied, "You'd never ever say you're confident, I will work my damdest to be reelected and I won't take anything for granted and I'll work very hard to garner every vote and bit of confidence I can get".