Thanks to the success of previous Maritime training programmes and the level of industry engagement, Limerick and Clare Education and Training Board is delighted that its College of Further Education and Training Campus in Kilrush, County Clare is now a dedicated centre of excellence in marine-related training.
The initiative is modelled around the success achieved at its Shannon Campus with its training support for the Aviation industry.
Kilrush Campus is located on the Cooraclare Road in Kilrush and offers a wide range of Further Education and Training programmes for learners, local communities and business. This includes marine-related training, which avails of the local facilities, sheltered marina and the Shannon Estuary.
Traineeships allow participants to develop skills and knowledge on the job, making them more skilled and more employable. They are developed in partnership with industry to empower the trainee with cutting-edge, in-demand, work-ready skills. The traineeship model is ideally suited for careers in the maritime sector because of its combination of practical learning and theory. From working in a busy port to navigating the open sea, or working on cruise ships or ferries, the sector offers a growing range of traineeships, which serve as a fantastic starting-point for a very rewarding career.
One upcoming marine-related programme is the Workboat Master Traineeship which is the first of its kind in Ireland and will take place at Kilrush Campus mid-August. The one-year programme is designed to give trainees all the knowledge, skills and behaviours required to lead a small team on a wide variety of specialist vessels. This could include anything from harbour tugs and multi-purpose workboats, to fast pilot boats or crew transfer vessels.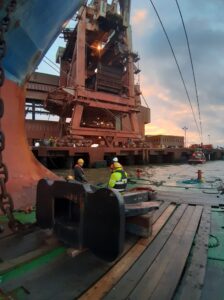 Speaking about the upcoming traineeship, programme co-ordinator Diarmuid Whelan outlined the kind of attributes that would be of benefit for anyone thinking of becoming a workboat master. "This particular programme would suit a practical person who is a good team player with a strong hands-on approach. It would also appeal to those who enjoy working on their own initiative, are mechanically-minded and relish the opportunity to take on lots of responsibility. You don't necessarily have to have all these traits but they would definitely be a great bonus to anyone thinking of embarking on this particular traineeship" he explained.
For entry to the programme, applicants require a Major QQI Level 4 award or equivalent and documented industry experience is also accepted. On completion of the programme, trainees will have all the necessary skills, competencies and certification required for an exciting career in the Maritime sector, or for further progression onto Higher Education marine programmes.
For more information on the Workboat Master Traineeship or any of the ETB's other traineeships in areas like Aviation, Motor Technology, Hairdressing, and Robotic Welding, go to collegeofFET.ie/traineeships.