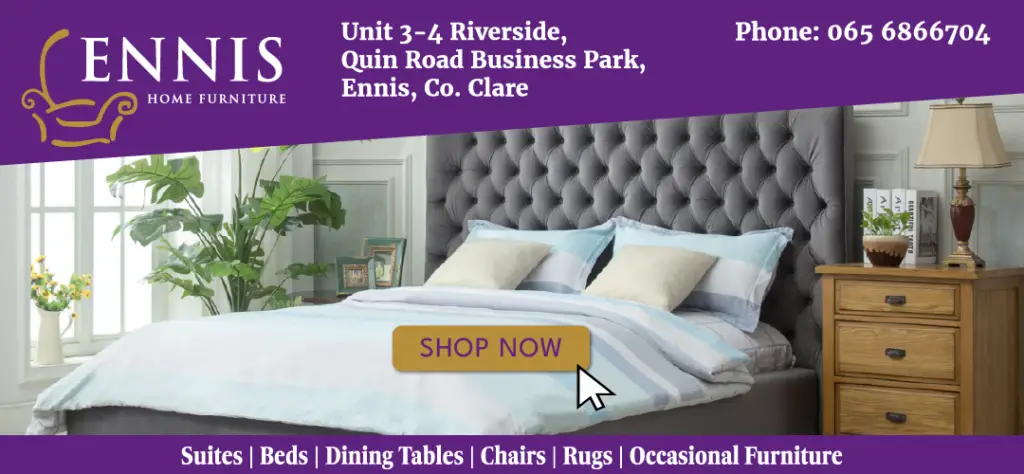 *Photograph: John Mangan
Clare is back on top of the world of traditional music following the success of Cnoc na Gaoithe in Fleadh Cheoil na hÉireann.
On Sunday, the Tulla band were victorious in the Senior Céilí Band of the Fleadh held in Drogheda becoming the first Clare winners of the competition in sixteen years.
It is the first time the famous harp was brought back to the windswept hills of Tulla in fifty nine years following the success of the Tulla Céilí Band in 1957 and 1960 when it came to East Clare in the arms of PJ Hayes. The band also got their hands on the Kitty Linnane Perpetual Trophy, named in honour of the former Kilfenora Céilí Band leader.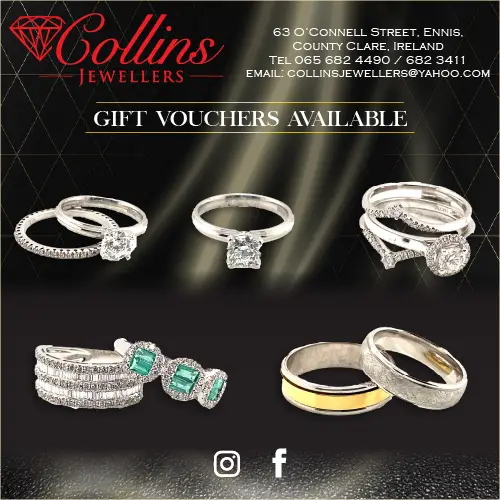 Earlier this year, Cnoc na Gaoithe completed a three in a row of Munster titles. The group is comprised of Gearóid McNamara (piano/keyboard), Amy McNamara (fiddle), Therese McInerney (fiddle), Jennifer Markham (fiddle), Pauric Stapleton (flute), Kevin Carey (flute), Sarah McAuliffe (concertina), Brian McAuliffe (banjo), Fergus Brogue (box) and Conor Harnett (drums).
Their return to Tulla on Tuesday night saw huge crowds pack into the village where Tulla Pipe Band led Cnoc na Gaoithe on their triumphant return home.
In total, fifty medals of varying colours were brought back to the country. Top spot in their respective competitions was also secured by Arlene O'Sullivan, Shane Mescall, Éabha McInerney, Dara Fitzgerald, Aisling McMahon, Shona O'Halloran, Roisin Clancy, Darragh Whelan, Jamie Garrihy, Matthew Ryan, Daire Meehan, Eimear Clancy, Liam Clancy, Liam Jones, St Maura's Rince Seit, Conor Fennell, Eoin Killeen, Michael Ó Laoire, Daithí Ó Laoire, Tulóg Céilí Band, Inchircronan Grúpaí Cheoil and Tulóg Grúpaí Cheoil.
Killaloe native, Martin Connolly was honoured for his contribution to Irish traditional music during the Fleadh. At the Ceannródaithe Awards, he was recognised for his significant role made to culture in the country. As well as having several All-Ireland titles to his name, Martin has taught several musicians to Fleadh success plus manufacturing the world-famous Kincora accordion. His work is very familiar to readers of The Clare Echo as the newspaper's main photographer.
2nd Place in 1B Fiddle – Cushla Murphy / 12-15 / Tulla
2nd Place in 3A Flute – Caoimhe Perry / U12 / Clarecastle-Ballyea
2nd Place in 3B Flute – Rebecca Griffin / 12-15 / Clarecastle-Ballyea
2nd Place in in 4C Whistle – Stephen Kennedy / 15-18 / Tulla
2nd Place in 6B Concertina – Rachel Mahony / 12-15 / Crusheen
2nd Place in 6D Concertina – Colm Browne / Over 18 / Inis Cathaigh
3rd Place in 8D Irish Harp – Cara Ni Chiarbha / Over 18 / Craobh na Sionna
1st Place in 9D Mouth Organ – Arlene O'Sullivan / Over 18 / Ennistymon
3rd Place in 9D Mouth Organ – Pauline Callinan – Over 18 / Crusheen
3rd Place in 10C Banjo – Paul Mullane / 15-18 / Craobh na Coradh
1st Place in 11A Mandolin – Shane Mescall / U12 / Craobh na Coradh
1st Place in 12B Piano – Eabha McInerney / 12-15 / Tulla
3rd Place in 12C Piano – Noel O'Gorman / 15-18 / Clarecastle-Ballyea
2nd Place in 15A Accompaniment – Aoife Ní Chonghaile / U12 / Corofin
1st Place in 17B Céilí Drums – Dara Fitzgerald / 12-15 / Tulla
3rd Place in 17C Céilí Drums – Clíodhna O'Keeffe / 15-18 / Doora/Barefield
3rd Place in 19B Uileann Pipes – Sean Neylon / 12-15 / Inis Cathaigh
3rd Place in 20A Flute Slow Airs – Sarah McNamara / U12 / Ballynacally Lissycasey
1st Place in 20C Flute Slow Airs – Aisling McMahon / 15-18 / Tulla
2nd Place in 21A Whistle Slow Airs – Kate Roche / U12 / Inis Cathaigh
3rd Place in 22A Harp Slow Airs – Aoife Ní Chonghaile / U12 / Corofin
1st Place in 23C Duets – Roisin Clancy & Shona O'Halloran / 15-18 / Crusheen
3rd Place in 23D Duets – Conor O'Loughlin & Paul Farren / Over 18 / Corofin & Ennis
1st Place in 24C Trios – Darragh Whelan, Jamie Garrihy, Matthew Ryan / 15-18 / Craobh na Coradh
1st Place in 25B Céilí Band – Tulóg / 12-15 / Tulla
2nd Place in 25B Céilí Band – Tulla Notes / 12-15 / Tulla
1st Place in 25D Céilí Band – Cnoc na Gaoithe / O18 /Tulla
1st Place in 26A Grúpaí Cheoil – Inchicronan / U12 / Crusheen
3rd Place in 26B Grúpaí Cheoil – Tigh na Coille / 12-15 / Craobh na Coradh
1st Place in 26C Grúpaí Cheoil – Tulóg / 15-18 / Tulla
2nd Place in 26C Grúpaí Cheoil – Tigh na Coille / 15-18 / Craobh na Coradh
2nd Place in 33D English Singing – Denise Whelan / O18 / Ruan
1st Place in 34D English Singing – Daire Meehan / 12-15 / Newmarket-on-Fergus
2nd Place in 35A Whistling – Eimear Clancy / U12 / Crusheen
1st Place in 35B Whistling – Liam Clancy / 12-15 / Crusheen
1st Place in 35D Whistling – Liam Jones / O18 / Clochiath
1st Place in 36A Lilting – Eimear Clancy / U12 / Crusheen
Ist Place in 36B Lilting – Liam Clancy / 12-15 / Crusheen
3rd Place in 36D Lilting – Liam Jones / O18 / Crusheen
1st Place in 44B Rince Seit – St Maura's / 12-15 / Inis Cathaigh
3rd Place in 44B Rince Seit – St Mary's / 12-15 / Inis Cathaigh
3rd Place in 44C Rince Seit – Rithim an Chláir, Sraid na Cathrach / 15-18 / Laichtín Naofa
2nd Place in 45B Rince Seit Mixed – Rithim an Chláir: Sráid Na Cathrach / 12-15 / Laichtín Naofa,
2nd Place in 45D Full Set Mixed – Rithim an Chláir / O18 / Laichtín Naofa
3rd Place in 47L Full Set Mixed – Rinceoirí Clár / O35 / Lissycasey
2nd Place in 48A Rince ar an Sean-nós – Sean Fennell / U12 / Inis Cathaigh
1st Place in 48B Rince ar an Sean-nós – Conor Fennell / 12-15 / Inis Cathaigh
1st Place in 48C Rince ar an Sean-nós – Eoin Killeen / 15-18 / Inis Cathaigh
1st Place in 49G Comhrá Gaeilge – Michael Ó Laoire / U9 / Kilnamona
1st Place in 49H Comhrá Gaeilge – Daithí Ó Laoire / 9-11 / Kilnamona