WITH the retail sector up and running for its second week, clothes retailers are welcoming shoppers who in need of stocking up their wardrobe.

Club Dangan, like most local businesses lost out on three months of sales and is currently working behind the scenes to develop its website to safeguard for the future.
While online shopping saw a surge during the Covid-19 lockdown restrictions, it proved a tricky experience for some due to getting a fit right and dealing with returns over the post. And Liam Meaney, manager at Club Dangan in Ennis, says that men who were cautious with online purchases are now being rewarded with great deals on offer in their high street stores.
"Everything has an offer on it now so there's plenty of good offers and deals in the store. Different customers are coming in and restocking their wardrobe to go home with which is good because we have great stock available at great value. Obviously with Father's Day at the weekend that will give us a good boost because fathers need new outfits as well," quips Liam, adding that vouchers will be very popular with shoppers in the coming days.

Liam tells The Clare Echo that Club Dangan staff continued throughout the crisis to be on hand for any wedding or communion day emergencies, as people were dealing with changed dates and uncertainty on a regular basis. "That kept us busy throughout it all trying to keep on top of it and make sure cutomers are satisfied by helping them any way we can.
"What it will probably mean is that instead of mainly Friday and Saturday weddings next year there'll be a lot of midweek weddings, you'll see a spike in that as well so hopefully we'll pick up from that what was lost this year."
Club Dangan has introduced the appropriate safety measures, such as steaming clothes after each handling, to allow customers to try on clothes as normal. Liam says that the future outlook for the business remains to be one of optimism, adding that the public has shown great support to the industry and that the camaraderie among businesses in Ennis has been noticeable as they attempt to kick-start the local economy.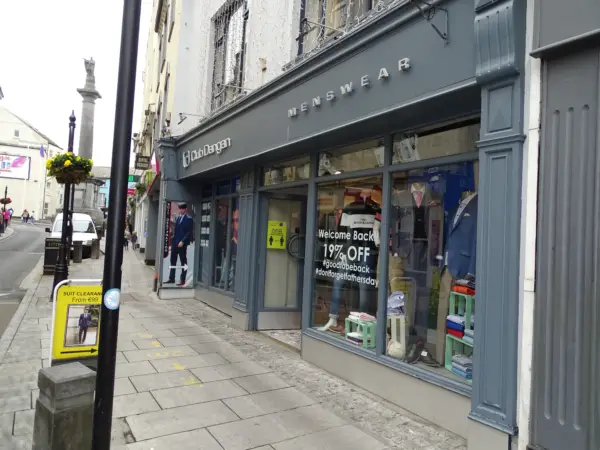 "We thank all the customers for shopping locally in Ennis. In one sense because the restrictions are there from travelling to other counties it could help the town. Definitely people have to stay and shop locally and hopefully it will keep people shopping locally in Ennis. We're a small town, it's a great town. Between all the businesses, everyone is wishing everyone the best of luck in reopening so even though there's competition, everyone has each other's back because we're all trying to come out with the same outcome. We have enough of everything for every customer."