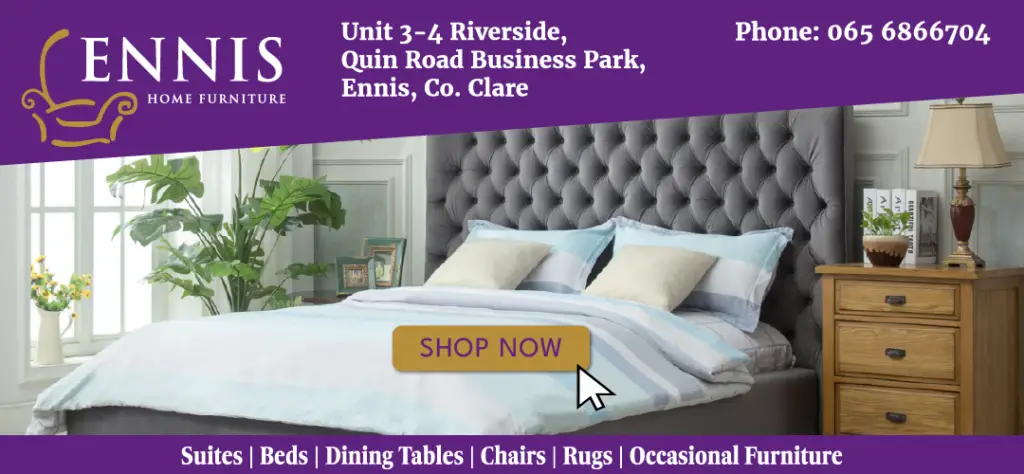 *Bryan O'Loughlin collides with Shane Harrison. Photograph: Gerard O'Neill
CLOONEY/QUIN produced a storming performance to pick up their second successive win in the Clare SHC leaving Clare Cup champions Kilmaley shell-shocked.
Clooney/Quin 0-26
Kilmaley 1-12
Venue: Cusack Park, Ennis
It will go down as a shock result but there is no denying the merit of Clooney/Quin's comfortable victory over Kilmaley in this senior hurling championship second round game at Cusack Park this Sunday afternoon.
Even the most diehard Clooney/Quin supporters would not have predicted a fourteen point win for their side but it was fully deserved as they dominated throughout against the Clare cup champions.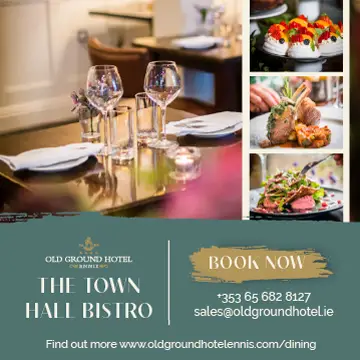 Showing the greater hunger for victory and sharpness throughout the field, Clooney/Quin deservingly led a fancied Kilmaley by six points at the halfway point.
Kilmaley landed the opening two points of the game but Clooney/Quin hit the next six to lead by four at the end of the opening quarter.
They stretched their lead to five with an Eoghan O'Brien point but Kilmaley hit back and after Cian Moloney converted a feree, Gearoid O'Grady struck for a goal to move to within a point of their opponents.
Clooney/Quin's response was strong and they hit the next six points, five from inter-county man Peter Duggan on their way to a half time lead of 0-13 to 1-4.
Hopes of a Kilmaley fightback were quickly killed on the resumption as the winners landed the first five points of the new half to stretch their advantage to eleven points and Kilmaley were always chasing the game from here.
Peter Duggan with a dozen points top scored for the winners for whom Shane McNamara, John Conneally, Ryan Taylor, Ulick O'Sullivan and Eoghan O'Brien were amongst those to stand out.
Scorers Clooney/Quin: Peter Duggan (0-12 8f); Ryan Taylor (0-4); Eoghan O'Brien (0-3); John Conneely, Ulick O'Sullivan (0-2) each. Callum Hassett, Shane Harrisson, Luke Harrisson (0-1) each
Scorers Kilmaley: Gearoid O'Grady (1-3) Cian Moloney (0-4 4f); Cathal Darcy (0-2);
Clooney-Quin
1: Keith Hogan
2: Evan Maxted
3: Shane McNamara
5: Mike McNamara
10: Donagh Keogh
6: John Conneally
7: Conor Grogan
8: Ryan Taylor
9: Donagh O'Sullivan
17: Ulick O'Sullivan
11: Peter Duggan
12: Callum Hassett
13: Ronan O'Donnell
14: Eoghan O'Brien
15: Shane Harrisson
Subs:
20: Bryan McInerney for E. Maxted (38)
18: Dylan Cunningham for R. O'Donnell (41)
19: Luke Harrisson for S. Harrisson (54)
4: Eoin Guilfoyle for C. Hassett (56)
13: Ronan O'Donnell for McInerney (60) (inj)
Kilmaley
1: Bryan O'Loughlin
2: Noel Casey
21: Bradley Higgins
3: Colin McGuane
5: Aidan McGuane
6: Conor Cleary
9: Brian McNamara
8: Michael O'Neill
4: Tommy Barry
19: Sean Ronan
11: Brian Cahill
12: Cian Moloney
10: Eanna McMahon
14: Daire Keane
15: Gearoid O'Grady
Subs:
13: Sean O'Loughlin for Ronan (HT)
7: Sean Kennedy for Barry (37)
22: Martin O'Connor for Higgins (38)
24: Cathal Darcy for McNamara (49)
17: Joe Carmody for E. McMahon (49)
Referee: Rory McGann (Newmarket-on-Fergus)