Clare country music singer, Clodagh Lawlor is to begin presenting a weekend music show on Live95 FM this Saturday.
Clodagh's first show of 'The Weekend' will be broadcast this Saturday from 2 to 5:30pm on the Limerick radio station which she is going to present for the remainder of the summer.
In 2019, she was named as the winner of the Late Late Show's search for a country music star and is regarded as one of the rising stars in the industry.
Plans to hold a hometown gig in her native Newmarket-on-Fergus last year came undone on account of the pandemic but the past pupil of St Flannan's College made the most of the lack of concerts by focusing on her media career.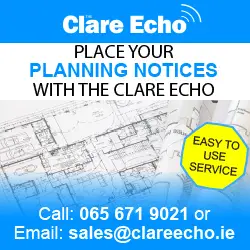 Last September, she enrolled in the Today FM School of Radio. "I wanted to try and give myself the best shot of getting into the radio business. It was such an incredible course as you were getting lectures from people who are actually on the radio scene. I got to know Fergal D'Arcy very well and he has been incredible to me, he is always at the end of the phone to call and available to ask for advice and I'm very lucky to have him as a friend".
Music is her main interest but Clodagh admitted that getting into broadcasting on radio and television has always been a target. "I was lucky I had already got my own TV show called Clodagh's Country mix on Sky TV so I've been dipping my toes into a lot of TV work over the past couple of years since I began my career but I always wanted to get into radio and now I have".
After completing the Today FM course spearheaded by Patrick Haughey, she was keen to make inroads in the world of radio. "I was at home one evening and was thinking about where I wanted to go in life having one of them days as we all can have but I said ' Clodagh you've nothing to lose message a few producers and see if there is any slots available for new radio presenters' and that I did. I suppose it's try when they say no one will come knocking on my door so I just have to go knocking on theirs and with a bit of luck, neck and perseverance here I am".
She added, "My whole career so far I have been super lucky with the opportunities that have come my way. Preparation has met opportunity with this new venture I'm going on and I only hope it's the start of many more. I would love as you know to have my own country music radio show one day but I'll keep working and hopefully someday you'll be seeing that in headlines. It's only the beginning for me I hope but super grateful for everything so far".