*Some strikers from Fridays for Future Clare. Photograph: Orla Begley.
Clare's Friday for Future protesters scolded county councillors for 'not doing their homework on climate change'.
Seven months on from first addressing elected representatives of the county, a delegation from Friday's for Future Clare were invited to speak at the November sitting of the local authority. Here, they gave a reminder of the measures they called on Clare County Council to introduce.
These included, declaring a climate and biodiversity emergency, more renewable energy infrastructure, a bottle refund scheme, grants for zero waste, sufficient segregated cycling infrastructure, free school buses for rural and urban areas, making the centre of Ennis pedestrianised and rewilding Council owned land.
"We demanded immediate action in April, climate change has become more talk in daily news, it has been all talk and no action,"Kate Harty declared. "This is not our job, we should be in school learning about history or something". She acknowledged the Council has made changes since April but added, "The effects of climate change are visible in Co Clare, we're most at risk of flooding and stronger topical storms will reach us".
Áine Dempsey outlined that FFF Clare were "very disappointed" councillors did not back a motion in September to introduce a climate emergency. "We commend you on the new cycling infrastructure in Ennis, cycling is now more enjoyable than stressful. We have done our homework, now is the time you did yours. If it is too late, there is no going back".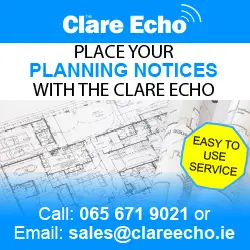 "Thank you for listening, we hope you will continue to listen to the science and most importantly act," Eleanor Dagnell-Wise concluded. Cllr Johnny Flynn (FG) who proposed the climate emergency and for the delegation to come back to the Council Chamber was in agreement, "We do not see enough action".
Cllr Gerry Flynn (IND) stated, "I would have to say being of the age I am I was brought up in West Clare I'd be of the opinion the generation of the 50s were more environmentally aware than the current generation, a lot of the same proposals were put forward back then 'reuse, reduce, recycle'," the Miltown Malbay native reflected. He praised the group for their ongoing work and felt "there is a hell of a lot Clare County Council can do". The Shannon MD Cathaoirleach disagreed with the views that hedgerows should remain untouched.
For Cllr PJ Ryan (IND) the presentation "has opened my eyes to things that are happening and may happen in the future". He believed the group's input "will make the world a better place to come in twenty, thirty and forty years time".
"My kids said to me 'ye don't get it, ye don't understand', maybe we don't but I'm not sure everyone does. Unless you are living in a different planet you would know things are changing even though some national politicians deny climate change," Cllr Pat Hayes (FF) commented. He felt not all of the suggestions made fall under the Council's remit. "My kids also said to me 'ye will get it someday'".
Lisdoonvarna representative, Cllr Joe Garrihy (FG) maintained it was "A huge burden" on the teenagers "to bring the story to us". He recalled the days in which storm damage led to flooding come through the doors of the offices at Lahinch Seaworld and stated "the Council and Government didn't sit back then" and spoke of the subsequent investment in Lahinch. "The responsibility isn't on someone in Russia or America, we need to control the controllables. I remember watching a black and white television growing up on the challenges of Nuclear War, this is probably more challenging".
Every week the Fridays for Future protesters "get the conversation going" on climate change within the town of Ennis, Cllr Mary Howard (FG) stated. "I have to admire your tenacity and dedication to the cause," she added, "people want to make a difference". Chair of the Physical Development SPC, Cllr John Crowe (FG) confirmed many of the proposals would be discussed at their next meeting. "There has been a mind change," he said of the new attitudes towards the environment.
Dagnell Wise responded, "We were in here last year with these suggestions, there were some improvements but not much has happened. A lot of these solutions are simple".
Leas Cathaoirleach of the County Council, Cllr Clare Colleran Molloy (FF) added, "I believe Eleanor Dagnell Wise is our own Greta Thunberg, she stood on her own at the Height as the climate striker in Clare". She confirmed "the issue of climate emergency" will be a standing items on all SPCs in the county and that a "a specific mobility plan" is under research as part of the Ennis 2040 plan.