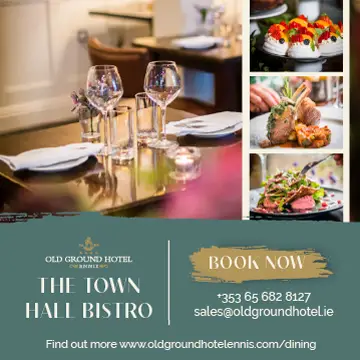 *Leonard Cleary. Photograph: Eamon Ward
LEONARD CLEARY is to head up Clare County Council's new tourism department following the addition of the four Shannon Heritage sites to its portfolio.
A historic agreement was reached this week between the Council and the Shannon Airport Group which sees the local authority become one of the biggest international tourism operators.
Bunratty Castle & Folk Park, Knappogue Castle & Medieval Banquets, Crauggownen Bronze Age Park and a retail outlet at the Cliffs of Moher is now added to its existing portfolio which includes the Cliffs of Moher Experience, Loop Head Lighthouse, Vandeleur Walled Gardens, and the Inis Cealtra Visitor Experience.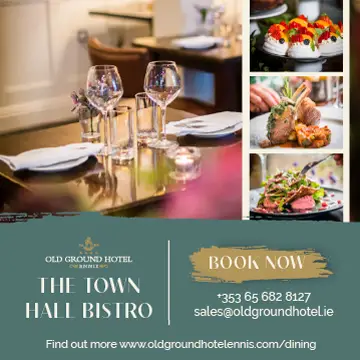 Corofin's Cleary who had served as Director of Rural Development with Clare County Council since a restructuring in October 2016 was one of the key figures behind the creation and implementation of one of the first rural development strategies by a local authority.
Tourism had been part of this directorate but will now have its own dedicated unit in the Council. The county's tourism offering is to be divided in three and will brand as Clare Tourism North, Clare Tourism West and Clare Tourism East for the entities under their ownership.
Speaking to The Clare Echo, Council Chief Executive Pat Dowling confirmed that Leonard's move will result in Jason Murphy assuming control of a rebranded rural directorate. "The rural, community and sport area has now been assigned to Jason Murphy. Jason was brought in as heading up our Ukrainian Services Directorate on an acting basis, now I've added to him some of the portfolio that was with Leonard because I want Leonard to focus solely on all the tourism stuff that is going on. The Ukrainian services remains with Jason for now".
Recruitment for specialist roles within the tourism portfolio is expected to be carried out. He said, "There are 90 full-time staff in these four sites, they are the key people who are running these sites, they have a lot of experience to build on there, I have assigned Leonard Cleary as our new dedicated director of tourism so it is a specific tourism portfolio, that is supported by other staff in the tourism area, people running Vandeleur Walled Garden back in Kilrush, people trying to develop Loop Head Lighthouse, people working on the Inis Cealtra/Holy Island project in East Clare. We have a dedicated Head of Tourism, Deirdre O'Shea.
"It will all be looked at, there will need to be particular staff and we're looking at the recruitment area, we've been working away in preparation for that, there will need to be some additional staff to manage our growing suite of facilities around the county but for now the focus on the Shannon Heritage sites is to get in, get under the bonnet and make sure they are fit for purpose for now and then look at how we grow them into the future".
Cleary first joined the local authority in August 1997, beginning as a marketing and development officer with Kilrush Town Council. He then served as the RAPID Programme Coordinator in the guise of a community and enterprise development officer before continuing to climb the ranks in the Council. Other roles included Head of Human Resources and Town Clerk with the Ennis Town Council before becoming heading up the housing department and then the rural development directorate. He has also since 2016 been Director of Services at the West Clare Municipal District.
In August 2021, Leonard who is married to Michelle with four children, was ordained a deacon of the Diocese of Cloyne. A permanent deacon, he is a minister in the parish of Charleville, he had been a pastoral assistant prior to this. A former clerical student, he spent fifteen years as Chair of the Killaloe Diocesan Pastoral Council with Bishops Fintan Monahan, Willie Walsh and Kieran O Reilly.