JP Clarkes, Bunratty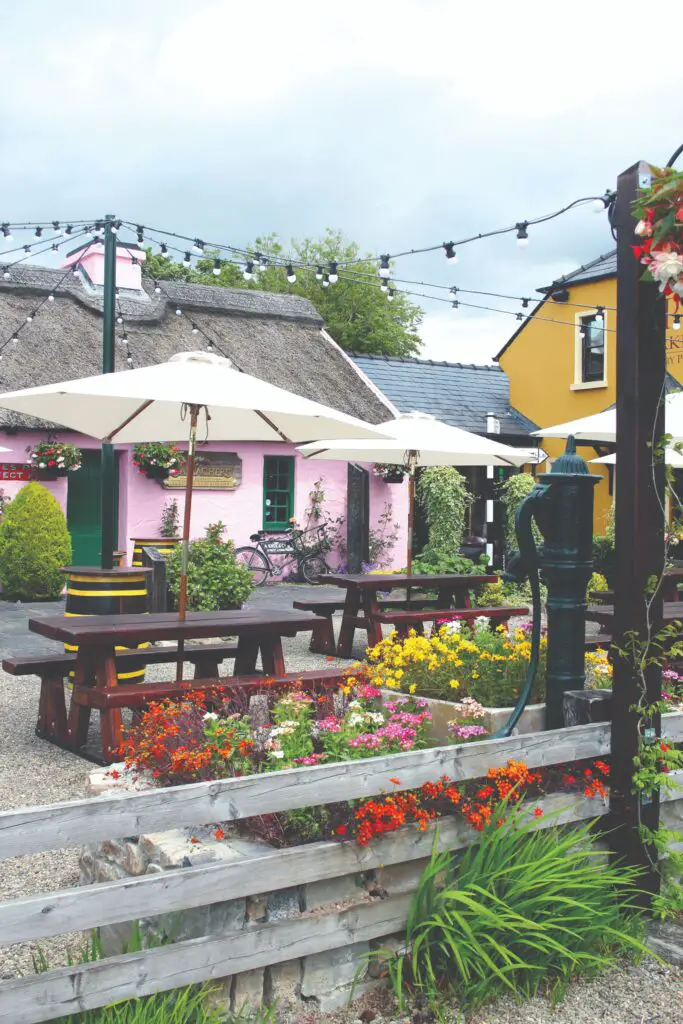 Anticipating a busy summer of outdoor dining, the team at JP Clarke's have spent the last lockdown creating a garden oasis in the heart of Bunratty Village. An all-weather outdoor dining area has been built onto the restaurant façade for more blustery days; while the beer garden outside Gallagher's has enjoyed a complete overhaul taking full advantage of summer with pretty flowers abloom in every corner.
Having opened for outdoor dining earlier this month, JP Clarke's is now offering a full dining service including takeaway, every day from 12 to 9:30pm. Find out more at jpclarkes.ie or call 061 363363.
Durty Nellies, Bunratty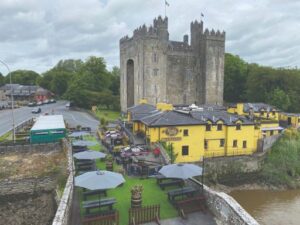 DURTY Nelly's in Bunratty is not just one of the oldest and most iconic establishments in Ireland, it's also one of the county people's favourites.
Having completed a massive transformation, it's ready to welcome back outdoor diners and drinkers for the summer weather. Now over 400 years in business, it's conveniently located on the motorway for passers-by and visitors to the folk park.
Knox's Pub, Ennis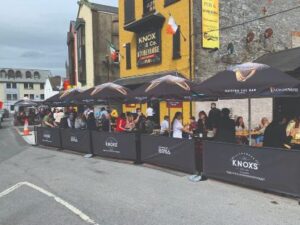 KNOX'S is open for outdoor drinks and dining and helping to contribute to a more-vibrant than normal atmosphere on Abbey Street this summer.
Mike, Declan and the team are delighted to welcome all of their customers back in the new outdoor dining area. Knox's is open every day from 2-11:30pm.
Cruises, Ennis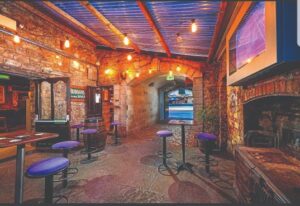 PINTS and cocktails will be flowing in Cruises, Abbey Street with the reopening of outdoor dining this week. The infamous establishment has a vast outdoor area to enjoy your drinks in comfort this summer. Staff and management are delighted to welcome all of their customers back. "We are fully sanitised and ready to go. We are looking forward to serving food and drink alfresco."
Nora Culligans, Ennis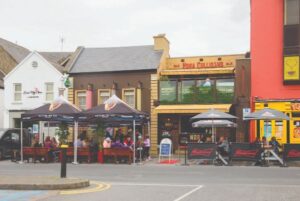 NORA Culligan's are delighted to welcome everyone back to our new and improved outdoor areas, we are fully sanitised and are abiding by all Covid safety measures. We would also like to thank all of our staff for being so loyal over the last 15 months.
O'Keefe's/Steele's, Ennis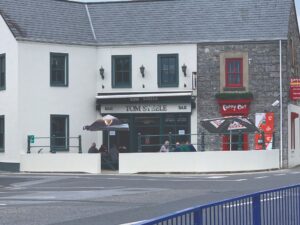 O'KEEFE'S and Tom Steele's pubs are delighted to welcome customers back, with a special enclosed street-facing area bringing added atmosphere to the Lifford establishment. The sun hits directly on the outside area which is directly across from the Ennis Courthouse.
Copper Jug, ENNIS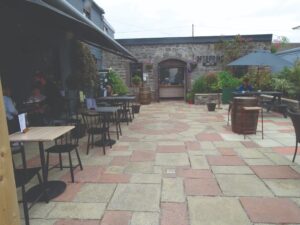 The Copper Jug in Lifford is one of the pubs to really catch the eye with their outdoor upgrades in preparation for the return of sitting customers. Thanking their customers for continued support, The Copper Jug management are delighted to welcome everyone back to the newly renovated Off Spring outdoor drinking and dining area.
Michael Kerins, Ennis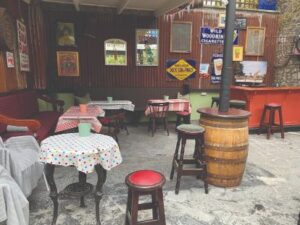 Michael Kerin's bar is a well-known family run business on Steele's Terrace, nestled among a cluster of excellent pubs in the area. Serving homemade soup and freshly made sandwiches during the day. Kerin's are looking forward to welcoming back all their customers for a nice creamy pint of Guinness in Kerin's bar.
The Abbey Bar, Ennis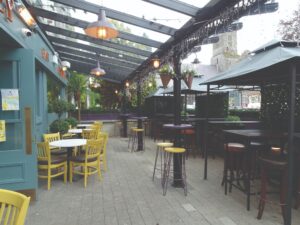 The Abbey Bar & Josie O'Sheas underwent significant upgrades in recent years and has appealed to a wider social clientelle as a result. Its food menu continues to attract a busy afternoon trade also and with the benefit of the atmospheric town centre covered outdoor area, they are delighted to be back serving food and drink outdoors.
Lucas Bar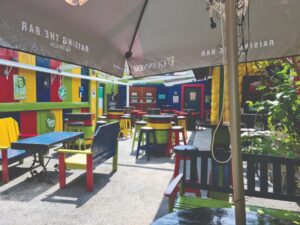 Everyone at Lucas' is delighted to welcome back our customers. As we all finally get back to normal we're excited to begin the NEW normal in style! With our refurbished beer garden and, thanks to Clare County Council & Ennis Chamber, our new on-street service area, there really is a Grand Stretch in the Evenings! We can't wait to see you all again, bringing a new meaning to "One For The Road"!
McHughs, Ennis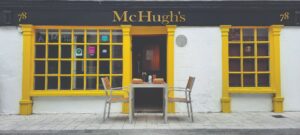 It's time to swing open the doors of McHugh's and welcome everybody back. We'd like to thank all our staff for working tirelessly to get everything ready for reopening. We have been cleaning, restocking and improving where we can to ensure a great night out as safely as possible. We will open for lunch Thursday to Sunday from 12.30 with a new menu but with some old favourites. We look forward to welcoming you all back to McHugh's and getting back to doing what we do best.
Dan O'Connells, Ennis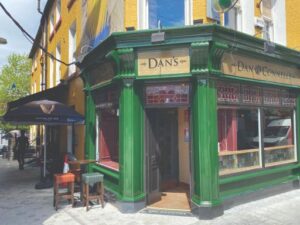 We are over the moon to have our doors open again and welcome, new and returning customers. Ennis has never looked so well, with thanks to the recently refurbished lane ways, which have helped us create a beautiful seating area to the rear of our building. There is a buzz back in Ennis and there's a buzz back in O'Connells. We look forward to seeing you all soon.
Fawls, Ennis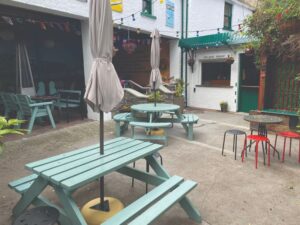 FAWLS has always been ahead of the curve when it comes to outdoor seating and is famous for its stunning murals depicting the West Clare railway of old.
More recently it was a big hit during the Fleadhanna that came to Ennis with the addition of its outside serving area. Fawls we are fully sanitised and ready to welcome all our customers back, and thank all the public for your continued support.
Brogans, Ennis
BROGAN'S on O'Connell Street in Ennis town centre is one of Clare's most iconic pubs and for years has welcomed locals and tourists alike in their thousands. With an expanded outdoor seating area and now with a capacity of 150 seated outdoor diners, its owners say they are delighted to be able to welcome all their customers back for outdoor drinking and dining.
O'Deas Ennis
O'Deas pub near the Cathedral on O'Connell Street has long been a firm favourite for Guinness drinkers while its interior upgrades in recent years has made it a standard-bearing traditional Irish pub.  With a new and improved outdoor area allowing for additional capacity, O'Deas are fully sanitised and ready to go.
Ennis Gourmet Store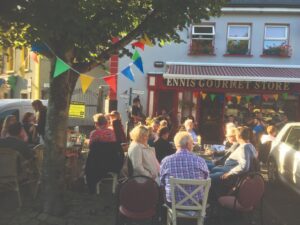 We are in business 23 years and have always being known for our outside dining.
We are in the sunny side of the street, tucked away from the main thoroughfare in ennis,  we serve Mediterranean food with a French flavor,  tapas. Cheese plates , salads and the finest of beers and a  comprehensive wine list, , be sure to book a table for one of the sunniest areas in ennis,
Telephone 0868796583. Or 0656843314,
Email ennisgourmetstore@gmail.com
Taylors Bar, Ennis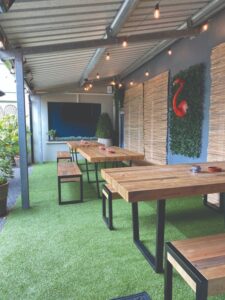 After a long break Taylor's are delighted to be welcoming our customers back. Join us for an outdoor drink in our newest addition to the beer garden.
The Market Bar, Ennis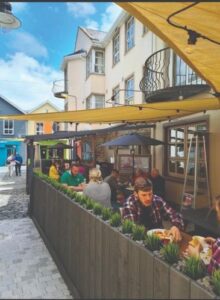 Here at the Market Bar and Restaurant, we tried to create a cosy outdoor dining space for all out valued customer to enjoy our food and drinks al fresco. We are happy to be back open serving you all and look forward to seeing everyone.
The Halfway House, Ennis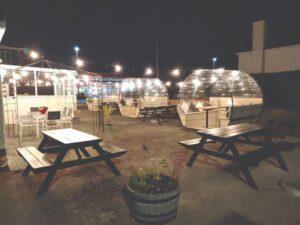 We are delighted to welcome back our loyal customers and look forward to meeting everyone in a safe and comfortable environment. Join us in our recently renovated outside area where we hope to bring you a unique outdoor experience. A special thanks to Elaine Gannon and all our staff for the hard work to make the reopening possible. All the best to everyone in the Hospitality sector from Trisha, Paul and all here at The Halfway House.
The Old Ground, Ennis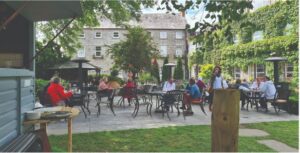 THE Old Ground Hotel, long a family favourite amongst the people of County Clare, has gone all out to provide a beautiful outdoor setting in its garden under the guise of the Poet's Corner Pop Up Garden.
With dining and beverage options available, we're sure the Old Ground will be a hit on the summer evenings for months to come.
Armada Hotel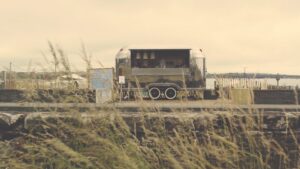 Make a break for the West & join us for an alfresco lunch by the Sea!
We have Little Johnny's Pizza serving our signature pizza and salads, Catch Seafood Truck, Gulls Coffee and our new look Ocean Bar Terrace serving light bites. All outlets are open 7 days a week all summer!
Flanagans, Lahinch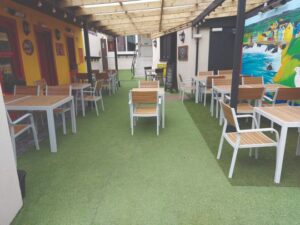 Flanagans Bar & Restaurant has been looking after both locals and visitors to Lahinch for over 100 years. We are delighted to reopen and welcome back all our customers and are really looking forward to a busy summer. Whether its craft beers from our own Western Herd Brewing Company, cocktails, wines and whiskeys we have something for everyone to go with our home cooked food using the best of local ingredients. Call in to us on the Main Street in Lahinch along the Wild Atlantic Way.
Roadside Tavern, Lisdoonvarna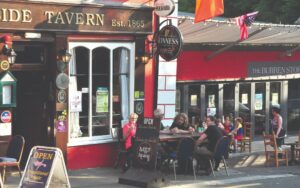 Enjoy the Burren Pizzas with Burren Smoked Irish Organic Salmon, St Tola Goats Cheese, Fish and Chips & Scampi & Chips along with the Lisdoonvarna establishment's own Burren Brewery Lager, Stout and Ale.
The Roadside Tavern offers spacious and protected Outdoor dining and are Failte Ireland Safety Charter approved.
Kilshanny House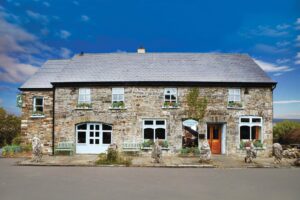 Outdoor dining will be available in the garden overlooking the green vales of Kilshanny.
The menu will be called "Tine" Irish for "fire". The best produce will be cooked over fire on the wood fire grill and wood fire oven.
The style will be similar to tapas/small plates, designed to be shared amongst diners. You order a few dishes and everyone gets to have a taste. Grilled Irish meats and seafoods, wood fire roast vegetables as well as flat breads and pizzas. As well as salads and sides.. Simple dishes, expertly cooked using wood fire. A bottle bar will operate from a stable in the garden.
Aiming to be open early July, follow social media for updates.
Car parking available. Pre Booking essential.
McGanns, Doolin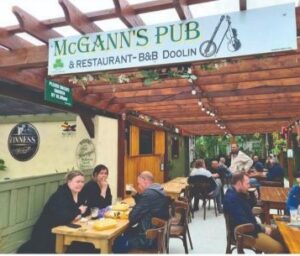 WITH an attractive outdoor area, what better way to spend an afternoon in the fresh North Clare air at McGanns pub. Management would like to welcome all of customers back and would like to thank everyone for their continued support.
McDermotts, Doolin
ONE of a number of famous Doolin establishments, McDermott's is back in business. Patsy and Stephen look forward to welcoming back all customers old and new. Call for a drink and some delicious food served daily from 1pm in the new outdoor dining space "Paps Shack". Management add that they are looking forward to the return of our renowned musicians very soon, when permitted…..watch this space!
Shannon Springs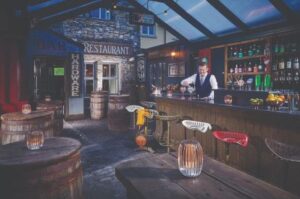 Yippee…The Beer Garden & Carpark Areas are now open for drinks & food at Shannon Springs Hotel.
The four-star hotel is the only one to have remained open throuhout every lockdown to for essential purposes, but now the much loved Shannon establishment is ready to welcome the entire county. It's a Walk In System…just pop down to the Lodge, "we can't wait to serve you!"
Cooks Lane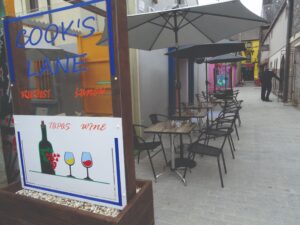 COOK'S Lane Café has extended its offering on reopening and now serves as a Wine Bar & Tapas establishment on evenings.
Open for outdoor dining and drinks, all day breakfast, brunch & lunch.
Opening hours: Tues to Sat 9am to 3pm, Sun 10am to 2pm  Evening Tapas & Pizza Thurs -Sat 5-11pm
Reservations are not necessary but if you wish you can do so @0870615792. Wheelchair Accessible, covered outdoor area & child friendly. Best wishes to everyone & Stay Safe.
Ennis Food Emporium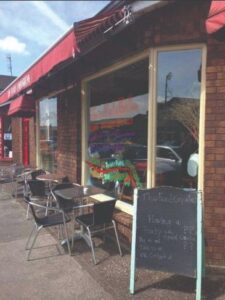 The Ennis Food Emporium would like to thank all of our customers for their continued support and we can't wait to welcome everyone back. We would also like to take this opportunity to thank all of our staff for their hard work. For all enquiries, catering and bookings contact "06568320554"
Sweet n Green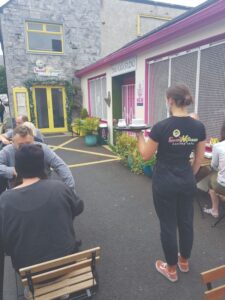 SWEET n'Green is a family-run gem in the centre of Ennis which has stolen the hearts of foodies and healthy eaters alike since its establishment. While takeaway services continued as restrictions allowed, diners can now sit outsite in the new seated area across from Ennis Friary and enjoy healthy breakfast and lunch options.
Rowan Tree, Ennis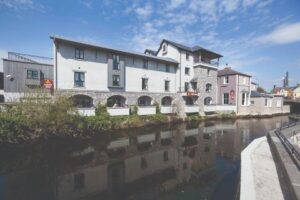 We are so excited to be able to welcome our customers back initially to our outdoor covered terrace and we will be opening on June 9th and will be open from Wednesday to Sunday serving lunch from 12pm and evening meals from 5pm and of course we have a fully stocked bar with Guinness and Carlsberg on draught and delicious Illy coffee.
Check out our menus on www.rowantreecafebar.ie or call us on 065 6868 669 Follow us on Instagram and twitter and @rowantreeennis #rowan3
Café Aroma, Ennis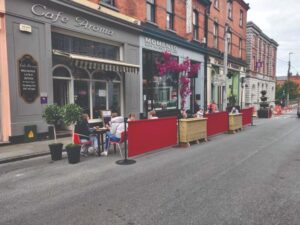 Café Aroma is delighted to welcome all their customers back to their outdoor dining area. Café Aroma is open 7 days a week 8:30am-6pm serving all day breakfast and lunches.