Clare has no rough sleepers who are in that position against their own wishes, the Chair of the group responsible for social housing in the county has said.
In March, homeless figures in Ireland passed 10,000 for the first time in the country's history while Fr Peter McVerry founder of the Peter McVerry Trust maintained 15,000 was a more accurate estimation.
Most recent numbers from the Department of Housing revealed that 70 people were homeless in Clare in February, up from 64 in January.
Cllr Gerry Flynn is Chairman of Clare County Council's Social Development SPC which has responsibility for housing. He outlined that no individual sleeping on the streets has been left their against their will.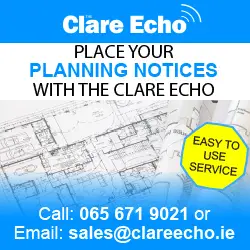 "There is no rough sleeper in Clare that is not there through their own wishes. We have opened a HAP office in Clare County Council and that is made up of a number of agencies to support Clare County Council in making sure there is housing assistance that present in a homeless situation. It has only opened in the last two months, it is functional and it is working very well. We signed a contract for a number of houses in Quilty and Roslevan, only a few months back we signed a contract in Feakle and Clonlara, we have signed up to 47 houses in Shannon in the last few months through an approved housing body.
"All we can do is work within the parameters of the houses we have and the funding we get from Central Government and the direction from the Minister, we have to work under this Rebuilding Ireland policy, it's not our policy it's the Government's policy and they give us targets, last year we exceeded that target. There are targets set on us this year that we have to build in the region of 100 houses and I'm of the opinion that it is doable," he told The Clare Echo. 
Speaking at the beginning of this month, Tracey Reddy, client services manager with Mid West Simon maintained the problem of homelessness was not being dealt with in this region of the country. "The numbers are increasing on a month by month basis, they're rising, the rise is consistent".
"I know the Government are saying they are stopping families entering homelessness but any family that enters homelessness is one too many. The trend just isn't reversing".