*(L-R): Emma Sams, Caitlin Griffin, Donnacha McManus, Amy Custy, Clodagh Sully, James Sheppard. Photograph: Martin Connolly
Clare Youth Action's slogan is to make a difference and their latest video has certainly done that.
Today's world is one centred on social media, with all the clicks, likes, retweets and shares there is a tendency to bandy about the phrase 'gone viral' but that's exactly what happened when a video highlighting the negative consequences of plastic on the environment and its inhabitants was created by Clare Youth Action and subsequently shared by The Clare Echo. As of 8pm on Tuesday, it has reached an audience in excess of 7.6 million, had 2.7m views with over 104,000 shares.
For context, The Late Late Toy Show broadcast on RTÉ from London was the most watched programme on Irish television so far this year with a reach of 1.9 million people and an average audience of 1.3 million.
Six people both young and slightly older produced, directed and filmed the video. Amy Custy (14) is the self-professed "star", freelance videographer James Sheppard (39) was the director where he was assisted by Caitlin Griffin (14), Donnacha McManus (14) was in charge of props, Clodagh Sully (20) was helping on the beach while Emma Sams (51) ensured everything was organised, the six travelled to The Clare Echo HQ to reflect on the video's remarkable success.
It was a group decision for the focus to be on plastic and according to Caitlin the main achievement is the message being received loud and clear, "It's great to see the message is getting out there, plastic in the ocean is a real danger to animals, it's great to see that people are seeing that video".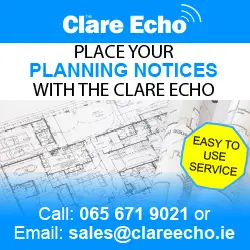 With views in places as far as Brazil, Buenos Aires, Cardiff, Chile, California, Paraguay, Ecuador, Buenos Aires, Lima, Venezuela, Australia, Scotland and the UK, the video has gone global. "We made a conscious decision for it to be a short visual so everyone could understand it," James said of the universal appreciation.
Prior to posting the video, Emma admits members of Clare Youth Action were wary of receiving a negative backlash on social media but their experience of the last few days has opened their eyes to the nicer side of the web. "What's interesting is that the next we're working on is bullying and we were talking about how negative social media can be and then this has turned it on its head and made them realise it can be really positive and that was really nice. They weren't aiming at their peers, they didn't want people in their school to see it because of the backlash you can get. We put it up on YouTube but you guys shared it and it went viral from The Clare Echo".
Months of planning went into the production such as deciding what to do, a beach clean, the creation of art through the rubbish collected and getting agreement from the entire group that they would be happy before the camera started rolling. "One of the reasons why it's so powerful, it's because it's a person and they transfer that to animals, there has been videos of animals in that situation for years going around, it really connects to people and they're saying it's hard hitting and it needs to be dark to get the message home," Emma explained. Role reversal was vital to making an impact, James maintained "No one was expecting a young girl to be struggling and that's the dark part of it which hit people, it doesn't hit people when they see the birds and that's what we tried to do".
For Clodagh it's a case of everything coming full circle, it was during her teenage years that she founded Clare Youth Action but it was in the past week while on placement at North Clare Family Resource Centre that the group recorded their greatest feat. "When we set up Clare Youth Action, me and a group of my friends four or five years ago we didn't expect it to go anywhere, we were under eighteen so we couldn't volunteer so we set up our own thing and we never thought it would grow as big as it has now".
Further background on the foundation is provided by Emma, "They have a lovely tag line for Clare Youth Action, making a difference in our community and good choices for ourselves, you started it because Ennistymon as well as other places has a particular drug and alcohol issue for young people and they could see that and didn't want to see other people going down the same line, they wanted to find something more positive to do with their time".
Some other projects they have completed include handing out 150 cookies around Ennistymon as a random act of kindness, highlighting issues affecting young people, it is an off shoot of the youth club that meets in the town but it's for people that want to be more proactive as Donnacha illustrated, "We meet every Thursday and every Monday to just talk about what we want to do next and if we want to do a movie on a specific topic to raise awareness. We come up with ideas, do props and put it together".
On average, five or six young people makeup the group, the intimate nature has strengthened the friendship between them but Caitlin points out more hands on deck would lead to going bigger and hopefully better. "I think it's nice to have a small amount of people but you would be able to get a lot more done and do a lot more stuff with more people".
When she established the group, Clodagh never envisaged the highs of going global, "It's really nice to see it is carried on to the younger people and they're doing a lot of different things, they've really branched out a lot more than we did, we did more fundraising and it's really good to see it grow bigger. I hope to continue working with young people in the future".
The younger crop have powered on with the group with McManus on his own initiative setting up a stall to run a fundraiser at a Christmas Market in 2017 while Amy refers to the work done by Roisin Garvey in primary and secondary schools around the county as helping to plant various ideas on how best to tackle plastic use. "She talked about getting the cups and it was around that time we were talking about the plastic and she had a good few ideas on getting everyone to pay forty cent for the cups and shops giving discounts for using the cups instead of the plastic".

Part of Emma's job as a Family/Community Support Worker at the North Clare Resource Centre is to facilitate the Action Group, for her working with young people is very rewarding, Although James has educated them on the use of video equipment, he finds that he is also learning a lot from the secondary school students. "It has taught me the insight they have that you wouldn't really see. We didn't have the social media when we grew up, there was a lot of hesitancy I found when we were trying to come up with it, they were nervous because it was going to go out on to a social network, it was difficult for me to understand it, I've always had the idea that nothing goes out unless everyone is happy. These young ones have a different perspective and it's not as positive, it doesn't go straight up they think of the consequences, I'm glad Amy was brave enough to put herself out there".
All six are adamant attitudes need to change regarding the use of plastic. Clodagh said, "A lot of it is wasted, people do need to be a little bit more aware of where it goes, they don't think about it and need to realise it takes a long time for it to become biodegradeable", Emma commented, "Stop using it, packaging is ridiculous, single use plastic is crazy the way it gets used". "I think people need to be aware of how much they're using and where they get rid of it, they need to get rid of it in the right place," Amy suggested, James felt "The Government needs to get into gear on it, they're not doing much, they're expecting everyone else to raise awareness, they should be changing policies". Donnacha continued, "Stop using plastic, if you're using it don't litter and throw it everywhere, put it in the bin," while Caitlin gave a local example of the effect, "I don't think people realise like in Ennistymon there is the Falls and if I throw my rubbish on the ground, it can be carried into the ocean, I don't think people realise that".
Their next project will put bullying under the spotlight, co-founder of Clare Youth Action Clodagh stressed the positive impact being involved with the group can have for teenagers in the county. "It's open to everyone so even if you feel you're not talented in a certain area you can come along and that's what we always felt because some time in rural communities there is not a lot to do outside of sport and music so this is another thing to do".