Clare taxi drivers are afraid of the financial uncertainty and the potential health risks posed by returning to the ranks.
At present, the majority of taxi-drivers in the county are on the COVID-19 pandemic unemployment payment. While some have continued working during the restrictions, those that have been out of action for the past three months are fearful they will be out of pocket due to a decline in traffic and footfall around the county.
Personnel employed in the sector have highlighted their safety concerns to The Clare Echo, one South Clare based taxi driver expressed his fear at collecting strangers and unwittingly bringing the virus back to his family home.
Another driver from East Clare who operates primarily out of the county town has cautioned that although pubs and restaurants are scheduled to reopen in the coming weeks it will not necessarily lead to more people calling a taxi. "Everyone is talking about the unknown but we have no idea what we will be returning to. The public health experts have warned that people will not follow the advice once they have had a few drinks, where does that leave us when they hop in the back of our car".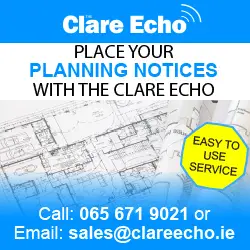 AAA Taxi are planning to reopen on Monday morning. Owner, Trevor White told The Clare Echo, "A lot of drivers are very afraid to return because of the uncertainty around the industry. We just don't know what way business will be on our return so it's a huge risk for those on the COVID payment to come off it as they could be returning to 10 hour days for €30 a day".
He believed they were on the same boat as shop, pub and restaurant owners in not securing a set guaranteed wage. Trevor suggested that the Government continue the payment "for a period of time and faze it out week by week as business returns to normal," to alleviate the concerns of taxi drivers.
Their reopening was stalled for the health and safety of customers, White said. The Ennis native admitted that they had to remove safety partition screens from their vehicles "because they are technically a modification to the car and the National Transport Authority won't issue us with a pass unless the car goes through a suitability test". The availability to complete such tests has been very rare with the Ennis NCT Centre only reopening on Tuesday of this week. Minus this approval and certification, insurance would not cover the screens.
"Even if test centres were open there's no guarantee that the screens will pass anyway. When you think about it how can they pass. Car manufacturers spend millions and millions testing all safety features of a car before mass production to make sure there is no harm caused to the passengers. Safety screens no matter where they are made have never been tested in this country so we have no idea how they will react in an accident, what happens when the curtain air bags deploy and shatter the screen into dangerous sharp objects. That could cause far more serious consequences than the virus could. It would seem the only safe option available to us is for drivers to wear face coverings when passengers are on board and for all passengers to do the same where possible," he said. On top of this, Trevor outlined that cars will have to be cleaned and disinfected after each journey.
The thirty nine year old flagged that a "huge problem" in Ennis and the wider county is drivers with limo licences posing as taxi drivers, an "uninsured" activity that continued during the restrictions he said. "From speaking to a lot of taxi drivers in town, the agreement is we all have to come together to help stamp this out and work with the PSV Inspector by reporting such people to him and the authorities so the law can deal with them".