*Clare supporters at the Town End of Cusack Park. Photograph: Gerard O'Neill
Cusack Park with a big crowd was always one of my favourite venues to play in. However, I don't think I have ever experienced an atmosphere in Ennis quite like last Sunday.
The stadium was packed to the rafters and the supporters were in the mood. Two very good teams put on a seriously competitive clash and when the DJ put a few banging tunes out over the sound system there was an unbelievable atmosphere around the grounds at the end of the match. The Clare supporters basked in another brilliant win for this side and sent our team off to a Munster Final in style.
Cork are a good team and while I was confident beforehand, I never thought there would be much in it. While Clare had a score on the board within seconds of the throw in, Cork had the better of the opening quarter. Cork were able to create space for their forwards with Harnedy and Fitzgibbon causing us problems early doors. There seemed to be an ocean of space in front of Harnedy and Horgan.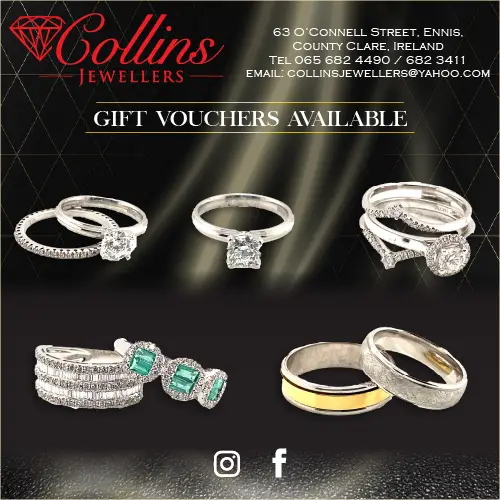 Massive credit must go to Rory Hayes for the way he attacked the ball time after time and he did a good job on handling Patrick Horgan under severe pressure. The referee picked out Conor Cleary for some off the ball stuff and his ability this affected his ability to get to grips with Harnedy. Conor did get what looked like a nasty injury and all in Clare will be hopeful that he can recover in time for the Munster Final.
At the other end we didn't carry as much threat on the inside line in the early stages at least. While we did great hurling in the middle third, Mark Rodgers or Peter Duggan often looked isolated inside and Cork were able to mop up the danger. This all changed when Tony Kelly took up a position closer to goal. Tony was in great form and he formed a potent partnership with Peter Duggan which culminated in a brilliant goal from an absolutely magic finish.
Peter is so physically strong that and defender will struggle to compete with him on direct ball in. If he is isolated though they will often be able to do enough to keep it away from him and wait for the covering defender to clean up. When Clare get bodies in around him to play off the breaks he can be far more effective. Tony timed his run for the goal to perfection and his instinctive finish gave Collins no chance in the Cork net and lifted the whole stadium. After what was a pretty even first half, Clare finished the half really positively and did well to be up five points at half time.
Diarmuid Ryan, who finished the first half with a fantastic point to our us up five, had the best game of his campaign to date. He and David McInerney were excellent in taking the battle to Cork. I've been critical in the past of backs taking on too many shots rather than using the forwards, but the difference on Sunday was that early in the game the ball was used very well in the middle third and delivered inside, particularly early in the game. As the game opened up and when Cork were forced to clear their lines under pressure this gave Diarmuid and David a chance to chip in with their own scores. No score was more epic than Diarmuid's last minute winner and it capped a brilliant performance from him.
Clare started the second half as they ended the first with another brilliant move which ended in tony converting a penalty. Tony worked hard initially to turn Tommy O'Connell, who he tormented for much of the afternoon, over in possession. He then delivered a brilliant ball into Shane who was cynically fouled and Clare awarded a penalty. The black card rule has been a frustrating one for Clare as again the defender was not shown a black card for fouling the Clare forward bearing down on goal.
Apparently, it is only awarded if the player has been dragged to the ground, which means if Shane did not show the strength he did to stay on his feet the defender would likely have been shown the sideline. This interpretation will likely lead to forwards going to ground that bit easier in the future and the rule should really incorporate all cynical fouling rather than an arbitrary one about whether the attacked ends up on the turf or not.
Clare were in a great position at this point, 8 points up and playing very well but Cork showed their mettle in ensuring this game was not a done deal until the last puck of the game. The introduction of Kingston, Mellerick and Tim O'Mahony definitely made Cork a stronger team and if you were a Cork supporter you'd have to ask why they weren't starting. Mellerick and then O'Leary had a bit more luck in marking Tony, while Kingston and O'Mahony brough more athleticism and strength to the team for the final quarter.
Clare too got a boost off their bench. Seadna Morey offered a lot of athleticism off the bench while Ian Galvin offered dynamism and energy. I was a bit unsure as to why he was taken off again before the end as he had been involved in two scores and was working hard when Cork were in possession. Hopefully Ian will get another chance in the Munster Final to show his value.
Clare have played a great brand of hurling under Brian Lohan and have been competitive every year in the Munster Championship. This is not something we should take for granted and he is doing an excellent job. It's almost certain that we will face Tipperary in a Munster Final after they check the box of beating Waterford next weekend. It's time for this group to kick on and win some silverware now and if they can bring home a Munster Championship for the first time since 1998 it would be a huge achievement for all involved.