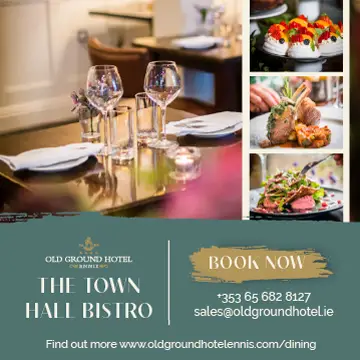 Contrasting views have been put forward ahead of Tuesday's AGM of Kerry Co-op with several Clare shareholders to be affected from a vote on the creameries redemption scheme.
There 13,500 shareholders in Kerry Co Op with hundreds of Clare farmers amongst them. It is estimated that the Co Op owns €2.5 billion of shares in Kerry Group PLC. The Brandon Hotel in Tralee hosts Tuesday's AGM, shareholders have been advised to obtain independent tax advice before voting at the meeting.
A recently proposed cash for shares initiative is to be voted on, Directors of Kerry Co Op have criticised the "unfortunate and irresponsible level of scare mongering and confusion by elements opposing the scheme". However one shareholder has told The Clare Echo, older shareholders are being led "like lambs to the slaughter" to approve the scheme.
Mundy Hayes, chairman of Kerry Co Op admitted that they are proposing the share redemption scheme to "bring liquidity to our shares which our shareholders have been demanding". "The present scheme that we are bringing forward is a totally voluntary initiative, it's a cash for shares scheme. There are great opportunities in this for people". He insisted the aim is to allow people secure the full value of their shares.
Hayes confirmed that the Board is presently looking at implementing other schemes, "At this point this is the best available scheme to people". However he added, "We have stated that clearly from the get go, this scheme will not suit everybody. When we look at our share holding profile, some people talk about the large voluntary shares, our shares are very valuable. The Kerry Group and the Kerry Co Op are possibly the most successful shares ever on the Irish market". It is possible for two schemes to run concurrently.
On how the scheme relates to shareholders, Mundy explained, "These shares are very valuable. Ten of these shares represent €6000 in holding. For people from 120 to 150 shares that represents fifty percent of our shareholders base, if you move that up to 200 or 300, then you're looking at a total of seventy percent of our shareholders, from 400 to 500 is eighty three percent of our shareholders base".
He denied claims that Kerry Co Op would bring in the scheme regardless of the outcome from Tuesday's vote. "We want to place 96.5 percent of our equity away so nobody can get their hands on it but for redemption purposes, it has to go back to shareholders. At the moment, the board has the authority to take the equity base from 13.7 to 10 percent plus one. Certain individuals were saying back along the year that we were reckless and going to spend money here, there and everywhere, we're not and we wouldn't. To take it from 13.7 to 10 percent plus one would represent something in excess of €600 million, it would be reckless to go spending that on a frivolous basis. The Board of Kerry Co Op is very responsible, it is democratically elected by the shareholders on a system in place since 1974 when it was founded, they take their responsibility very serious and they are the only ones legally responsible".
Public meetings have taken place in Ennis, Limerick and Kerry in recent weeks as shareholders voiced their concerns to the Board of Directors. Dairy farmer, Dave Scannell was present at all three gatherings and insisted there was very little backing for the proposals. "Those directors were the only people at the meeting that spoke out in favour of this scheme, nobody else that was there had anything positive to say about it. An elderly man in his seventies said that under the scheme it would take twenty years for him to get all shares out of it and he said 'I know where I will be in twenty years time'. There wasn't one person only the Board of Directors that spoke positively about it".
His grandfather was one of the founding shareholders in Kerry Co Op and Scannell was shocked with how little knowledge people had of the possible changes. "People are very upset about it, shareholders don't have a clue what is going which is what would worry me, the simple facts are that if people understood this scheme, none of them would vote for it. The vast majority of people there had no understanding about it and that is dangerous".
If the scheme is approved, the Listowel farmer claimed, young farmers will then "have to pay an inheritance tax of 33 percent and have to pay income tax of 55 percent, you'll end up paying 88 percent tax".
He continued, "Because this is an income tax scheme the pensioners are going to be the ones left holding the baby as such. As a non contributory pension and if you start using the scheme you lose your pension and even if you're on the contributory pension and your wife is on the non contributory she'll lose her pension. The shareholders are like lambs being taken to the slaughter, they don't have a clue what is going on and old age pensioners are really the most vulnerable to it and they seem to be the worst informed, the Directors are leading them up the garden path and they are the ones that will suffer most, the fair deal scheme for nursing homes will be affected too, there will be huge ramifications. Besides the revenue commissioner I do not know who else this scheme is going to be of any benefit to. I urge all the farmers of Clare, Limerick and Kerry to stand together and come vote at the AGM and stop ourselves from being thrown to the wolves".
According to Scariff dairy farmer and former Kerry Co Op Director, Sean Bugler, "Accountants are telling their clients that the proposed Share Redemption Scheme is not suitable for most shareholders. The shares are not being redeemed at their full rate, the selling price won't be set until after the applications are submitted, the purchase or transfer price or other capital losses can't be deducted. The sale of a small number of shares could result in the seller being taxed at the high rate. No accountant can calculate a client's final tax bill for 2019 at this stage". Bugler called on the Board to withdraw the scheme and instead focus on the electoral review which must be completed by the end of the month.