AN ENNIS priest has set out to lift the spirits of the public by lighting 1,000 candles of hope in his church.
Fr Ger Fitzgerald, co-parish priest at Cloughleigh in Ennis, lit 1,000 candles last night on his altar to represent a "stand against this virus" and to pray for the safety and health of the public along with the healthcare workers and frontline staff who are "laying down their lives day in and day out so that others may have life".
Fr Ger told The Clare Echo, "The idea for the Light up the Dark idea came, first of all, from the general sense of unease, uncertainty and anxiety that is around at the moment because of COVID-19.
"People are worried about their loved ones, themselves, their jobs and it is for many a dark moment. So, I was trying to come up with a way of lifting spirits, even if it was only for one night and even if only temporarily. I was reminded of a passage in St. Matthew's Gospel where Jesus says that You are the light of the world… That's a very powerful statement, because one tiny light can overcome even the worst and deepest darkness. I was also reminded of a passage in St John's Gospel when we are told that a light will shine in the darkness and the darkness will not overcome it. So, I decided to do something around light, light in the darkness."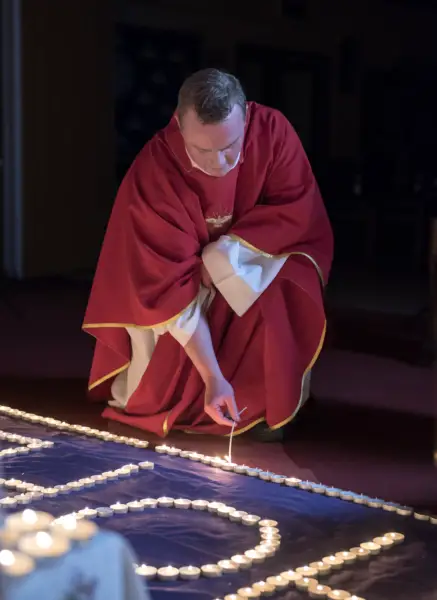 The Castleconnel; native shared a post on Facebook inviting people to like it and promised to light a candle for every like it received. "I expected maybe 200 at most, but we ended up with nearly 1,000. I think that's very beautiful and symbolic in these times. Imagine, nearly 1,000 lights of hope, nearly 1,000 lights saying that we stand together against this virus, nearly 1,000 lights praying for each other's safety and health in these times, praying for the magnificent healthcare workers and frontline staff who are laying down their own lives day in and day out so that others may have life. That is amazing, that is true heroism in my book and I thank them."
A video of the event was recorded by Paul Corey which is being edited and will broadcast on Fr Ger's Facebook page on Friday evening at 9pm. "It will hopefully bring a moment of peace to people," added Fr Ger. "The feeling in the local area is one of uncertainty, but one of solidarity. We are in this together and responding with the very best of what it is to be living in Cloughleigh and in Ennis. The support and caring attitude is amazing to see and I'm blessed each day to see such great community spirit. We are hopeful that it will pass quickly and that our loved ones will be safe and sound. Will be praying for everyone."