Childcare costs fell in Clare and five other counties in the Republic of Ireland last year.
Nationally the average spent each week on childcare is €178 which is a €4 increase on figures from last year whereas in Clare, €157.72 is the standard fee paid which is a €1.70 decrease on the previous year's equivalent. The statistics were presented as part of the Early Years Sector Profile Report 2017/2018, developed and published by Pobal for the Department of Children and Youth Affairs (DCYA).
4,000 childcare services in the country were surveyed as part of the report. It revealed that close to 203,000 children are attending crèches and day-care facilities which is a jump of 9%. The same percentage represents the number of vacant places of children enrolled. 2,827 Clare children availed of Early Childhood Care and Education which the Department of Children also recognises as the 'free pre-school year'.
Childcare providers in the county also benefitted from one of the biggest reductions in commercial rates. They were slashed by 22% to €1,737 with only Leitrim having lower rates. Waterford (90%), Longford (84%), Offaly (73%), Kildare (71%) and South Dublin (62%) recorded significant increases in this regard.
Noeleen Moran who is the Sinn Féin General Election candidate in the county was critical of the figures. "There is an urgent need to tackle the crippling cost of childcare for working families." She said the weekly average paid is the "equivalent to a second mortgage".
Co Clare recorded the lowest amount of staff turnover at 18%, the national average is 25%, 542 people are employed in this sector with an average wage of €11.66. However, Ms Moran claimed several women were leaving work in this industry. "It is universally recognized that the high cost of childcare is one of the leading factors pushing many women into low paid jobs with flexible hours, leaving them vulnerable to precarious types of employment contracts".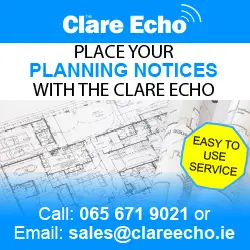 She added, "Historically, women have been discouraged by the Irish State from working outside the home. Even today, it remains a less than encouraging choice given that many women earn 14% less than men. Is it then any wonder that so many women choose to sacrifice their pay packet, in order to provide essential childcare in their own homes? Not only is their work of care without pay but they also lose their pension entitlements later in life. In my workplace women only make up a very small minority of the workforce. Many rely heavily on family and neighbours for support with their childcare because of the high cost but also because crèche opening times are just not compatible with their work start times. Those who use crèche facilities must make arrangements to have family or friends look after their child until the crèche opens. It is also not unusual for women who go on maternity leave, not to return to the workplace".
She referenced a motion put forward by the North Clare Cumann of Sinn Féin this year which called "for subsidised childcare facilities to be provided on site within every industrial estate in the country. This measure, if adopted by government would provide affordable care at times and locations that would properly facilitate working parents. Since this motion was adopted, Denise Mitchell TD, our spokesperson for childcare has been working to advance this proposal further. The SIPTU trade union also passed this motion when I presented it at our manufacturing division biennial conference earlier in November. Affordable childcare facilities placed strategically in industrial estate campuses would go some way to address the difficulties facing working parents. Tackling these crippling childcare costs must be made a high priority."