Two more deaths from COVID-19 have been recorded as the amount of confirmed cases in the Republic of Ireland has increased by four while Co Clare has now gone eleven days without a new case.
1,717 people have died in the country since the outbreak of the virus following confirmation of a further two deaths. Of this total figure, 963 (56%) have been nursing home residents.
An additional four cases have been confirmed in the past 24 hours according to the Health Protection Surveillance Centre (HPSC). 25,283 persons have tested positive for the virus in the Republic since the emergence of the virus over three months ago. 7,012 cases are from residents of long-term residential care facilities. There has been no increase in cases or clusters across all vulnerable groups, Dr Tony Holohan confirmed.
No increase in clusters in workplace settings has been recorded but an additional two cases from meat factories have been notified to health officials. 345 of the 473 clusters in long-term residential care have now closed as 28 days since the last confirmed case have elapsed.
Co Clare has now gone eleven days without any additional cases. Since the emergence of the virus in the county, 369 people have received a positive diagnosis. The figure has not increased since the middle of June.
Clare 369 (0)
Kilkenny 354 (0)
Roscommon 344 (0)
Kerry 310 (0)
Longford 285 (0)
Laois 265 (+1)
Wexford 216 (0)
Carlow 174 (0)
Waterford 155 (0)
Sligo 125 (0)
Leitrim 78 (0)#Covid19 no additional cases in 23/26 counties.

— Páraic McMahon (@thepmanofficial) June 22, 2020
"In Ireland, in the last 14 days over a third of new confirmed cases are in young people under the age of 35. This is not a disease that solely affects older people. No one is immune, everyone is responsible for limiting the spread of COVID-19," Chief Medical Officer, Dr Tony Holohan stated.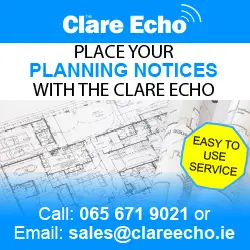 A further breakdown of these cases were provided by Dr Ronan Glynn. Nine cases are aged from 0-4, seven aged between 5-14, twenty five are between 15-24 and thirty five are aged between 25-34.
Only 41% of the population are wearing face coverings in public places, Deputy Chief Medical Officer, Dr Ronan Glynn stated. He said the figure was "significantly lower uptake when compared to our other recommended behaviours such as hand washing (92%) and physical distancing (91%). Face coverings should be worn when it is difficult to maintain physical distancing, for instance in shops and on public transport".