*Domhnall McMahon controls the sliotar ahead of Shane Vaughan. Photograph: Burren Eye Photography.
In the race for the intermediate hurling championship title a number of the clubs shortlisted for honours this season have moved closer to the knock out stage after the weekend's round two games.
St. Josephs Doora/Barefield, Tulla, Sixmilebridge, Ruan and Smith O'Briens all recorded their second successive wins in the campaign while Tubber, last year's beaten finalists, bounced back into contention with victory over Inagh-Kilnamona.
Corofin who were also surprisingly beaten in the opening round, got back to winning ways when they accounted for Clonlara.
At this stage Smith O'Briens and Tulla are sure of their places in the quarter final draw while Sixmilebridge, Doora/Barefield and Ruan are hotly fancied to join them.
Tubber and Killanena are battling to qualify along with Sixmilebridge. It's between Corofin and Parteen to qualify along with St. Josephs while a win for Bodyke over pointless Clarecastle will keep them in the hunt to qualify from the group along with Ruan.
Sixmilebridge in control
Sixmilebridge 3-24
Killanena 0-15
Venue: Clooney
A strong start which led to an eleven point interval lead paved the way for Sixmilebridge's comfortable victory over Killanena on Saturday.
Goals from Cathal Lynch and Jack Corry helped the winners to a 2-5 to 0-4 advantage by the first waterbreak.
A David O'Connor goal stretched the winner's lead out to 3-11 to 0-9 by half time and from here on Killanena were struggling as they were reduced to fourteen when
Todd Kelsey picked up a second yellow card which led to his dismissal.
The winners were the sharper outfit throughout and dominated in the key areas but credit to Killanena who battled to the end.
Sixmilebridge: Colm Fitzgerald; Adam Breen, Leon Kelly, Jordan Downes; Cillian Custy 0-1, Kevin Lynch, Danny Morey; Cathaoir Agnew 0-2, Luke Keogh 0-1; Sean Lynch 0-11 (6f. 1/65), Cathal Lynch 1-1, Sean MacNamara; Jack Corry 1-2, David O Connor 1-0, Paul Corry 0-5
Subs: Steve Mulready 0-1 for Jack Corry; Oisin Fitzpatrick for David O Connor
Killanena: Colm Moloney, Seamus Keane, Cathal Noonan, Jason Keehan; Michael Smyth, Tobias O Mara, Ian McNamara; Sean Glynn, Todd Kelsey;
Mark Flaherty 0.4 3f, Darren Keehan 0.2, Martin Glynn; Gearoid Keane 0.1 Keith Smyth 0.6 3f, Donal Moloney.
Subs: Shane Broderick for D. Moloney; Evan McNamara for D. Keehan; Jamie Canny for S. Keane; Stephen O'Brien for G. Keane
Referee: Johnny Healy (Smith O'Briens)
Tubber bounce back to winning ways
Tubber 2-16
Inagh-Kilnamona 0-16
Venue: Corofin
A strong first half showing which saw them build up an eleven point lead by the mid point of the game was the foundation for Tubber's merited win over Inagh-|Kilnamona on Saturday evening.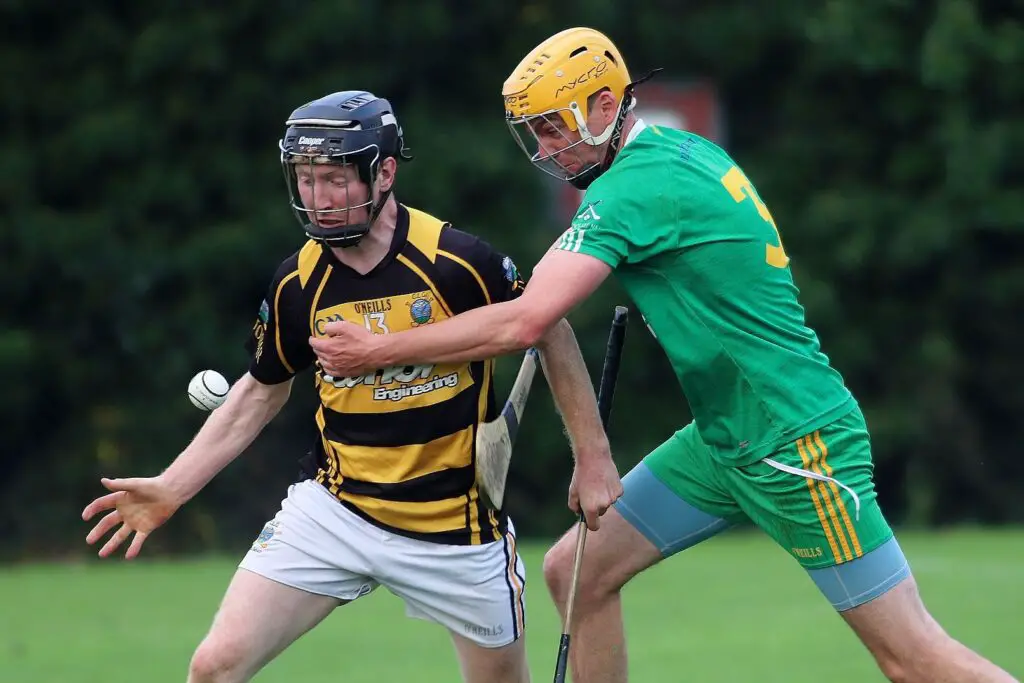 The opening goal came when backs and forwards contested a high delivery into the Inagh/Kilnamona square and the ball ended up in the net with full forward Nathan Murray likely to have got the final touch.
Clare senior panellist Domhnall McMahon was the North Clare outfit's second goal scorer.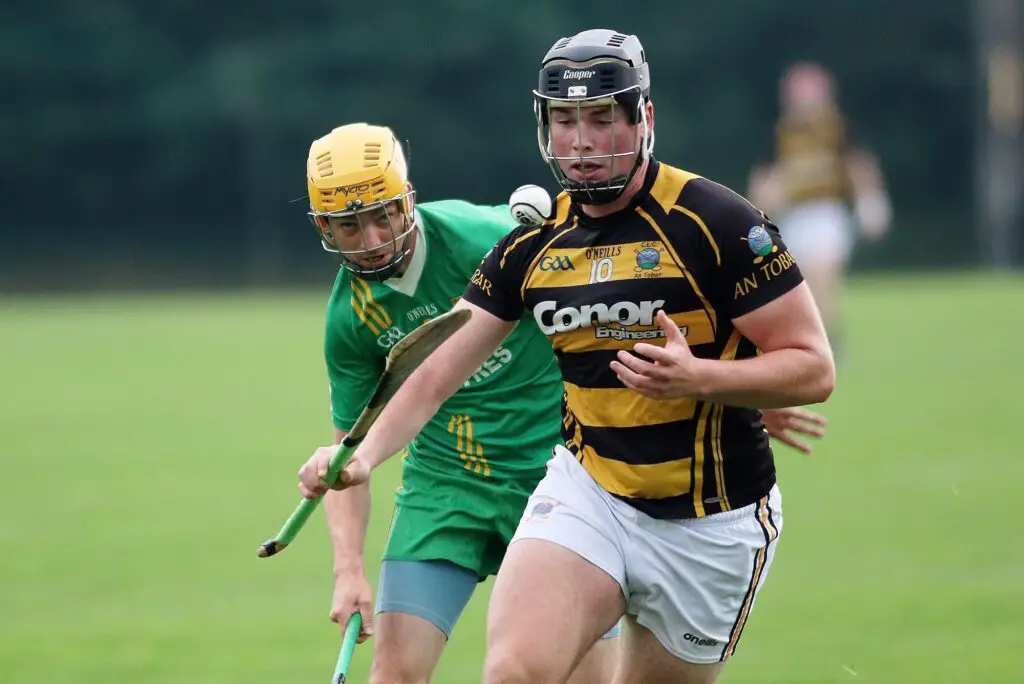 Inagh-Kilnamona did much better in the second half but the Tubber defence held firm and didn't concede a goal.
Tubber: Ronan Taaffe; Declan Ryan, James Howard, Joey Droney; John Fawle, Pappy Taaffe, Mark Earley; Ronan Monahan, Lorcan O'Grady; Aidan McNamara, Domhnall McMahon, Aidan Forde; Blaine Earley, Cathal Murray, Clive Earley.
Subs: Justin McMahon for A. McNamara; Shane O'Connor for Murray; James Taaffe for Droney; Jonah Culligan for Forde.
Inagh/Kilnamona: Joe Gallagher; Mark Barry, Colm Pilkington, Donnacha Ryan; Padraig Devitt, Austin Keerin, Liam Hehir; Tomas Kelly, Evan Fitzgerald; Ronan Mescall, Paul O'Looney, Shane Vaughan; Keith Barry, Jamesy McConigley Damian O'Halloran.
Subs: Ian Kerin for O'Halloran; John Kane for O'Looney (inj.)
Referee: Jarlath Donnellan (Wolfe Tones)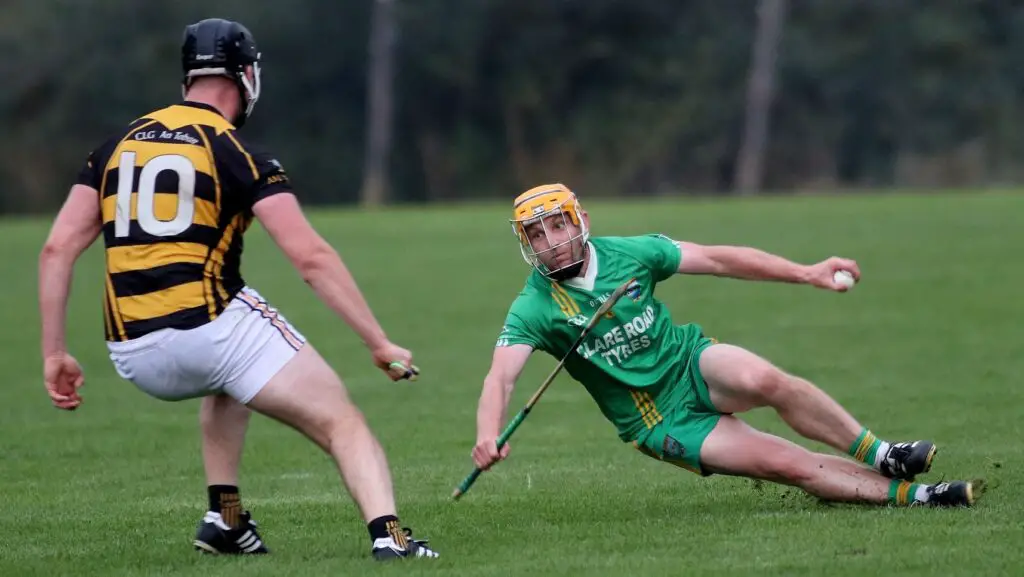 Sean Withycombe leads the way for Tulla
Tulla 1-24
O'Callaghans Mills 1-11
Venue: O'Garney Park, Sixmilebridge
Sean Withycombe top scored with 1-12 as Tulla advanced towards the knock out stage of the intermediate championship with a comfortable victory over O'Callaghans Mills on Saturday evening.
While the winners led all the way, the opening half was a tight affair with the Tulla men 0-9 to 0-7 in front at the interval.
The winners stepped up a gear in the second half and Withycombe's goal shortly before the final whistle sealed a merited win in a tie in which the Mills had their goal from full forward Jamie Keane.
Tulla: Dan Vaughan; Kevin Conlon, Paul Lynch, Liam McInerney; Fergal Kearney, Sean Torpey, Padraic Mulconry; David Meehan, Ronan Molloy; David McInerney, Jimmy O'Gorman, Darragh Corry; Sean Withycombe, Willie Halpin, Dan Withycombe;
Sub: Shane Hunt for Halpin;
O'Callaghans Mills: Mark Pewter; Ronan McNamara, Keith Donlon, Darren Cooney; Michael McMahon, Kevin O'Callaghan, Niall McNamara; John Cooney, Christy Phillpott; David McGrath, Cathal Lenihan, Eoin McInerney; Ian Donnellan, Jamie Keane, Sean Murphy.
Subs: Stevie Donnellan for Phillpott; Sean Crehan for O'Callaghan; James McNamara for I. Donnellan; Barry Heffernan for D. McGrath.
Referee: Kieran Liddane (Sixmilebridge)
All so easy for Smith O'Briens
Smith O'Briens 3-20
Cratloe 0-7
Venue: Clonlara
Smith O'Briens made it two wins from two outings when they easily overcame a depleted Cratloe.
The win has guaranteed them qualification to the quarter finals from this group along with Tulla.
Goalscorers for the winners were Keith Stritch, John Cusack and substitute Jason Monahan on a day when twelve players shared in the team's impressive final tally
Smith O'Briens: Mark McInerney; Evan Connolly, Cian Nolan, Mark Stritch;
David Gough, Cathal Stritch Eddie Bourke; Micheal Ryan, Mark O'Halloran; Keith Stritch, Mike Gough, Mikey O'Shea; Tommy Reddan, John Cusack, David O'Shea;
Subs: Cian Moloney for D. Gough; Noel McInerney for E. Burke; Dwayne Sheedy for M. O'Halloran; Jason Monahan for T. Reddan; Patrick Aherne for Cusack;
Cratloe; James Hickey; Emmett Costigan, Jack Manley, Sean Ryan; Jamie Costigan, Kevin Danaher, Gordon O'Neill; Pa Carey, Barry Gleeson; Sean Gallagher Kyle Neylon, Jack Danaher; John Flanagan, Tomas Ryan, Ross Van Der Dussen
Sub: Michael Murphy for Flanagan
Referee: Kevin Corry (Sixmilebridge)
St. Josephs Doora/Barefield go marching on
St. Josephs Doora/Barefield 1-19
Parteen 0-11
Venue: Shannon
St. Josephs continued their march towards the play offs when they proved too strong for Parteen at Shannon on Saturday afternoon.
Ahead by four points at half time, they dominated the second half against fourteen man Parteen who lost a player before half time when defender Eanna Mulvihill was dismissed.
The winners were four points infront at the interval when the score was 0-11 to 0-7 but with the advantage of the extra man they had the better of the exchanges for much of the second half.
However, they found it difficult to pull away from their opponents andit was only in the closing stages that substitute Jack Hannan struck for their goal.
Cathal Ruane top scored for the Doora-Barefield outfit with 0-8 to his credit while Jack Hannan was their goalscorer on a day when Tom Hannon and Cian Barron each hit 0-3 as they overcame a Parteen side that had beaten a fancied Corofin outfit in the opening round.
St. Josephs Doora/Barefield: Paul Madden; Fionn Kelleher, Adam Mungovan, Joey Keane; Alan O'Neill, Dara O'Shea, Donal O'Halloran; Brian Guilfoyle, Mossy Hehir; Cathal Ruane, Tom Hannan, Eoin Hanrahan; Conor Tierney, Eoghan Thynne, Cian Barron;
Subs: Jack Hannan for Ruane; Aaron Landy for Hehir;
Parteen: Alan Murnane; Éanna Mulvihill, Paul McDonald, Oisin Hickey; Tom Collins, Dara McDermott, Gavin Rackard; Daniel Cooney, Joe O'Connor; Evan Fitzgerald, Gearoid Reddy, Shane Fox; Noel Bridgeman, Jack Kirwan, Nathan Fox.
Subs: Mike McEvoy for Bridgeman, Aaron Connolly for E. Fitzgerald; Philip Lavin for Reddy; Eoin Phelan for J. O'Connor; Jason Smith for Hickey
Referee: Kevin Corry (Sixmilebridge)
Corofin are back in the hunt
Corofin 0-24
Clonlara 1-11
Venue: Cratloe
A blistering start which saw them race into a six point lead laid the foundation for Corofin's victory over Clonlara on Saturday.
Clonlara rallied and trailed by just two points at the first waterbreak but the winners dominated in the second half and they were never headed.
Gearoid Cahill contributed 0-14 of his side's tally, with nine coming from placed balls. His brother Diarmuid landed 0-4 while others to get in on the scoring were Kevin Keane, Michael Kelly, Killian McGroary and Killian O'Connor.
Conor Leen impressed in defence while Mark O'Loughlin, Fionnn Clancy and the Cahill brothers were others to impress for a side still without the injured Jamie Malone. Donal Moloney scored the game's only goal
Corofin: Liam Corbett; Mark O'Loughlin, Cian O'Dea, Conor Leen; Damian Ryan, Fionn Clancy, Damian O'Loughlin; Killian McGroary, Gearoid Kelly; Kevin Heagney, Michael Kelly, Cillian O'Connor; Diarmuid Cahill, Kevin Keane, Gearoid Cahill
Subs: Shane O'Brien for Heagney (inj); Eoin Davoran for M. Kelly.
Clonlara; Seimi Gully; Patrick Conlon, Mike Stritch, Jack Hackett; Tom Egan, Ger Powell, Mike Clancy; Tommy Lynch, Sean Begley; James Hastings, Louis Mc Cormack, Brian McLeish; Donal Moloney, Micheal Stritch, Sean Moriarty;
Subs: Fionnan O'Brien for McCormack; Aaron Dillon for J. Hackett.
Referee: Gus Callaghan (Feakle)
Punch's goals prove decisive
Ruan 3-13
Bodyke 2-12
Venue: Fr Murphy Memorial Park, Newmarket-on-Fergus
At the end of a well contested tie between Ruan and Bodyke, Ruan had recorded their second successive victory in the title race which moves them closer to the knock out stage of the competition.
With Ruan man Francie O'Halloran in charge of Bodyke, it added to the interest in this tie.
Exchanges were even throughout the opening half and this is reflected in the scoreline which saw the teams locked together at 1-10 each at the interval. Jack Mc Donagh was the first half goalscorer for the winners while Jamie O'Donnell found the net for Bodyke.
Shane Punch had a goal for the winners early in the second half and he sealed victory shortly before the full time whistle with a powerful drive to the roof of the net. Bodyke's second half goal came from Tiernan Slattery.
Ruan played the final twenty minutes with fourteen men following the dismissal of their full forward Aidan Lynch.
Ruan: Cian O'Donoghue; James Power, Michael Lyons, Killian Ryan; Colm Rice, Ashley Brohan, Conal Ó hÁiniféin; Dara McInerney, Robin Mounsey; Ryan Power, Shane Punch, Mark Corry; Dara Roughan, Aidan Lynch, Jack Mc Donagh
Sub; Patrick O'Halloran for Corry
Bodyke; Seamus Quigley; Willie Fitzgerald, Sean Wiley, Eanna Doyle; Kevin Drost, Sean Doyle, Cian Minogue; Tommy Minogue, Cathal Doyle; Cathal McKenna, Fionn Slattery, Paddy Fitzgerald; Jamie O'Donnell, Ian Murray, Tiernan Slattery;
Subs; Cormac Treacy for Wiley; Peter Flower for Murray; Oisin Slattery for T. Slattery.
Referee: Fearghal Gray (Feakle)
Blues get back on track defeating old rivals Clarecastle
Newmarket-on-Fergus 2-20
Clarecastle 3-12
Venue: Gurteen
Goals from Cathal Hayes and Shane Lynch put Newmarket-on-Fergus' intermediate hurlers back on track as they recovered from their disappointing round one showing against Bodyke to give a more accurate reflection of their ability when overcoming Clarecastle on Sunday afternoon.
Five points was the final margin thanks to a late Sean Egan goal from a dropping 65. The corner forward was very lively over the hour and stood out as one of Clarecastle's best hurlers. His strike put a more positive spin on the result for the Magpies who trailed for the entirety of the contest.
Hayes goaled at the start of the second quarter but his effort was immediately cancelled out at the other end when Dylan Broderick raised a green flag.
Substitute Eoin Dinan made an impact on proceedings and he hit home Clarecastle's second goal on fifty two minutes reducing the distance to seven points.
Overall the better of the two teams, an inspirational score from corner back Alan O'Flanagan, his first in championship hurling, was one of the highlights of the encounter. Mark Delaney, James Liddy, Noel Frawley, Cathal Finucane and Cathal Hayes were most prominent for the winners who must now obtain a result against Ruan in the final round to progress to the quarter-finals.
For Clarecastle, Sean Egan was the standout performer with Mark Russell also impressing. The Magpies must now regroup to face Bodyke in the final round in their quest to retain their intermediate status.
Newmarket-on-Fergus: Padraic Guilfoyle; Alan McInerney, Mark Delaney, Alan O'Flanagan; Martin Frawley; Sol Frost, James Freeman, Kieran McMahon; Cathal Finucane, James Liddy; James Power, Noel Frawley, Shane Lynch; David McNamara, Cathal Hayes.
Subs: Cian Foley for Lynch, Darren Duggan for McNamara, Jamie Power for Hayes, Oisin McInerney for Finucane.
Clarecastle: Johnno Griffey; Alec Cassley, Mark Russell, Evan Dolan; Patrick Maxwell, Tommy Howard, Barry Morrissey; Sam Browne, Joseph Barry; Harry Ward, Darragh Holland, Jamie O'Connor; Mark O'Loughlin, Dylan Broderick, Sean Egan.
Subs: Eoin Dinan for Ward, Conor Whelan for O'Connor.
Referee: Niall Malone (Éire Óg)