*Photograph: Joe Buckley
Clare has the third lowest 14 day incidence rate of COVID-19 in the Republic of Ireland.
Recording of a decreasing amount of new cases has led to Co Clare's 14 day incidence rate per 100k of the population dropping to 136.3 which is the third lowest rate in the country.
An additional 8 cases of COVID-19 are known in the county, the National Public Health Emergency Team (NPHET) has stated.
Nationally, 866 further cases of the virus are known with 281 in Dublin, 63 in Galway, 56 in Kildare, 47 in Meath, 39 in Cork and the remaining 380 cases are spread across all other counties. Professor Philip Nolan said the daily case numbers is not falling as quickly due to the resumption of testing of close contacts that were asymptomatic.
Demand for testing is two thirds less than it was at the peak of the third wave, Professor Nolan confirmed. Cases in residential care and healthcare settings is declining, he added. The incidence is decreasing in all age-groups, the Chair of the NPHET Irish Epidemiological Modelling Advisory Group commented. A six to nine percent per day drop in case numbers has been observed.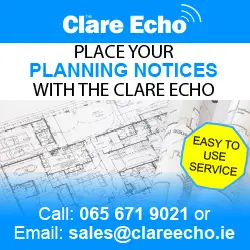 There have 52 more deaths related to the virus in the country. 33 of these deaths occurred in February, 12 occurred in January, 6 in December or earlier and 1 is still under investigation. The median age of those who died was 83 years and the age range was 55 – 96 years. There has been a total of 3,846 COVID-19 related deaths in Ireland.
Nolan referred to the 7 day moving average which is suggestion the amount of deaths is beginning to decrease.
As of 8am on Thursday 172 of the 984 persons in hospital are in critical care. A total of 44 hospitalisations related to the virus were documented over the past 24 hours. Based on the current trajectory, Prof Nolan detailed that hospital numbers are on course to drop to 250 to 400 by March.
242,353 doses of COVID-19 vaccine have been administered in Ireland as of Monday morning. 154,900 people have received their first dose and 88,453 people have received their second dose.
Dr Ronan Glynn outlined that NPHET was "cautiously optimistic about the epidemiological situation across the country. This positive momentum has been achieved through the dedication of people across the country in recent weeks".
The Deputy Chief Medical Officer added, "However, incidence and mortality rates are still very high, and the significant risk of community transmission of the virus remains, especially for those most vulnerable to COVID-19 infection. It is of vital importance that people continue to stay at home and to work from home where at all possible".