*Colm Collins celebrates at the final whistle. Photograph: Martin Connolly
He was Clare's hero in snatching a second round draw with Armagh, on Sunday David Tubridy stepped up once again finishing with 1-07 as they secured their first league win of 2019.
Supporters who were cutting it tight on time to get to Cusack Park may have been left disappointed, such was Clare's rapid start that Tubridy had goaled in the opening minute palming a Jamie Malone pass to the back of Mark White's net. "It was key to get off to a good start. Two goals at the start made them come out of their shell a bit and it stood to us".
Speaking to reporters after Sunday's nine point victory, the Doonbeg attacker expressed his desire that it will boost the Banner in their attempt to secure promotion to the top tier. "Anytime you can get a win over Cork is positive, we've done it for the last three years now which is great. Clare football is looking up and hopefully we can keep it that way to push on for promotion".
Currently holding the edge over the Rebels at senior level is a positive sight for young footballers in the county, Tubridy maintained. "It is great for underage and for young lads to see that, you can see them all coming out and wishing they can get to this level, you can see Clare football on the rise which is super for everyone in the county".
Not alone did Clare's forwards account for 2-12 of their 3-13 tally but as David pointed their workrate up front also set an example. "It showed in the first half, we got a good few turnovers and it's a boost to the backs if the forwards are turning over, years ago they used to say the forwards were up there to score, now the forwards have to be better defenders. When you put pressure on their backs and turn over the ball it's a great boost to the team".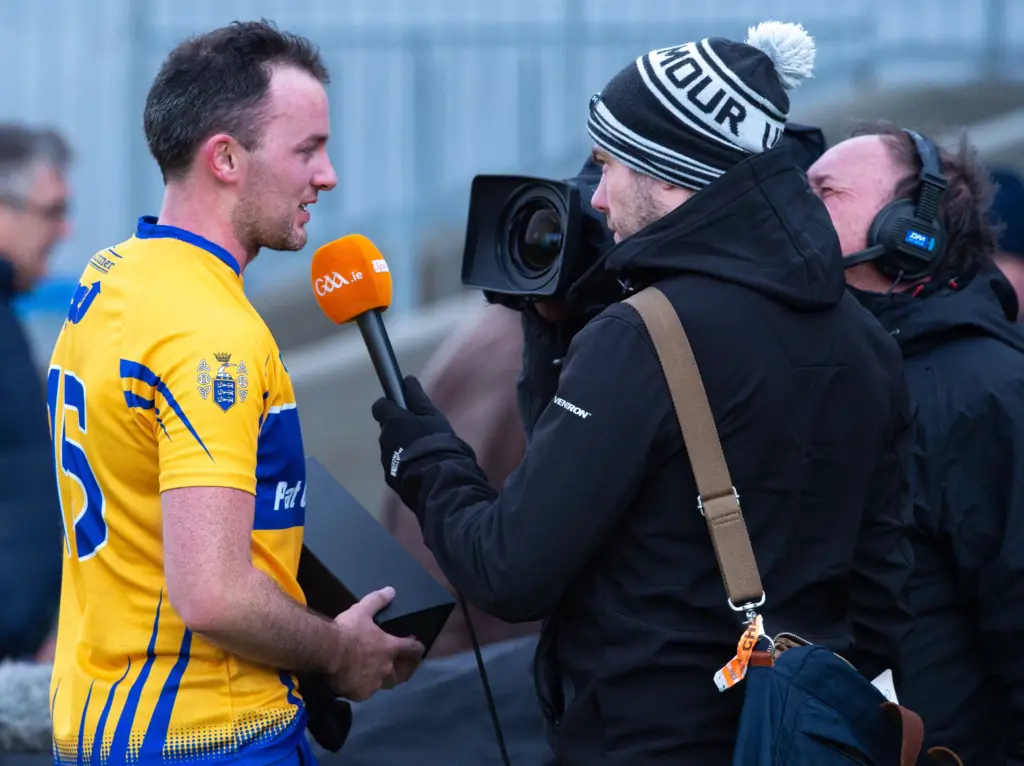 Key to opening up the Cork defence during the game was the movement of several Banner players, he said "The running throughout the game that the boys were doing, the criss crossing opens up defences and the boys were brilliant today Keelan Sexton, Jamie Malone and Dean Ryan were just cutting through defences and we just have to make space for them".
"I thought the win today would give us a bit of a boost and leeway from the relegation zone but after Tipperary winning it's all compact again with Fermanagh winning too, it's going to be a tight division and hopefully we can get another few wins and push for promotion," Tubridy said.
Manager Colm Collins was very happy with the win and with the amount of players putting their hand up for selection. "There are a lot of people fighting for places here and it's good to see the likes of Cormac who came on with a couple of minutes to go and made a really good decision to get the final goal, very happy with them".
Three attempts on goal resulted in three goals for the men in Saffron and Blue which Collins admitted was a welcome sight in comparison to their 2018 conversion rate. "Last year we created a lot and didn't score as much. Today they went in and credit to the lads for that, they are a tremendous bunch of players who work really hard and it's nice to see them get the return".