A small group of Clare farmers were involved as one hundred tractors caused disruption across Dublin on Tuesday and Wednesday.
Minister for Agriculture, Michael Creed was handed a letter on Wednesday morning in the lobby of his Department by five delegates from the group outlining their issues. The Clare Echo understands that these include, carbon tax, protecting family farms, barriers that are preventing the Beef Market Taskforce, reform of state agencies, neglect of rural Ireland and the dairy bull calf issue. The same factors led to the farmers decision to protest.
They have said if no progress is made by December 15th they will be back protesting on the streets of Dublin. However, a minority of farmers that were present in the capital insisted they would not leave until the price of beef is addressed and the injunctions lifted. Two Clare farmers currently have injunctions against them.
On Tuesday night, two tractors and a group of around 30 protesters blocked Oireachtas members and staff from leaving Leinster House for several hours. Dublin Bus advised of a numbers of diversions with Gardaí confirming a number of streets would remained closed to traffic until further notice.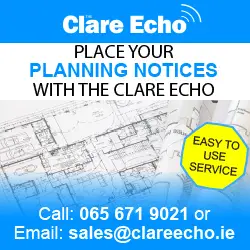 Chairperson of the Clare Beef Plan, Joseph Woulfe told The Clare Echo, "This protest was made up of individual farmers and people from the four corners of Ireland, it was agreed we would come and protest on a set route. And we did, but the Gardai turned on the agreement, blocked the roads, but clearly following orders from Government of the day".
A confirmed Independent candidate in the 2020 General Election, Woulfe was adamant rural Ireland would not forget this Government. "TDs and Ministers and even Leo Varadkar will be coming to rural doors all over the country in a very short period, what the Government is doing to rural ways of life will not be forgotten. Shutting down of financial, health, social outlets and the promotion of emigration". The Quilty farmer referred to a well-known farming quote, "you reap the seeds you sow" when referring to the consequences of such decisions.