*Sayed Farid Sanai. Photograph: John Mangan
Delays with the processing of international protection applications has left one Clare Direct Provision resident fearing for the lives of his family in Afghanistan.
Thirty two year old Sayed Farid Sanai was one of the most recognised news anchors on Afghanistan television. He led the 6 O'Clock news on Khurshid TV. but was forced to flee his country in October 2019 after gun and bomb attempts on his life by the Taliban.
After paying $15,000 to an acquaintance of a friend, Farid got on a plane to Turkey and then to Dublin where he went directly to the International Protection Office for help. He initially stayed art the East End Hotel in Portarlington, a temporary Direct Provision centre before his move to The Clare Lodge in Ennis in November 2019.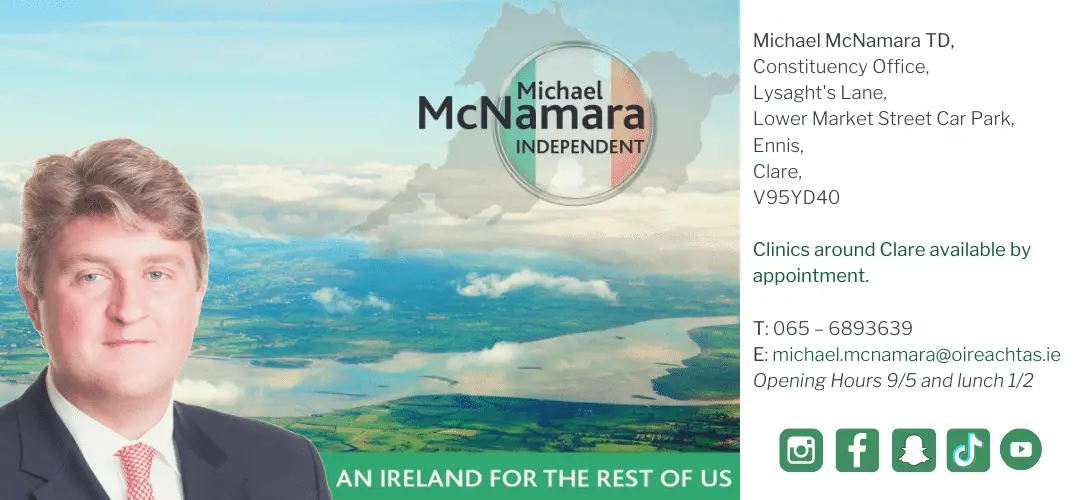 Since he has been in Clare, two members of the TV crew that Farid worked with at home have been attacked, one colleague killed and four others injured while his best friend, Yama Siawash a famous news anchor with Tolo News was killed by the Taliban.
Due to COVID-19, international protection applications have been delayed. Farid is still waiting for his interview to be held so that he can receive international protection which will then allow his family to move to Ireland within six to nine months if he is successful. These delays have not been experienced by friends of his that sought protection in the United Kingdom, Germany and the Netherlands.
A spokesperson for the Department of Justice told The Clare Echo that processing times have been impacted by the pandemic but the International Protection Office remains open to allow persons who wish to claim international protection the opportunity to do so. "The provision of the facility to allow people claim international protection is considered an essential service at all times, including during the Covid-19 crisis. Our objective is to have decisions made on international protection applications and permission to remain considerations as soon as possible. This ensures that those who are found to be in need of our protection can receive it quickly and begin rebuilding their lives here with a sense of safety and security".
Measures to introduce efficiencies such as accelerated procedures, implementation of non-cooperation measures, and initiatives to speed up the return of completed questionnaires from applicants have been introduced, according to the Department. Other options being explored include greater automation of the process including ICT improvements, revision of key documentation and a greater use of remote interviewing.
When he left Afghanistan, Farid was unable to bring his wife Nilofor or his then ten month old son Keyanoosh. They along with his mother and four brothers have all been forced into hiding because of threats on their lives over Farid's journalistic work. His personal turmoil has been exasperated by the fact that Keyanoosh no longer recognises him, following recent video calls.
Over recent weeks, Farid has become increasingly worried for his family's safety as the situation in his native country deteoriates. "There is no one to help them, everyday the situation in Afghanistan becomes worse and the people who threaten media are going to find my family as well".
No criticism of the Irish Government is voiced by Farid albeit the wait for an interview to process his application is fuelling his anxiety. "The thing I am going to say and believe me, I didn't come here for myself or to protect myself, I need to do something for my family to bring them here, the reason I'm really worried about the life of my son, my mother and my wife is they face the problem. I'm not going to live in this world for 1000 year, all humans we can't live more than 100 years so I need to do something for my family, as a father and as a human I need to see my wife and son".
He has been unable to sleep as this worry takes its toll. "All night I try my best to sleep and make my mind tired but unfortunately I can't, when I close my eyes every negative story about Afghanistan comes to my mind and I can't escape it, I go to sleep for one, two or three hours but when I wake up I don't have a good mentality".
No value exists as far as the human body is concerned in Afghanistan, Farid stated with the risk of death an ever-present. "Many years ago I watched a cowboy film from the US when I was seven years old, there was people shooting guns everywhere, I thought it was very dangerous but at the moment Afghanistan is the same situation".
As the wait for approval of his application continues, Farid's fear for the lives of his loved ones grows by the second.