*Emma Maher & Michael Newport. Photograph: Gary Collins
One Clare couple had always wanted to tie the knot on March 20th, despite enforced physical distancing and the cancellation indoor gatherings with more than 100 people, they found an innovative to say 'I Do'.
Quin's Emma Maher married Michael Newport from Corbally on Friday but not without getting past some obstacles along the way. With 250 guests invited, their wedding had to be postponed due to physical distancing concerns surrounding Covid-19.
They always wanted to look back on March 20th as their wedding day and not the date that they intended on getting married. So, they opted for a very intimate wedding whereby they were joined by their parents, Emma's sister Pamela, Michael's brother David as witnesses, Fr Thomas O'Gorman and photographer Gary Collins who snapped proceedings from a distance.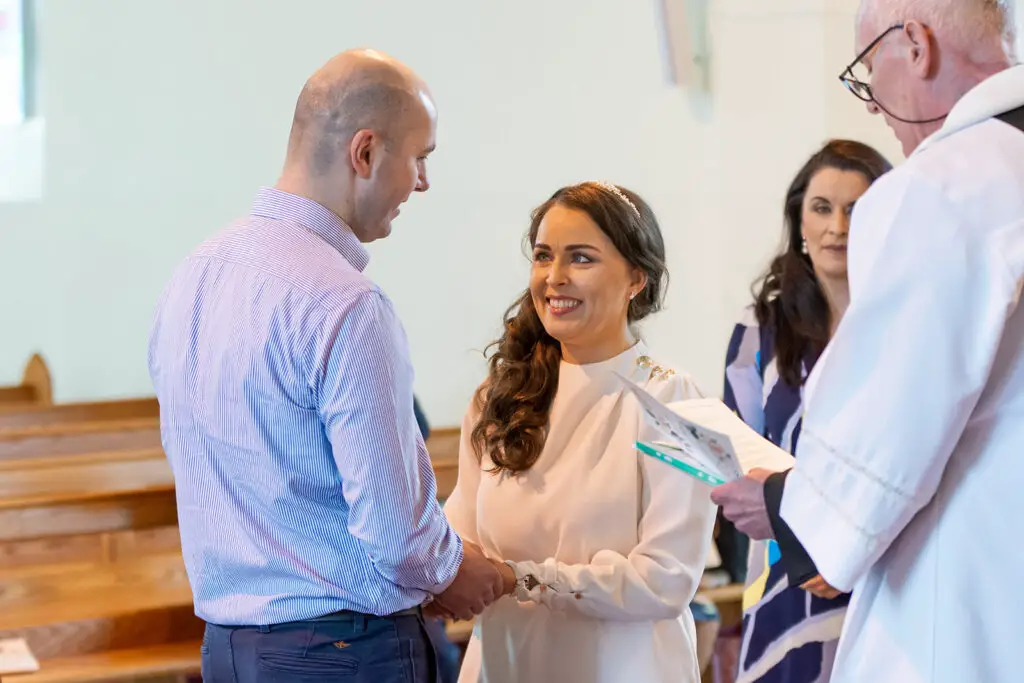 Friends and family tuned in at approximately 3:15pm on Friday from the safety and comfort of their homes watching via the Quin Parish Church webcam. The reception part of the celebrations is deferred until September.
Emma was working from home on March 12th when Leo Varadkar announced that mass gatherings would have to be cancelled to try flatten the curve of Covid-19 spread. "I was never so glad to be working from home because I was a mess, at that stage I thought it was just me affected but once I got my around it there was so many other people not just with weddings that have been affected. I got over it, brushed off the tears and planned everything again in two days".
Her sister Pamela who was one of the witnesses had a vital role to play in making sure everything came together. "I was so all over the place, my sister Pamela had a few wise words for me and put it to me in the sense that if you want to do it, do it small and we'll have a celebration in a few months time. At that stage I was like how do you curtail 250 people down to less than a hundred, it's impossible you can't".
Michael and Emma first met on a nightout, their big day was due to finish at The Inn at Dromoland but circumstances prevented this. "I can't say enough about the Inn at Dromoland where we were meant to have our reception. Claire Coughlan is the wedding co-ordinator, she has been amazing since the news broke up until now, she has been fantastic. It was a hard decision, there have been so many people affected, we did what we felt was right for us, we chose to get married on the 20th March and we went ahead with it," Emma commented.
She will save the wedding dress until the September celebration and instead wore the dress from her Hen Party. Flowers for the wedding were purchased in Tesco before they were made into a bouquet. After the mass, they returned to the Maher family home and had some tea. Then they went to their own home to continue the celebrations and were joined on video chat by eight or nine friends where they even had their first dance to Ed Sheeran's Perfect.
Gary Collins told The Clare Echo he was delighted to attend the isolation wedding and capture the special moment. The Newmarket-on-Fergus native has since teamed up with fellow photographers to assist couples that had been planning to get married.
"I am part of a group of 12 Clare & Limerick photographers who have come together to ensure all couples who have had to postpone will have their special days captured. The wedding industry has been hard hit but having the support of like minded and other talented businesses is vital at this time," he explained.