Clare County Council has confirmed that it will not delay the closure of Latoon Bridge, following a request from protesters to hold off until after the Christmas period.
The local authority said they cannot delay the works due to contractual reasons and conditions of funding for the project which stipulate that works commence and funding be drawn down during 2017.
"Clare County Council also is expediting the works as the structural capacity of the bridge is compromised and it cannot reliably accommodate anything other than light vehicles until the bridge had been replaced," a spokesperson for Clare County Council said.
Speaking at today's protest, Fine Gael TD Joe Carey said he recognised the need for the work to go ahead, but was concerned about the lack of public consultation.
"The lack of awareness that this bridge will be closed today. I'm particularly concerned for the business community of Clarecastle, the impact that closure will have on them, particularly as we face into the Christmas period," he added.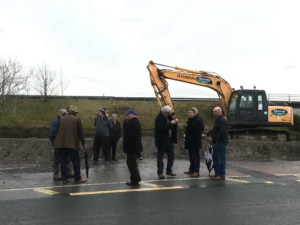 PJ Keogh of the Castle Antiques and Craft Centre, a Clarecastle business that employs 50 people, said he was not happy with the way the Council have dealt with the situation.
"This thing has been sprung upon the people of Clarecastle, with no PR, no public consultation meeting, they only slapped a notice on the papers. We're a bit annoyed at the way they have approached this thing," he said.
Clare County Council refuted this, stating that three periods of public consultation took place in the lead up to the commencement of works, namely the planning application stage during late spring and early summer, the advertising of proposed road closures and works, and the dissemination of information to the public during recent weeks.
Clarecastle resident Joe Reynolds said he is effectively stranded until the bridge reopens because he cannot access the bus service.
Mayor of Ennis Paul Murphy also attended the protest this morning to in solidarity with Clarecastle businesses and to express his concern that the bridge was closing so close to Christmas.
"I think it's very unfair this close to Christmas to be closing off the bridge, it will have a big impact on those business when you would be expecting to get a bounce in the few weeks coming in to Christmas," Cllr Murphy said.