THE Clare Community Response Team, (CCRT) established in early March, was set up to support organisations who are providing a community-based response to Covid-19.
The team has been working with communities on putting in place safeguarding and insurance procedures to ensure that the volunteers and the people they are supporting are protected & insured.
Part of this has included the surveying and mapping of over 500 community & voluntary organisations, provision of insurance for volunteer led response to Covid-19, safeguarding guidelines and access to Garda Vetting Service with over 150 volunteers engaged in the process.
The team, which comprises membership from the Clare Volunteer Centre, Clare PPN, Clare Local Development Company, Clare County Council, Án Garda Síochána, Family Resource Centres, Burren Community Meitheal, Love Shannon, Clarecare, Citizens Information and Clare Youth Service is working with a wide range of national and local care support organisations to help identify vulnerable groups and individuals and the necessary supports that can be delivered by community and voluntary groups in Clare.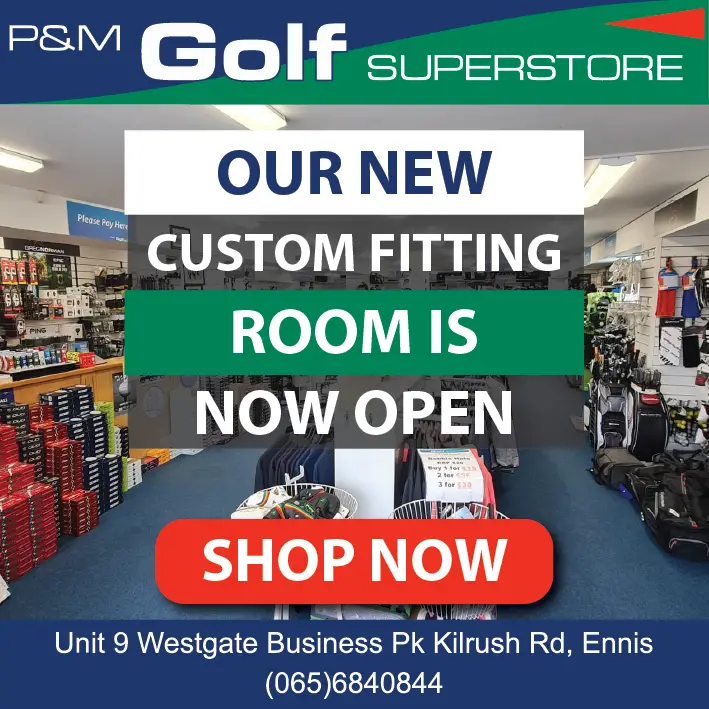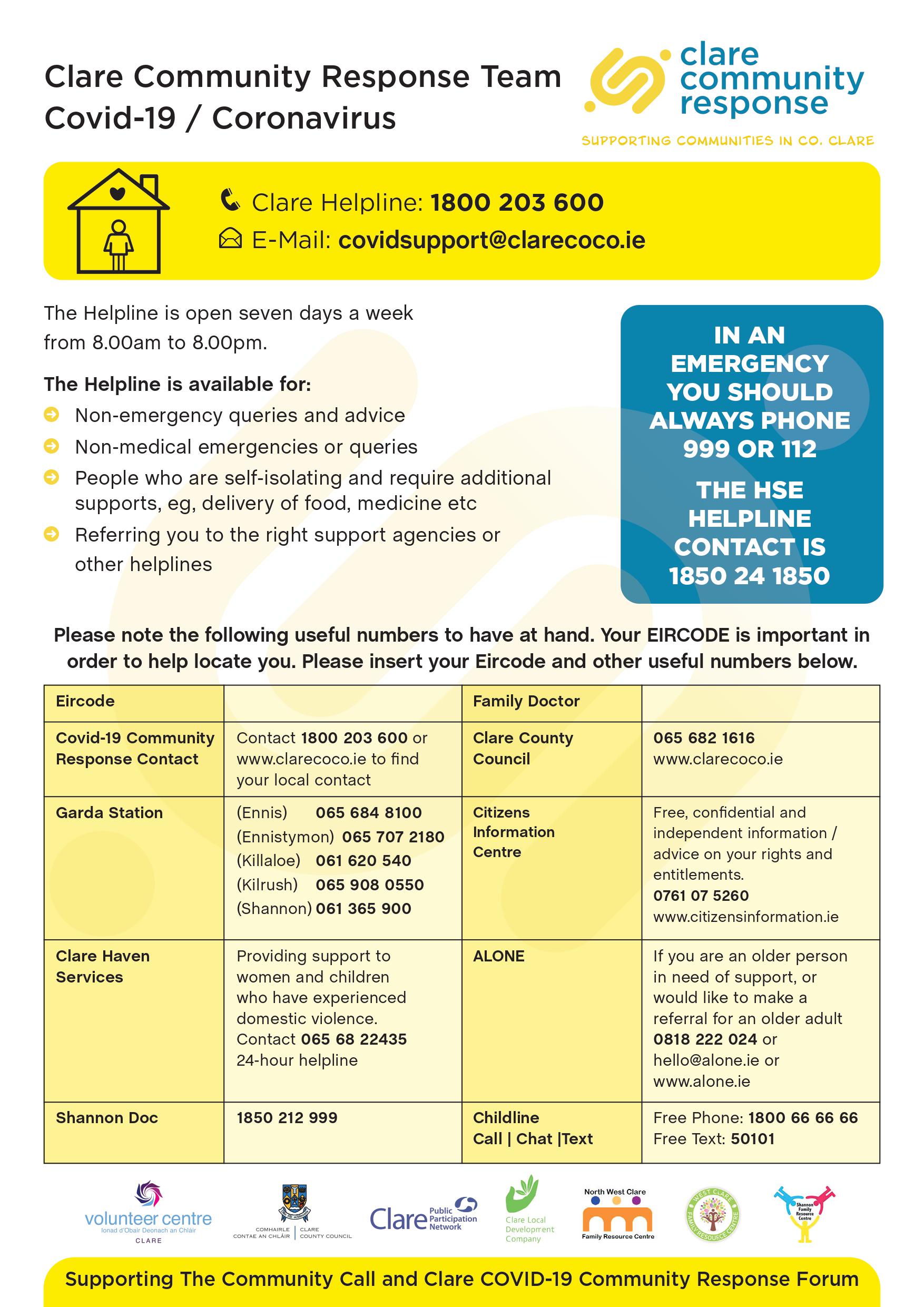 A key role for the team is supporting Clare County Council who are leading out on a major government directed initiative to coordinate Covid-19 Agency and Community supports for vulnerable groups and individuals.
Countywide structures are now in place with over 50 organisations registered with Clare Community Response Team providing the organised delivery of essential items like food, fuel, medicine with many of whom also providing telephone social contact support.
All these groups have their individual helplines linked to the Council's Clare Covid-19 Community Response Helpline 1800 203 600. The Helpline is available from 8am – 8pm, 7 days a week providing information, support, guidance and signposting for a wide range of queries.
As numbers of people begin to experience some anxiety over the continuing impact of restrictions and measures to address the coronavirus pandemic, the Clare Community Response Team developed a leaflet providing a wide range of helpline contact details (including summaries of services provided) to be posted to all households in the county supported by Clare County Council.
The helplines in this leaflet are particularly informed by the members of the Clare Community Response Team's knowledge at local level and information gathered through recent increased traffic to national helplines.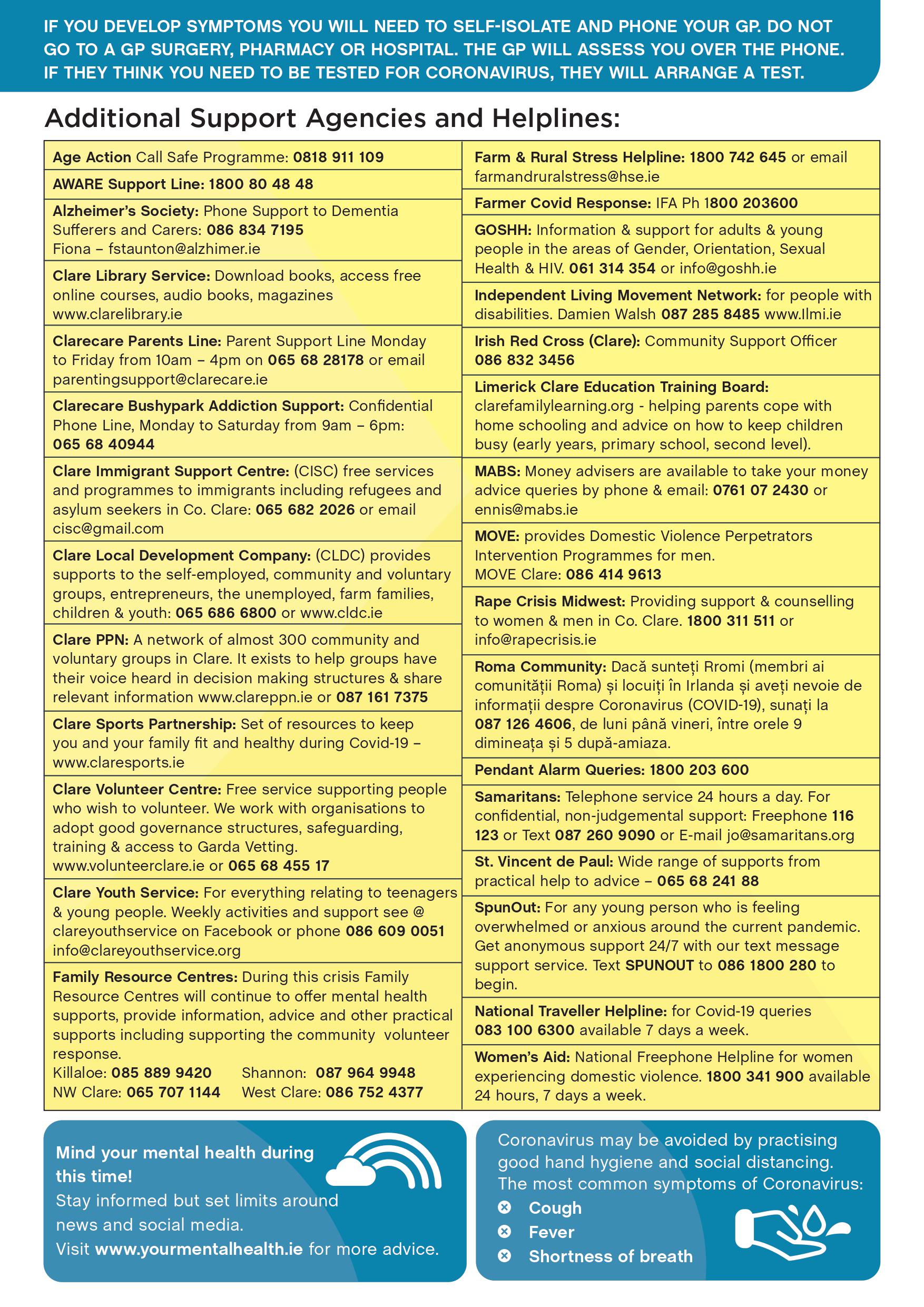 Some of the issues coming through helplines relate to heightened anxiety levels with elderly, family and young person's mental health, domestic violence (women/men/children), traveller supports, farm stress supports, and immigrant supports.
Sharon Meaney, Manager of the Clare Volunteer Centre said "working with the Clare Community Response Team has provided an opportunity for us to work collaboratively with other agencies and voluntary groups in supporting and building capacity within our local communities who are responding to Covid-19.
"This is a difficult and anxious time for everyone, but people should be reassured that there are organisations working hard behind the scenes to support those who are vulnerable and ensure that our communities remain strong in these challenging times".