*Basking sharks in Clare. Photograph: Ken O'Sullivan
Clare is privileged to have the presence of basking sharks along the West coast of Ireland according to documentary film-maker and conservationist, Ken O'Sullivan.
Over the weekend, basking sharks have decorated the inshore area of Co Clare stretching from Kilkee to Spanish Point. Highly enthused onlookers have been documenting the semantics of the second largest living shark on earth, as they take advantage of the deeply concentrated supply of Plankton along the West Coast.
Ennis native, Ken O' Sullivan purports that we are privileged with basking sharks along the West Coast of Ireland, one of only four places in the world that they are known to come in shore.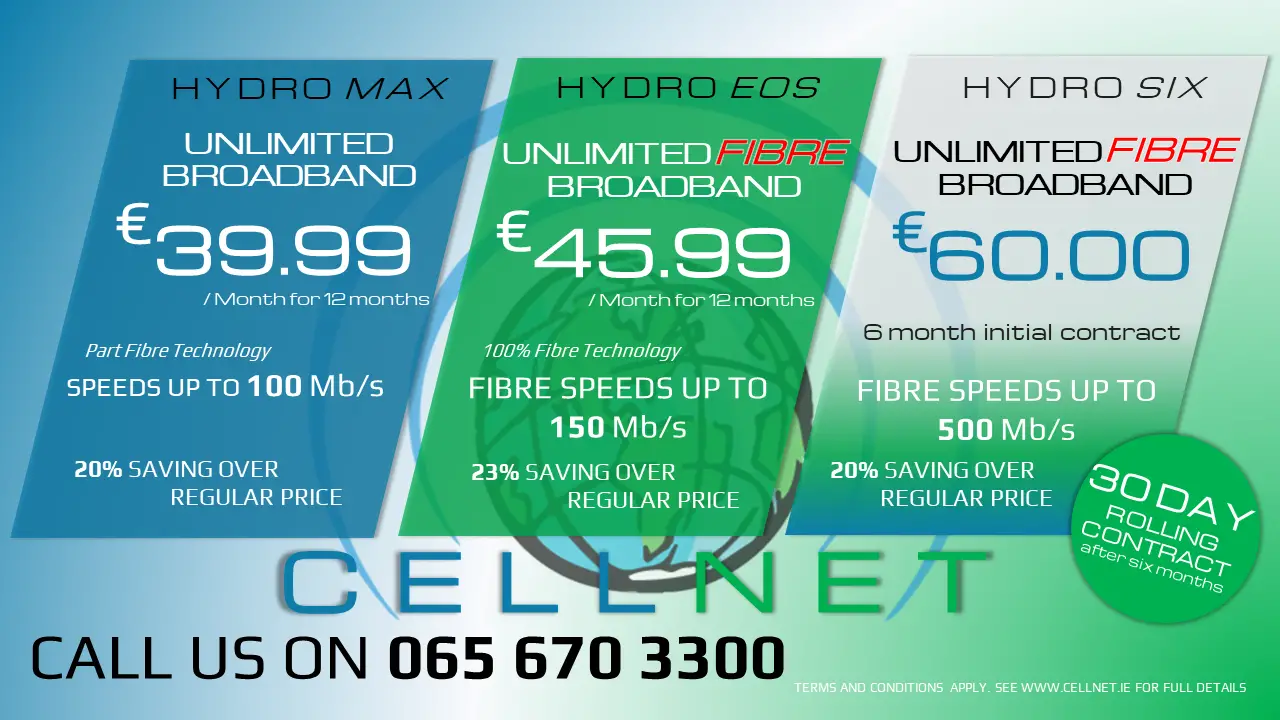 Speaking on his affinity with the ocean as a freelance underwater cameraman, Ken tells The Clare Echo of how sharks have become greatly misunderstood creatures due to cultural iconography, his close encounters with basking sharks as well as the importance of education around ocean conservation and the discovery of coral reefs thousands of metres deep off the Irish coast helping us piece together the many untold mysteries of the ocean floor.
Ken and his wife operate a small production company, enriching audiences with natural history documentaries such as the highly acclaimed 'Ireland's Deep Atlantic', which featured on RTE in 2018. Ken claims to have inherited a legacy of sea and fishing, from his family who populated the Tralee Bay around 1750. Having worked abroad for many years, Ken developed a fascination with marine life on the west coast of Ireland following his return twenty years ago.
"Nobody had really documented the richness of it at that stage. I love sharks. They are greatly misunderstood creatures. Everybody is scared of them, but I can't find any record in Ireland or the UK of a shark attacking anybody. We must continue creating education and awareness around this fact. I have been getting reports the last few days that basking sharks have been spotted within 100m of the shore. Sunlight creates a bloom in plankton and that's what they feed on. They have no teeth. They have what is called gill rakers, similar to your kitchen sieve. They can pass as much water in one hour as there would be in a 50m Olympic swimming pool. They filter bits of plankton in the water. They can grow up to 8m long, with a width of one metre and generally weigh about five tonnes."
Their domineering stature runs contrary to their passive nature and Ken delights in the up close and personal side of his work. While recording for Ireland's Deep Atlantic, Ken encountered sixteen sharks in a courtship ritual off the west coast of Ireland. A phenomenon which had never been documented in the world before. Such evidence has consecrated the fact that this is a very important place for the basking shark. In spite of this, little is known of the basking shark and its life expectancy, migration habits or its young.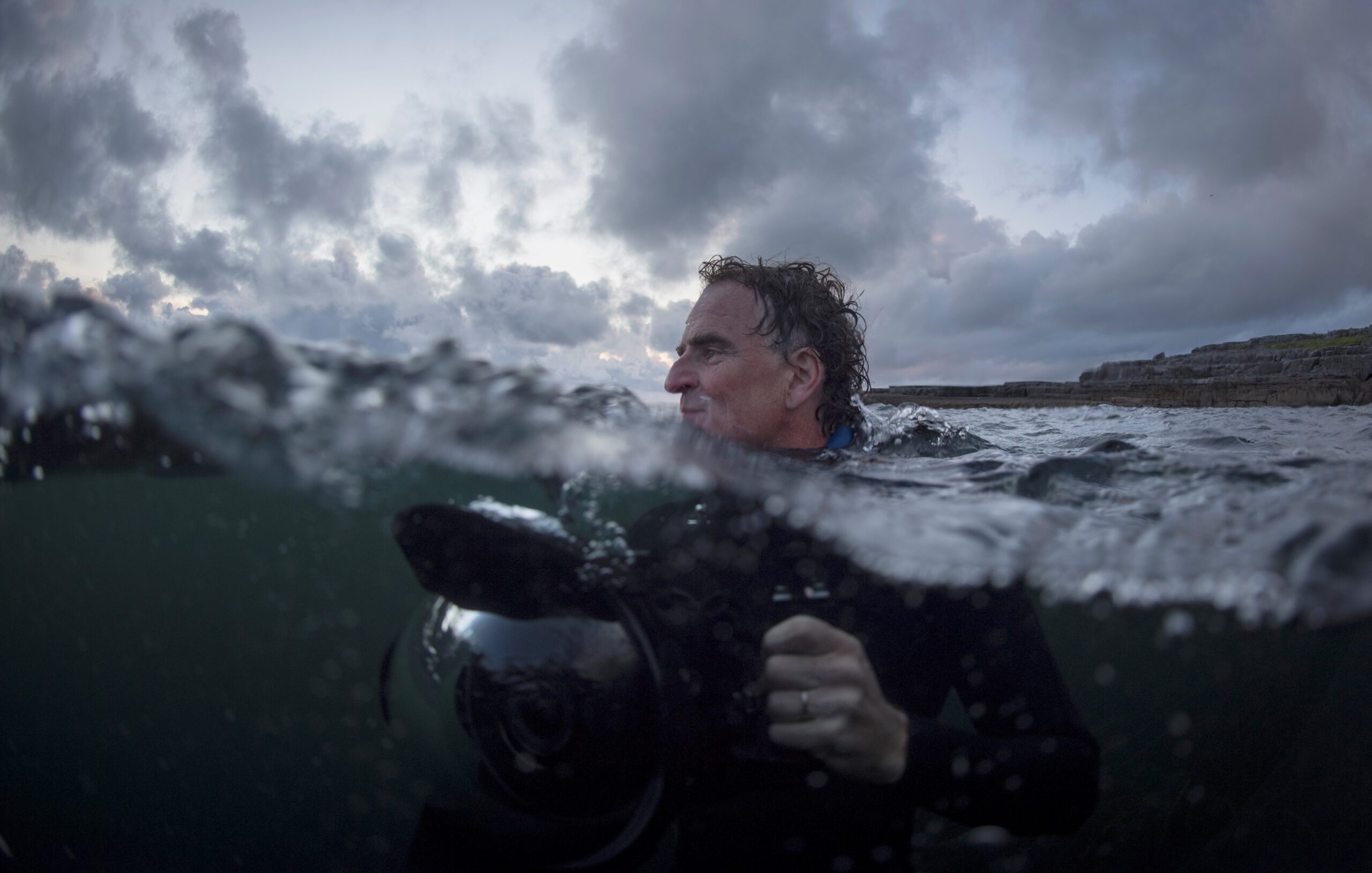 Always underwater, basking sharks are difficult to study. Coming in shore in April and May until August is a fantastic opportunity for scientists to tag them. One such scientist based in Kilrush, Simon Berrow has managed to extract genetical material from the layer of slime that coats a basking shark, with an instrument similar to a mop.
This year alone, Simon has taken more than forty samples of a grand total of eighty worldwide, indicating that pioneering research on the basking shark is being carried out on the West Coast of Clare. Basking sharks have been spotted as far down as Morocco and are known to cross the Atlantic on occasion but little else is known.
Basking sharks, like most other marine life worldwide are privy to predation. Ken tells of the decline in numbers in recent years due to the inherent flaws contained in the Irish Wildlife Act. "They are still largely unprotected creatures. The Norwegians hunted them in Irish waters until 2006. The Wildlife Act in Ireland doesn't include fish. Sharks are fish, the second largest in the sea. Under EU laws they can't be fished but they are not protected here under the Wildlife Act. They are a critically endangered species on the red list. Numbers for the basking shark are massively down. They were hunted by the thousands. On Achill Island, between 1950 and 1964, they killed 9,000 sharks."
Ken believes that education and awareness are crucial in the ocean conservation effort, with sixteen sections from Ireland's Deep Atlantic now included in the Junior Certificate Cycle. Establishing a local connection with whales and dolphins is the key motivating factor in this drive to create a more ecologically aware society. The Shannon Estuary is home to a resident group of bottlenose dolphins, one of only two places in Europe where they are found to reside. Twenty-five species of whale and dolphins are found here on the Irish coastline. This eclectic mix of marine life speaks volumes to the need to protect our coastlines and intertidal areas, in Ken's opinion.
"We know more about the surface of the moon and Mars than the ocean. There is some great research being carried out in Ireland especially by the universities and the marine institute. The edge of the continental shelf is on the west of Ireland, say one hundred miles out. It goes down to 5,000 metres depth. That's a hugely fertile area. Of course, we always thought for a thousand years there was nothing down there. What did we find down there in Irish waters? Well, coral reefs. Full of life, thousands of species supported by the reef. There is so much that we still don't know and that we still have to find out."
Video courtesy of The Armada Hotel
Seaside Sessions – Video 5- A special dedication on world poetry day, from Armada Hotel on Vimeo.